PLASMA Studio Wins Mobility Centre Competition
|
Plasma Studio will move then build the new Mobility Centre for the city of Innichen/San Candido in Italy. Moving the train station to a new position close to the centre and reducing the amount of rail tracks creates many new opportunities in regard to hes town's urban connectivity and development. Discover how PLASMA Studio successfully delivered a solution after the jump: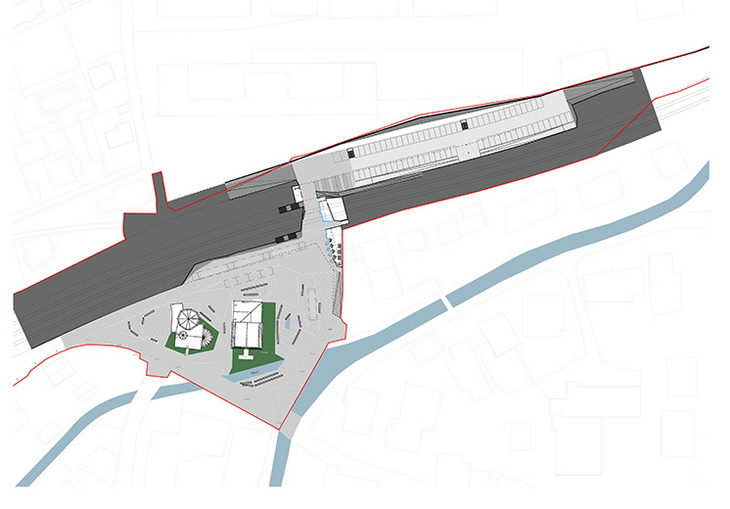 From the Architects:
The new-built Mobility Centre -part of Master Plan for Innichen/San Candido train areal- will consolidate a new train station with bus station, bicycle depot and car parking in close proximity to Innichen's pedestrianized historic core.
With a topographical approach, our proposal formed the centre as part of the ground with an extensive public plaza that smoothly drops to flow beneath the rail tracks and forms a new pedestrian and bike connection to the northern part of town.
This plaza thus forms a nodal link between the town centre, the northern and western part of town and through the multiple transportation links to the many outlying villages and further afield. It also integrates the surrounding streets and two listed buildings as a expansive yet cohesive groundscape. The relatively new concept of 'shared space'- meaning that all traffic participants have equal rights and negotiate intuitively- requires a careful differentiation of the surface to create various zones and clear patterns of movement. This is being supported by integrated specific street furniture and lighting strategies. Most of the plaza is formed by small elongated granite blocks with seating as unfolded elements from black steel and timber.
On the northern side of the plaza, the new bus station is morphologically intertwined with the train tracks by partially carving into it, forming south-facing protected outdoor seating for waiting passengers. A long ramp runs forms the eastern edge of the plaza and brings passengers directly to the raised level of the rail tracks. Beneath we located a small cafe and offices. Furthermore, the plaza design unravels the hidden potentials of the location by incorporating the valuable old church and the river that flows alongside.
The new underpass forms a natural extension to the plaza. Here we locate the central waiting lounge that serves both train and bus passengers, a bike depot, lifts and staircases to access the rail platforms above and a ramp that leads to the partially buried car park.
The train station itself is thus greatly reduced in appearance and completely integrated into the context.
Project: Mobility Centre
Designed by PLASMA Studio, Groundlab
Architect In Charge: Alfredo Ramirez
Design Team: Clara Oloriz, Peter Karl Pichler, , Leila Meroue, Carmen Frances, Laura Riaño, Juan Torres , Marta Musial, Anna Vyazovskay
Structural Engineering: Sulzenbacher
Renders: Moka Studio
Client: STA, Südtiroler Trasportstrukturen AG
Area: 7860 sqm
Location: 39038 San Candido Bolzano, Italy
Website: www.plasmastudio.com