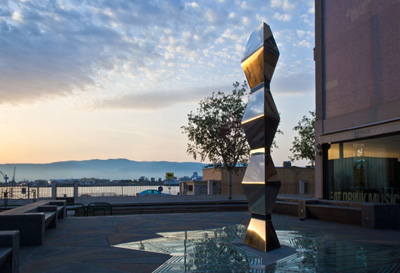 Project: LaFenice Sculpture
Designed by Architecture and Vision
Collaboration: Simonetta D'Ottaviano, Lidija Jandric, Manuela Festa
Engineering competition phase: Niccolo Baldassini, RFR Paris
Engineering Execution phase: Ingg. Gaetano Orlandi, Gabriele Ferro
Client: Comune di Messina, Ufficio Programmi Complessi
Location: Messina, Italy
Website: www.architectureandvision.com
The winning design for the sculpture on "Piazza della Memoria" in Italian town of Messina comes from Architecture and Vision practice, for more about the 4,1 meter high La Fenice continue after the jump:
From the Architects:
This sculpture is creating a connection between the earth and the sky, past and future, by reflecting the lights and the movements of the city. Its duality between static and dynamic are beautifully presented in this monolithic sculpture, it suggests a universal symbol between human life and culture. LaFenice presents the viewers an interesting play of reflection of lights and colors and also mirrors the elements that surround it, such as sky, sea, trees, buildings and the viewers themselves."
"LaFenice" or 'The Phoenix' recalls the story of the mythological bird, which is reborn out of his own ashes: a symbol of hope and renewal. The power of its message lives in the minds, hearts and souls of people. The reflective surfaces depict different moments of movement and light, becoming a kaleidoscope of the urban life of Messina and the innate human impulse to explore new horizons, past and future, to capture each element, from closest to the furthest, in a continuous search for a new insight and outlook.
The shape of the sculpture integrates with the existing kaleidoscope pattern of the square, forming an architectural unity. The square consists out of a grey and yellow lava stone pavement and the sculpture is surrounded by a transparent glass floor, which allows views to a lower level of the square, suggesting a view into the past, while at the same time reflecting the sculpture above, reaching into the sky, the future.
Source Tuvie. *