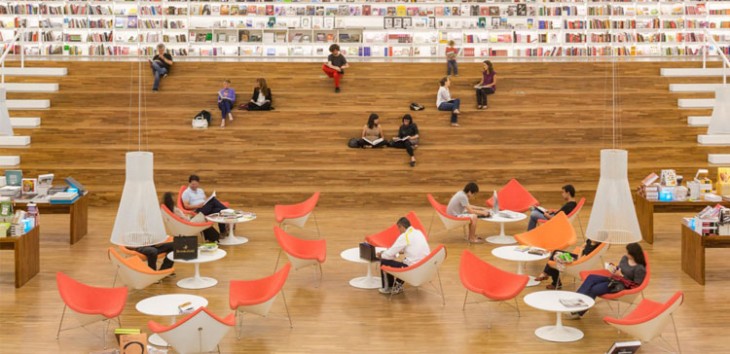 Cultura Bookstore in Sao Paulo developed by Studio MK27 back in 2012 is still adding up new awards to its shelves, the project was recently awarded as the best Retail interior of 2014 as the first of two sets of category winners were announced at the INSIDE World Festival of Interiors at the Marina Bay Sands, Singapore.
The Cultura Bookstore in Sao Paulo by studio mk27 overcame established fashion houses such as a Just Cavalli concept store and the new escalator hall in Harrods by MAKE Architects to claim the premier design award. This 21st century interpretation of a bookstore incorporates socialising, reading, relaxing, events and purchasing into one space that replaces the traditional book shop model. – from INSIDE World Festival
FIND MORE PROJECTS FROM BRAZIL
Studio MK27 team on this project was comprised of architects Marcio Kogan (architect in charge), Diana Radomysler, Luciana Antunes, Marcio Tanaka, and Mariana Ruzante. The space takes the massive scope of 2500 square meters, see more of the project photographed by Fernando Guerra I FG+SG.