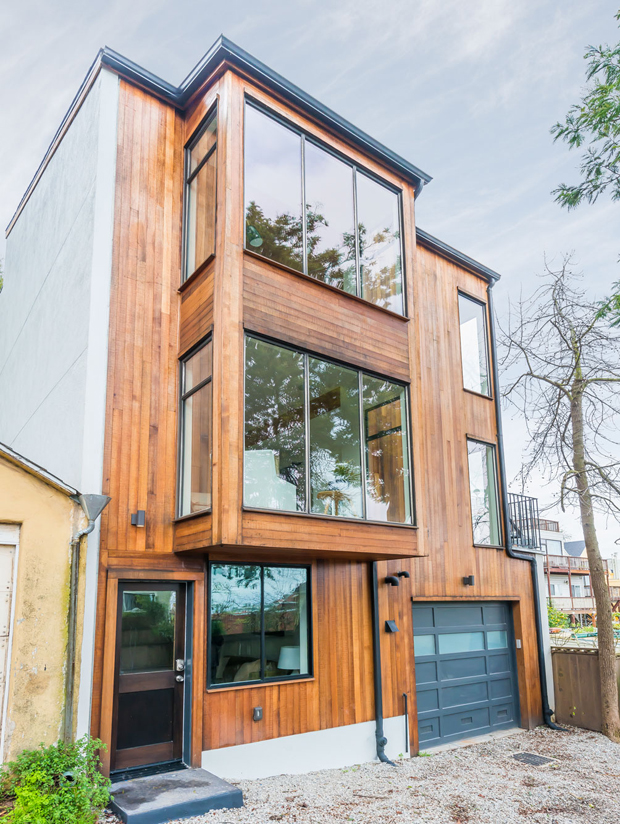 When you're weighing your options regarding updating your home you want to make sure you're not only making it look better, but that you're also adding value. You goal is to get a return on your investment when you go to sell someday and to know your money isn't simply being tossed out the window.
While some parts of your home may appear as though they need an upgrade, it's better to start a priority list and tackle the important projects first. The most critical enhancements meaning, what will add value and be worth the time, money and energy it'll take you to complete these improvements.
Read more after the jump:
Paint
Painting will be one of the easier projects for you to do, but that doesn't make it any less important. If you're someone who is up for a little DIY work then you'll save a little bit of money in this particular area. Go around to each room and carefully select paint colors that will brighten the space and make it look bigger. Know that paint also influences your mood, so make sure you're selecting hues that are uplifting and will set the right tone in each area. Enjoy how wonderful your house looks after a fresh coat of paint and what a difference it makes in the overall appearance.
Roof
While you can't always see the wear and tear on your roof, it's likely it could be slowly deteriorating if you haven't replaced it in a while. Understand the warning signs and don't delay if you're starting to notice it gradually causing you more problems. Get on the phone and hire a company like London Roofer to help you complete this critical project. You want someone who knows what they're doing and is going to get the job done right the first time. The last situation you want is a leaky roof or loose shingles, especially when the weather isn't cooperating. While this will be one of the more expensive projects, it's definitely worth your investment in the long run.
Bathrooms
Your bathrooms are very important when it comes keeping a modern and updated home. Buyers are going to want to see them and will be making instant judgments about what they think. This is one of those home projects that will add value and beauty to your space immediately. Consider replacing vanities, floors and taking the time to decorate and make them look nice. You'll be surprised at how a few minor updates go a long way and cause you to fall in love with your bathrooms all over again. Determine the projects you can DIY and hire a contractor to help you with the rest.
Kitchen
The kitchen is where you spend a lot of time socializing and preparing meals, so you want it to be an attractive space. A few projects that will add value include painting or replacing the cabinets, installing an island and adding a striking backsplash. The kitchen is one of the most important rooms in the home and your goal should be to make it look stunning and more modern when you're all done with it. You'll have a much easier time getting your home off your hands when you go to sell if the kitchen is in good shape. Be discerning and get rid of what's no longer working for you.
Curb Appeal
Don't forget about what the outside of your home looks like when you're in the process of upgrading. Curb appeal matters to your neighbors, potential buyers and it should also matter to you. Hire a landscaping company, paint your front door a bold color and replace or refinish your driveway and garage doors. The appearance of your home from the outside says a lot about you and you want to make a good first impression on people. Spend some time going around and viewing other homes and taking notes of what you like about the outside so you can mimic them. Remember to also attend to the back of your home and install a walkway that leads to a new deck or patio where you can relax or entertain.
Basement
The basement is not only useful for storage, but it's also a place to kick back and relax or entertain guests if it's presentable. Finishing your basement is an excellent project to take on and will definitely add value to your home. Install new carpet, a bar area and entertainment center if you truly want to enjoy your basement space. You're going to love having this option during the holidays and if you have a large family and want to spread out once in a while. Do a good job of keeping it clean and tidy and you'll like hanging out down there even more. Homebuyers will be eyeing up this space when they walk through and will be able to picture themselves living in your home more easily if it's finished.
Space Additions
Clean, organize, declutter and add-on extra space if your place seems a bit small. Some ideas include turning a small room into a den, using your attic space as a bedroom and building more closets and shelving options throughout your home. Ask any homeowner out there and they'll tell you that you can never have too much room for storage. If you're feeling adventurous you can always consider building up and adding stories to your house to increase the square footage. The more bedrooms, bathrooms, living space and places to store belongings you have the better.
Conclusion
You don't want to randomly pick house projects to complete without any prior research or knowledge of what's worth your investment. It's a smart idea to know what adds value and will make it more pleasant of a space for you to live in currently and easier for you to sell one day. It's always a good idea to also figure out what updates are doable for you to complete yourself and which ones will need a contractor's help so you can budget appropriately. Have fun and enjoy your upgraded space once it's all finished.