Inhouse designed the three-bedroomed, double-storey penthouse apartment of The Fairmont in Sea Point, Cape Town, South Africa. The interior was conceptualised to maximize the scenic views and create an ambience suited to the modern entertainer. Take a look at the complete story after the jump.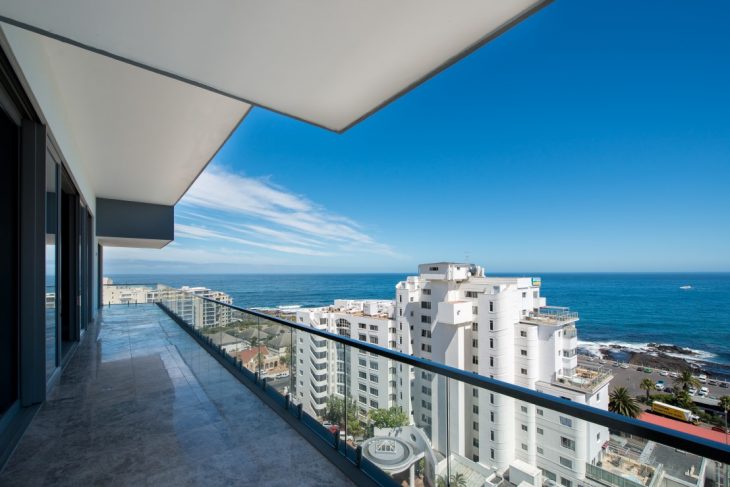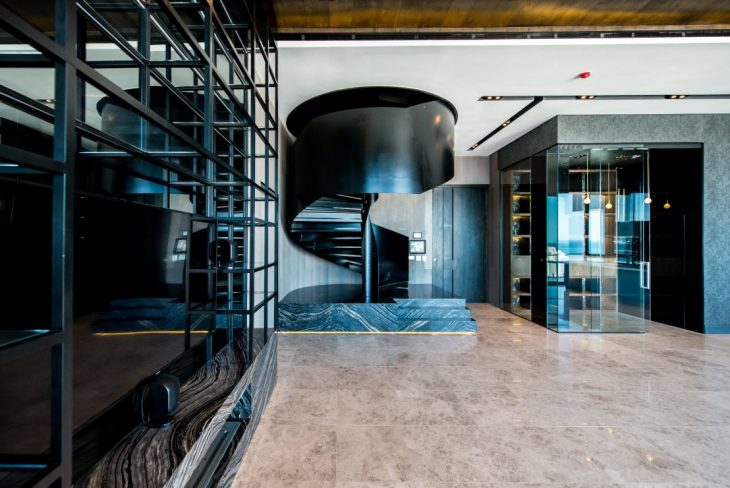 From the architects: Because the Fairmont building overlooks the Atlantic seaboard, the interior of the penthouse was oriented to offer dramatic sea views and stunning sunset vistas from every angle. The look-and-feel focused on elegance and masculinity.
Inhouse started the project with a blank canvas and provided a turnkey solution which enabled full project management from line drawings right through to completion and handing over of the keys."We started the project with an empty shell," says Inhouse Director Aidan Hart. "It was agrey, bare concrete 'box'!".
Inhouse opted foran open-plan interiorwitha primarily dark colour palette. "Tocreate an aura of sophistication, we selected acolour palette that was deep and striking. As you come into the apartment, the entrance and entertainment spaces are layered in dark andmasculine tones. For the less public spaces like the bedrooms and bathrooms, we opted for a lighter,more delicate colour scheme," Hart states.
To illuminate the space, modern architectural lighting in steel boxes was combined with pedant fixtures and recessed LED lighting in ceiling troughs. LED lighting has also been placed throughout the joinery.
Modern materials used include timber, glass, steel, mirrors and marble."The materiality of stone, timber and steel work well together to create an opulent and modern style," explains Phillip Wyatt, fellow Director at Inhouse. Sustainable timber was used for the ceilings and joinery. Inhouse chose marble – with its beautifully ranging surface – for the floors and wall cladding as a classic indication of luxury.
The luxurious atmosphere is further emphasized by a customized, pivoting front door, high ceilings and modish furnishings. Added to this, there's a private whiskey room sheathed in glass and a robust spiral staircase that makes a grand statement. .
The astounding circular stairwell allows easy access to the breath-taking rooftop which has exceptional views of the Sea Point surroundings.Made of strongly curved steel coated in black and floated on a marble plinth, the stairwell was designed to "make the journey to this area of the apartmentmore profound, thanks to the introduction of a sculptural element," explains Hart.Its bold appearance contributes strongly to the sense of style and singularity that pervades the penthouse.
Find more projects by Inhouse: www.inhouse.ws