Opus Office Tower is work of Zaha Hadid Architects and it is the one of several unique buildings specified as part of masterplan concept for Dubai, The Opus comprises two structures, conceived as a single cube eroded by a free-form void, which appears to 'hover' above ground-level. A pixilated reflective façade renders the cube in full by day as well as by night, it 'dematerializes' as light floods the void.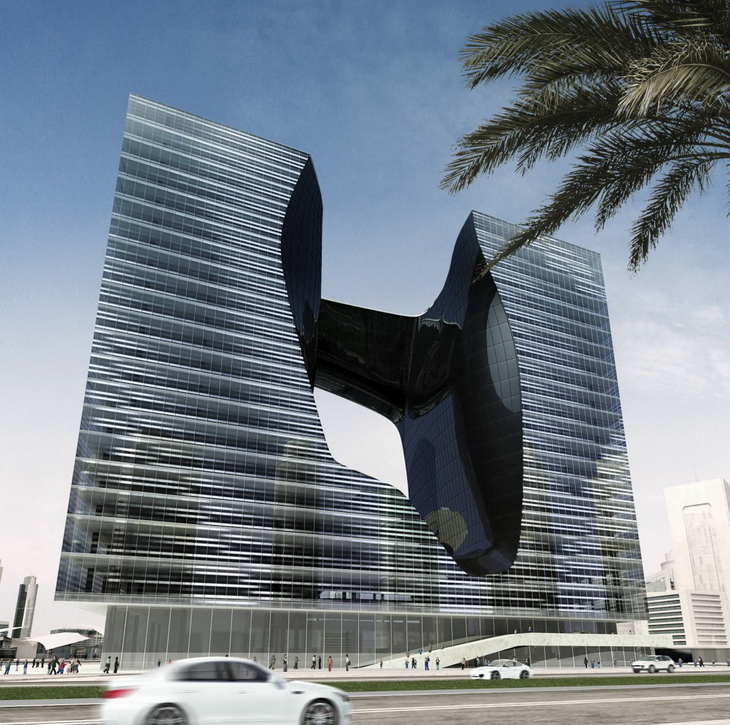 From the Architects:
The Opus is one of several unique buildings specified as a part of a masterplan concept for Dubai – each connected to the other by a series of low rise podia and streets to create a new business bay for the city.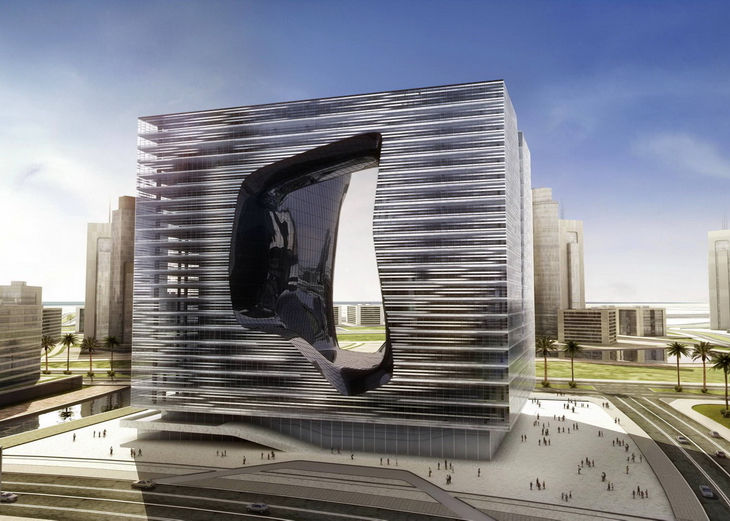 The Opus occupies a prominent position within this area – rising from two plots, interlinked by a unifying low-level podium structure, and surrounded on four sides by a covered walkway which provides continuity of pedestrian access.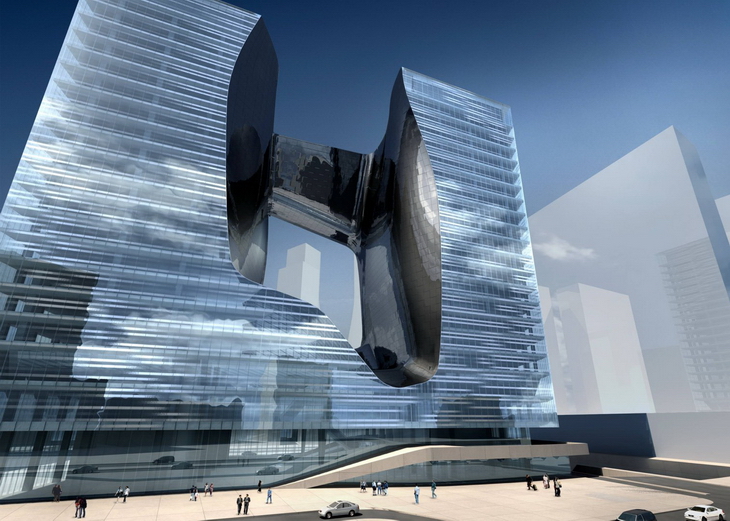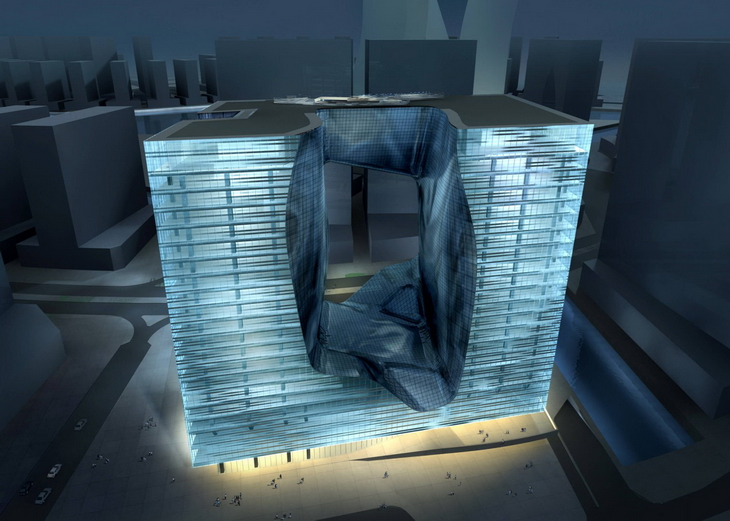 The Opus comprises two structures – conceived as a united mass, taking the form of a 'cube', structured by a conventional system of slabs stacked vertically and serviced by central cores. The cube is eroded by a free-form void, treated as a volume in its own right, which cuts through the structure's outer edges and appears to extend beyond its boundaries.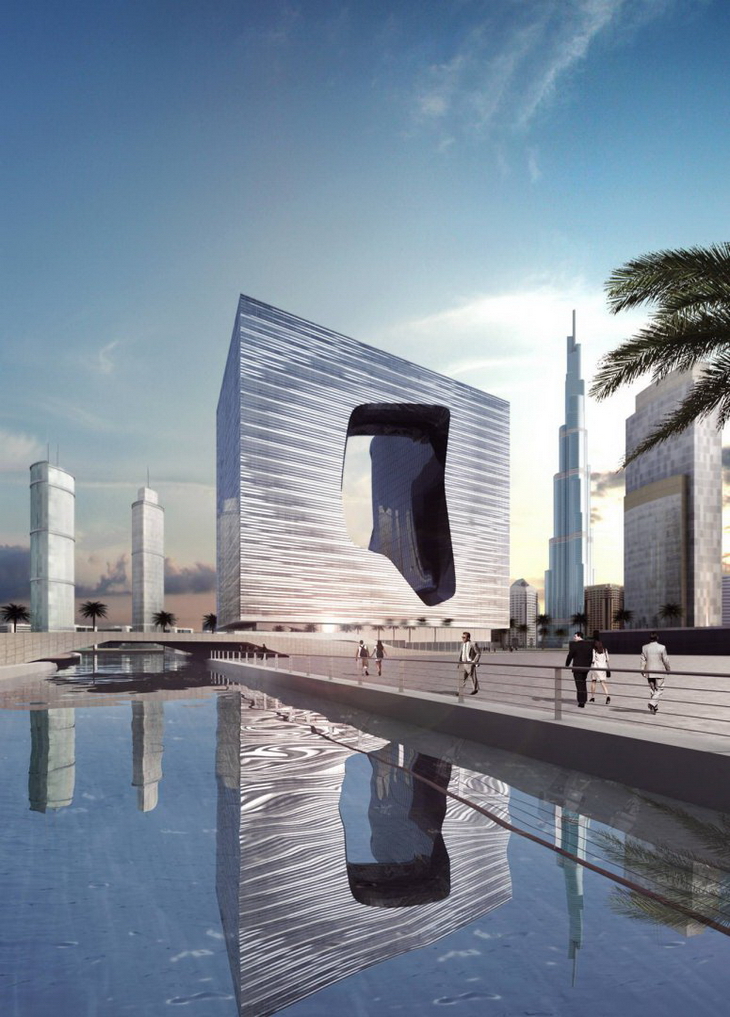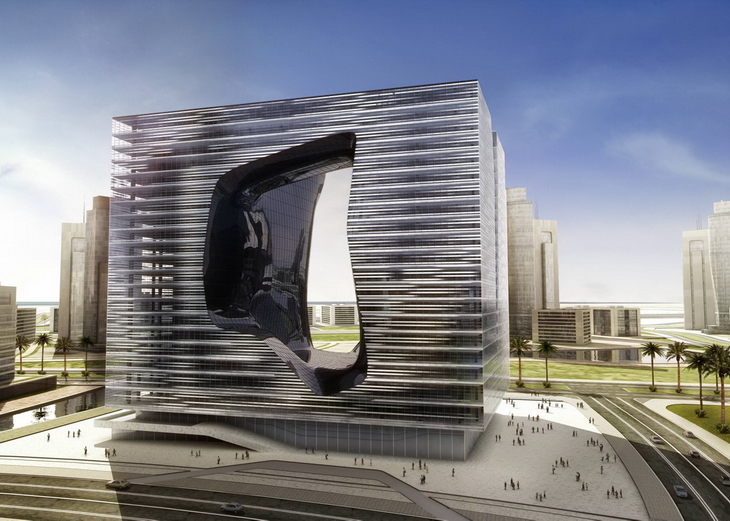 Within the building, ground floor space is developed as a transparent open field with multiple interlays of the different pathways, which are drawn into the interior of the plan areas within the two separate lobbies. Each lobby opens out to the four sides of the plot, maximizing the accessibility of the building from the ground level. A traffic artery is diverted under the building to provide full car access and easy drop-off areas. Ground level retail areas are organized in two zones, forming an outer ring which is accessible from the outside.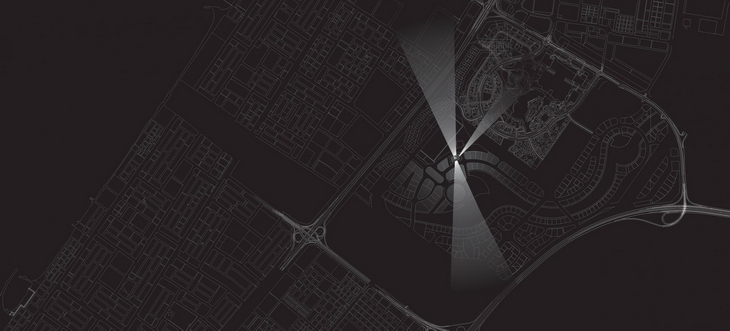 Reflective pixelated striations are applied on to the glass facade to provide a degree of reflectivity and materiality to the cube. While the cube appears full in day time and the void as empty, the night time perception would be one of opposites, where the cube appears dark and dematerialized, while the void could be activated with light, visible form a great distance.

Project: Opus Office Tower
Designed by Zaha Hadid Architects
Client: Omniyat Properties
Area: 84,345 m2
Width: 100 m
Depth: 67 m
Height: 93 m
Location: Abu Dhabi, UAE
Website: www.zaha-hadid.com