Dana Shaked designed this stunning new coffee shop and restaurant in Ramat Gan, Israel. Take a look at the complete story after the jump.
From the designer: Coffee Time, an established brand of coffee shops, opened another branch in a large office building in Ramat Gan. The space is spacious and inviting with plenty of natural light and a bustling street view.
The light gray marble flooring, blends well with the white marble with gray veins that cover the entire main counter. As part of the counter, you will find an open fridge, displaying sandwiches, salads, soft drinks and desserts.
Above the front counter, an expanded frame unit and iron profiles were designed. In addition, black painted letters made of laser-cut wood spell out "food, beverages and coffee". The rear wall is covered with white fish-bone exposed bricks and hanging display shelves that are made of iron rods and iron net along with oak shelves.
Further into the space, you'll find a salad and pasta be where food is cooked in front of the customers. Above each station, signs are displayed, pointing to various stations. Around a central pillar, there's a bar with an iron mesh countertop and specially designed lighting fixtures.
The dining area offers a variety of seating areas, with black chairs and oak tables, and an impressive variety of vegetation in garden planters. The entire space overlooks the wide wooden deck seating area outside.
The space is decorated in a modern black and white style which serves well the variety of the colorful products sold in the store and allows them to stand out.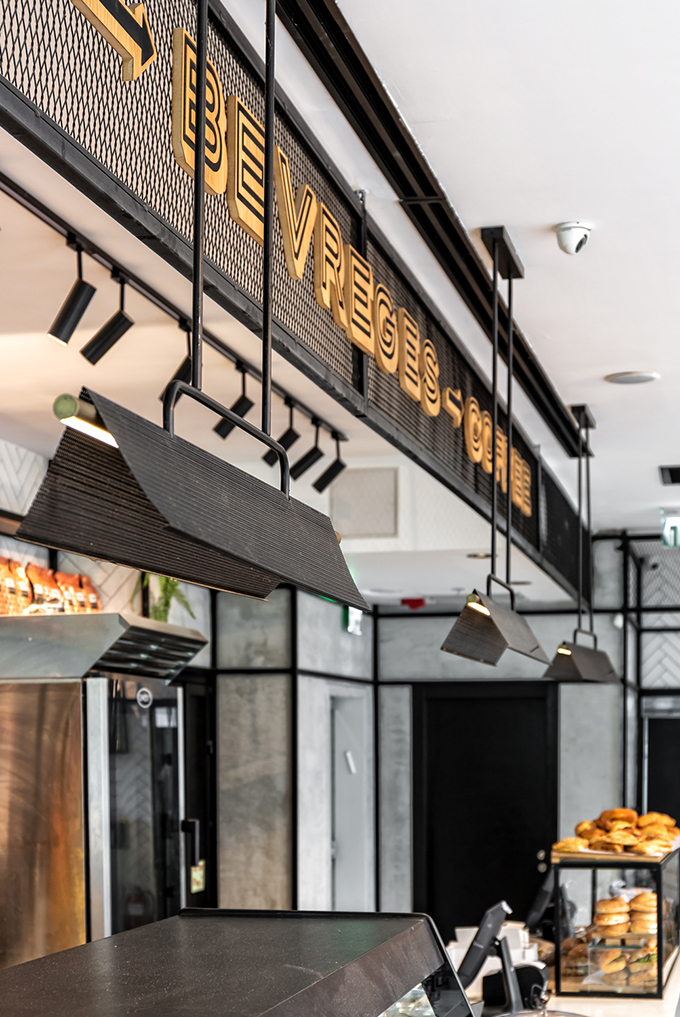 Location: Ramat Gan, Israel
Interior designer: Dana Shaked – dnshaked.co.il
Photography: Shai Epstein