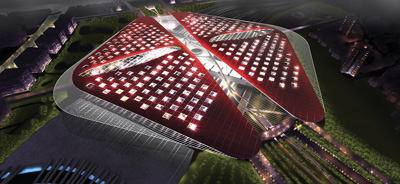 Project: Beijing South Station
Designed by Weston Wiliamson Architects
Location: Beijing, China
Client & Engineer: Second Railway Survey and Design Institute, China
Website: www.westonwilliamson.com
Weston Williamson Architects were shortlisted to create a masterplan for Beijing South Station, while designing this impressive project the architects had in mind the wast heritage of the city of Beijing.
For more images and architects description continue after the jump:
From the Architects:
We were short listed to produce a master plan and concept design for Beijing South Railway Station.The design has strong cultural origins and adheres to the axes of Beijing's planning which fit well within the economic and Olympic Games vision for Beijing.
This is the largest station project in China. The design concept comes from the Chinese decorative knotted cross, an important cultural object. Its shape and colour have influenced every area of the design concept, maintaining an idea that is wholly cultural and wholly Chinese.
From the original cultural concept, to the selective use of colours and the subtle borrowing of traditional Chinese architectural features such as up-turned eaves, this station building belongs to no other city but Beijing.