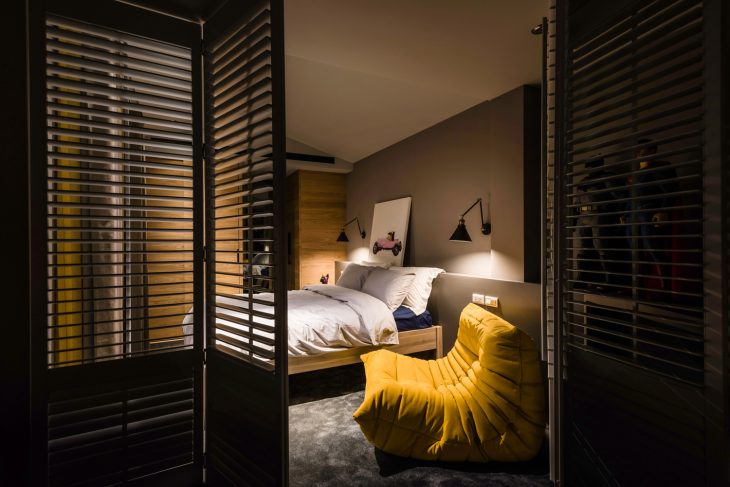 CHI-TORCH Interior Design have recently completed their newest interior design project with the Aiguo E. Rd. Tao mansion. Take a look at the complete story below.
People can not get rid of acquiring the deepest familiarity because of their reliance of belonging.
The familiarity consists of memories made of every flavor of life which is bit sweet, sour, bitter, and spicy and they may get cross national boundaries or human sense. Such as a picture of our mind or a scent in our memory, it can not get away from our expectation toward belonging.
When pushing through the door of black plaid, stepping into the sky garden coming off time boarder, eyeballs are caught by the mural painting from the international artist, Banksy, without leaving Taiwan to salute his work anytime. While turning around, the immense blue skyline above the Chiang kai shek Memorial Hall enchants people to stay. This kind of vision and space transforming, combined with a sense of sight contradictions, cultures main focus on local beauty crystal clear and needs not travel all over the world to search.
The lovely grey color, sneaks over black plaid window and getting inside, with mercurial characteristics under shading light, sometimes fashionable, sometimes vintage, sometimes chilly, and sometimes heart-warming. And there are no specific words to describe it and especially it multi-changes with space.
The spaces seem distinct from each other under different angles but sometimes they seem rely on each other to express what they are without demarcations of any kinds. We will never imagine that the dark implies stability, the wood messages being, the brick points piedness, and the carpet express meticulousness. Ideas like these break demarcations and balance one another somehow simultaneously.
The blinds, making light appear indistinctly, extend the line of sight and maintain the mysterious privacy of a bedroom. It feels like the interlacing memories nets, reserving past and presence, pass through light up the bar and later fall upon the ground.
All of sudden, metaphorically, in our most familiar land, we plant a seed of journey to the world. The reality and memory break any kind of demarcations and they crouch in every corner of the house, surprisingly showing up in harmony. Demarcation-breaking is no more an offending tactile sense but a re-organized belonging toward futures.