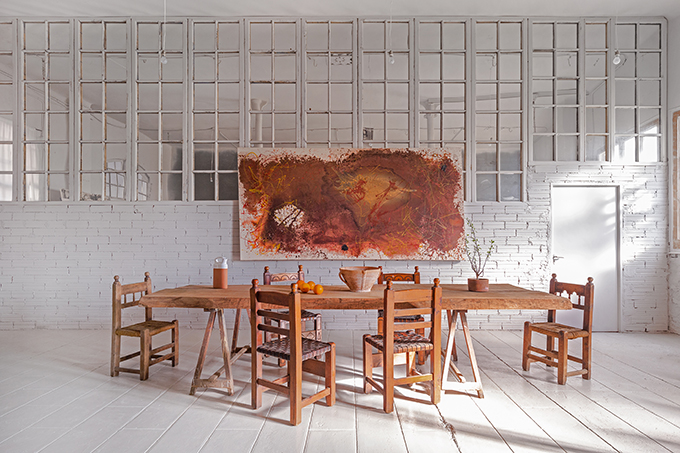 Alex March Studio has designed the home and workshop of the painter and sculptor Iñaki Moreno in Barcelona. With a selection of old pieces of design and art, it treasures a charm between poetic and austere to become the corner where the artist is inspired for his creations. Take a look at the complete story after the jump.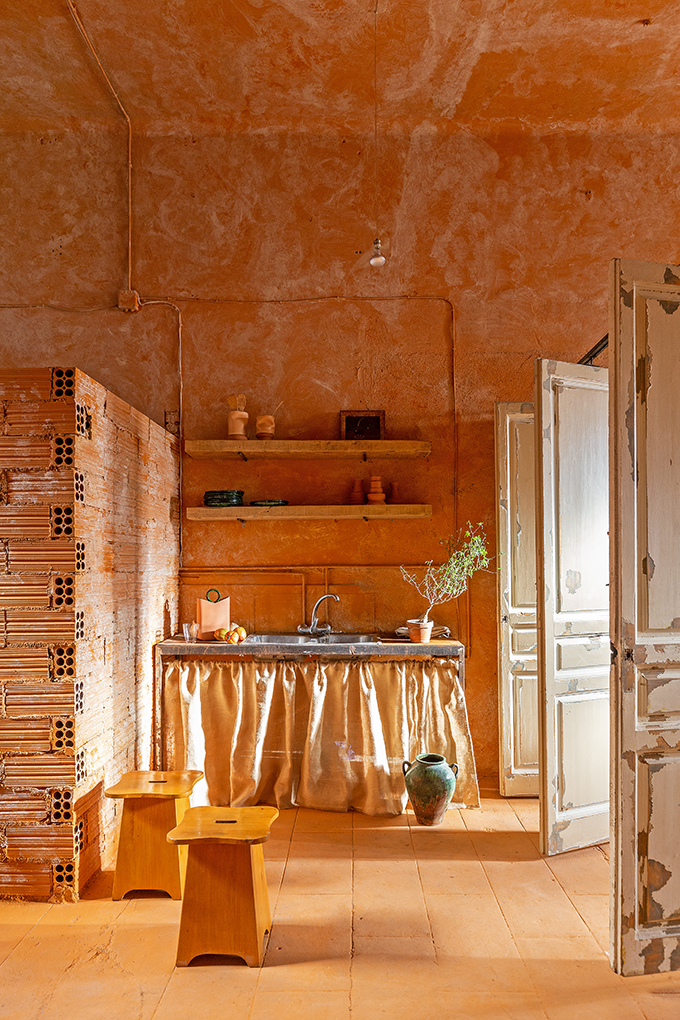 The artist Iñaki Moreno's workshop-house is a unique hideaway, it is located very close to Plaça de les Glòries, touching the Poblenou neighbourhood, opposite the Barcelona Design Museum.
The building dates from approximately 1850. At that time there was a convent of which today only four walls are preserved. Approximately, the useful spaces for housing and workshops occupy a generous 650 m2, separated from it, there is also a space for a gallery.
"When I got here everything was excessively full of furniture and paintings. The limits of workshop and house had been lost. It was a wonderful chaos where it was very difficult for me to imagine what it was like to live and work at the same time. Iñaki longed for a change, and we set off" explains interior designer Alex March, who has carried out an intense renovation.
Following architectural organicism, a philosophy of architecture that promotes harmony between the human habitat and the natural world, it is now a space in balance, well-defined and well-thought-out, thanks to the good harmony between the artist and the interior designer. "We had many conversations from chair to chair, Iñaki and I love them, sitting now in one corner of the space, now in another… and that's how we spent the afternoons" explains Alex March.
There are two large areas that define the moments of rest and leisure from those of work. "Spatially, except for bathrooms and kitchen, the distribution was completely changed. Before the reform, nothing was in a specific enclave, you ate, rested or worked anywhere in the space, surrounded by a workshop that had spread without limit to all the rooms in the place", says Alex March. Now instead, the workshop-house breathes.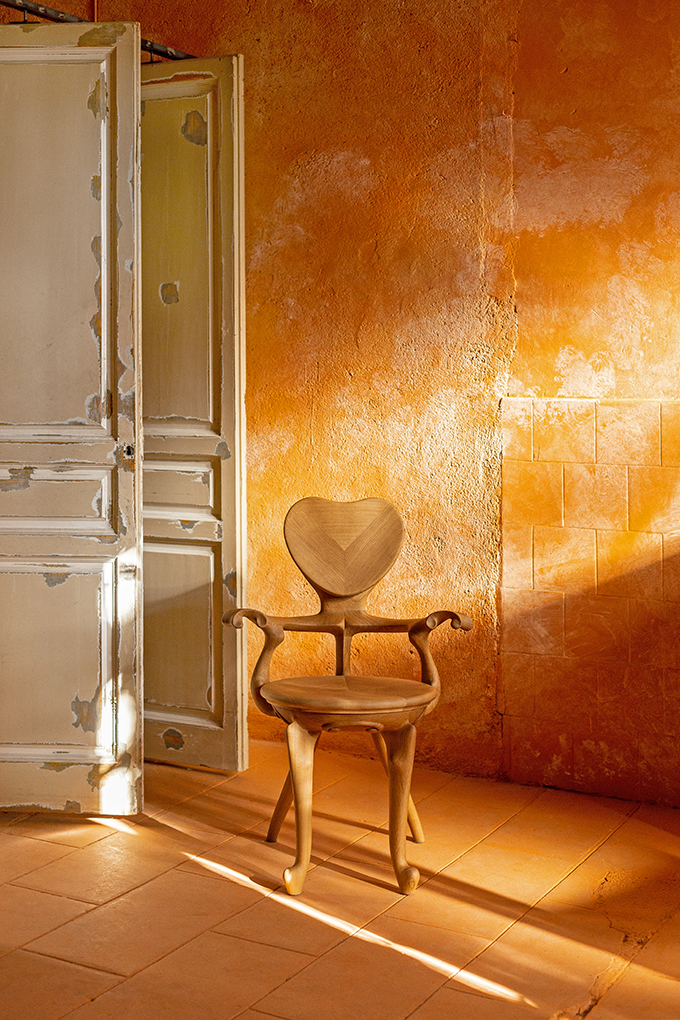 "The colour palette had its process, he had to be comfortable in a space that inspired and relaxed him and, at the same time, his work had to shine" explains Alex March.
Some of its exposed brick walls have been painted, others have been left unpainted and others are left with their marks of time and remnants of the paint of yesteryear. Together with the very high ceilings, they generate a certain industrial atmosphere, which is mixed with the bohemian spirit of the artist, present in every corner.
With all the intention, it has been attempted to leave this base between unfinished and neglected that seeks to focus all attention on what is truly important, art.
"I like that my spaces have a certain poetry, which is always its poetry, each one is different and unique, as human beings can be" explains Alex March.
The artist's abode
This could perfectly be the abode of an artist from a bygone time, as we hardly find any clue that could take us to the 21st century. It is an open space, of a sincere austerity and of practically bare walls, where the doors do not compartmentalize in the same way as in a normal house, but rather hang in the style of screens that slightly reveal.
This way, so subtly differentiated, the room, the bathroom, the kitchen, the dining table and the desk coexist in balance in the same space. "I am always looking for a balance that oscillates between what the space asks for, what the person who wants to inhabit it wants and what I want to contribute and express to get the best version of the whole" comments March.
A selection of antique pieces, such as a wooden bench at the foot of the bed of popular craftsmanship, a French lamp from the 50s on an 18th century Spanish table or an Adrien Audoux & Frida Minnet stool share the space with sculptures and paintings by Iñaki Moreno himself. The iconic Calvet oak armchair stands out, a design by Antoni Gaudí from 1902, manufactured by Bd Barcelona.
Most of the paintings and sculptures in the space are the work of Iñaki Moreno himself, "I did not have the need to look for almost anything outside since he has many talents," says Alex March, who has selected the most appropriate work for each space.
A room with an imposing theatricality
The lounge and dining area is imposingly theatrical. The walls have been painted in white, which brings more light to Iñaki Moreno's paintings, as well as a selection of furniture pieces, including the Bracelli lamp that Salvador Dalí designed in 1937 for his house in Portlligat, manufactured by Bd Barcelona Design. The living space is completed with two armchairs from the 30s by María José Argüelles (Gijón) and some old pieces, such as a wooden bench from the 70s and a popular wooden and fabric stool.
The sofa is a unique piece, handcrafted, which was bought in an antique shop in Barcelona. It is accompanied by a Torres Clavé chair from the 40s and a lamp by J Georges Pelletier from the 70s with a singular disheveled lampshade that rests on some fragments of old capital.
The large dining table is made with antique painter's easels and a solid oak wood top, some chairs are from Valentí from the 70s and other chairs are popular, made of wood and rope. Ancient ceramic bowls, the "Miguel Milá" jug and a plant in a ceramic by Nuria Solorromeo complete the scene that contemplates the painting in brown tones by Iñaki Moreno entitled "Tempestad".
Plants deserve a special mention "Plants are important in my spaces, no matter how minimal their contribution may be…" says Alex March "if they are there it is because they contribute, I do not use them to compensate for a void; they have to be comfortable too ".
"I conceive interior design as a dialogue, Patty Smith has talked with objects since she was little, I do it with spaces…" explains Alex March.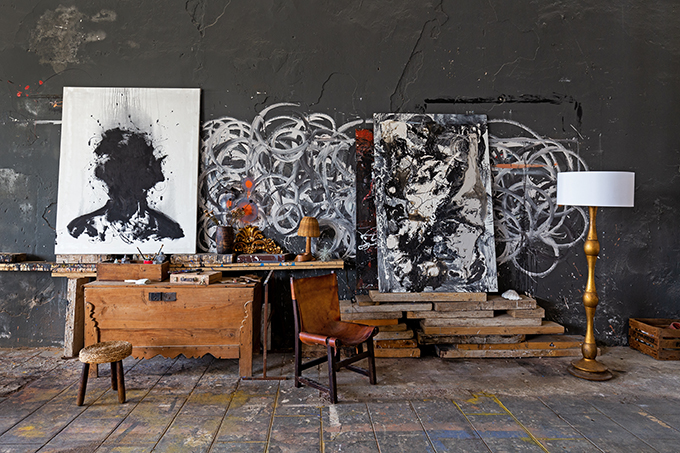 The workshop
Throughout the interior design project, Alex March saw that it was necessary to give the space its own voice, even more so in the workshop area "you had to let it scream, let it say: 'Hey, I'm here, look at me'…". And so, between carefree and artistic expression, the workshop has been conceived as a place of creation where the paint stains on the floor share the space with some old pieces of furniture selected by Alex March. Once again, the pictorial and sculptural works designed by Iñaki Moreno himself dress the space.
"I like to deepen in the balance" says Alex March, referring to the balance of spaces, things and their harmony … "I think that is the path that leads to beauty and, sometimes, to what we call elegance". Probably, this way of working is already a style "that does not understand predefined styles, but prefers to impose these balances, it is how I like to work" explains the interior designer.
Find more projects by Alex March Studio: alexmarchstudio.com