MAR is a restaurant designed by architects from HAFstudio practice. Restaurant is located by the Reykjavík harbour, Iceland.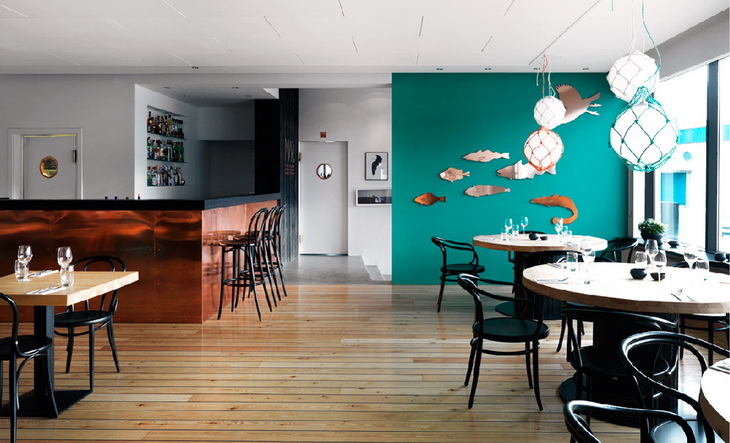 From the Architects:
MAR is a restaurant located by the Reykjavík harbour. HAFstudio is responsible for the concept, interior and graphic design of the restaurant. The main inspiration in the design comes from the name MAR, a Latin word for the sea. The choice of materials is somewhat of an ode to the old harbour in Reykjavik. For example there are black-treated wood panels on the walls that are reminiscent of the old Icelandic harbour houses and other materials come from or reflect the harbour surroundings.

Additionally a variety of marine animals, birds, fish and mammals are located throughout the space in different variations.

To make the whole experience unique HAF studio paid good attention to detail in decorative items teaming up with ceramic designer Guðný Hafsteins and graphic designer Siggi Odds. Guðný designed custom made tableware for MAR inspired by the sea bird Skarfur (sea raven) and Siggi Odds created a graphic relief with a novel interpretation of the harbour view. Both Guðný's tableware collection and prints by Siggi Odds are available in the design store Mýrin located in the same building.
Project: MAR Restaurant
Designed by HAFstudio
Collaborators: Guðný Hafsteins & Siggi odds
Client: MAR
Location: Reykjavik, Iceland
Website: www.hafstudio.is