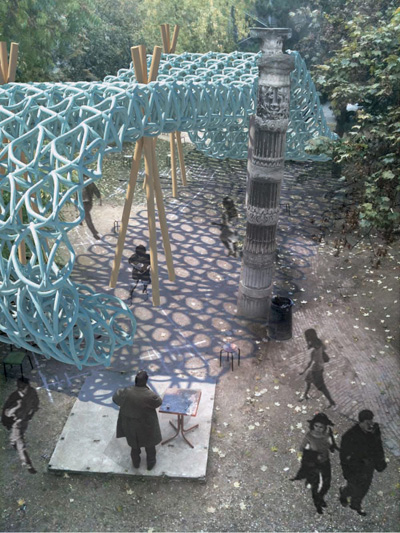 Project: Pavillon Speciale 2012.
Designed by Ball Nogues
Location: Paris, France
Website: www.ball-nogues.com
Pavillon Spéciale is an annual spring architectural competition giving emerging architects an opportunity to build with students, a temporary pavilion in the heart of Paris. What is unique about the series is the fact it not only presents the work of an international architect or a design team, but is an on site collaboration with a team of students from the École Spéciale d'Architecture.
After the jump you can discover more about the Pavillon Spéciale and also see a project created for it by Ball Nogues.
From the Architects:
The Pavillon Spéciale is an installation that can be arched and curled at full scale with a small crane to form different types of space befitting the summer program at Ecole Spéciale d'Architecture. The installation will create a sense of place while providing a respite from the sun and rain.
The Pavillion is a unique structure. In architecture terminology, the phrase that describes a system whose form is derived from the deformation of its materials under force is "form active." This type of structure is difficult to study using software. It often requires architects to explore their designs by testing full-scale mock-ups, and using that empirical information to help inform the process of digital modeling, which is studied in the studio rather than in the field. Students will engage in this iterative design process with Ball Nogues.
The structure is comprised of approximately 200 "cells", each made from locally sourced plastic tubing that will be bent and curled in custom jigs designed and constructed by students. To provide shade, each cell will have a locally sourced sheet material spanning between the tubes within it. The cell module is a very effective way of constructing a temporary structure: each can be transported as a flat unit and rapidly assembled on site; when it is time for the structure to come down, dismantling and transportation to a new site is easy.
Project: Pavillon Speciale 2012. Competition
The Jury:
Iñaki Abalos Founder Ábalos+Sentkiewicz Arquitectos (SP)
Jean-Max Collard Architectural Journalist Les Inrocks (FR)
Kristin Feireiss Founder of Aedes Gallery Berlin (GR)
Massimiliano Fuksas Director of Studio Fuksas (IT)
David Keuning Director of MARK magazine (NL)
Sylvia Lavin Director of Critical Studies MA/PhD Program UCLA (US)
Claude Parent Architect, teacher and writer (FR)
International Expert Committee for 2012 Pavillon Spéciale:
Hitoshi Abe Chair of Department of Architecture & Urban Design UCLA (USA)
Stefano Boeri Founder and Director Stefano Boeri Architects (IT)
Cynthia Davidson Head of Any Corp, Chief Editor of Log (USA
Eva Franch Director Storefront for Architecture NY (USA)
Pedro Gadanho Architect and Curator of the Department of Architecture & Design MOMA (USA)
Shinichi Kawakatsu Founder and Director RAD Architects (Japan)
Paul Petrunia Founder/publisher of Archinet.com, Bustler.net (US)
Hans Ulrich Obrist Co-Director Serpentine Gallery London (UK)
Ecole Speciale Studio Professors (INT)
"Pavillon Speciale" Commission:
Odile Decq General Director, École Spéciale d'Architecture
Matteo Cainer Curator Pavillon Spéciale
Marie-Hélène Fabre Academic Head
Location: Paris, France
Website: www.matteocainer.com