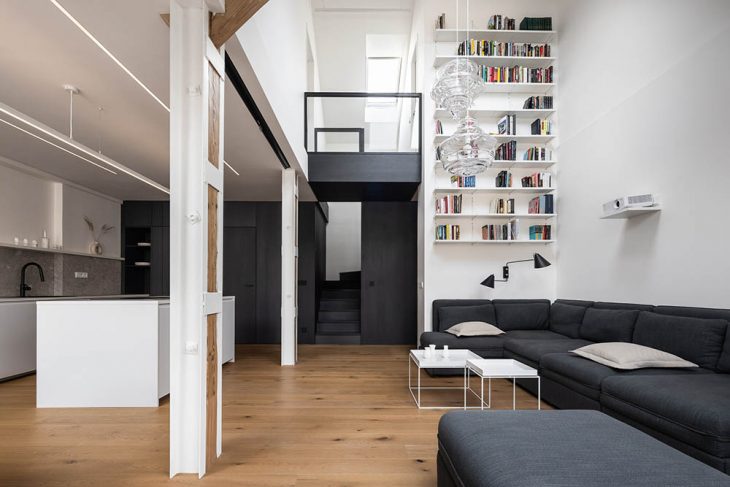 Komon architekti renovated an attic apartment in a 1930s Prague townhouse, basing their design on the use of essential quality of the space – its height. A new core is inserted in the centre of the apartment: a black wooden box that conceals a small bathroom, forms stairs and a catwalk overviewing a double-height living space. Take a look at the complete story after the jump.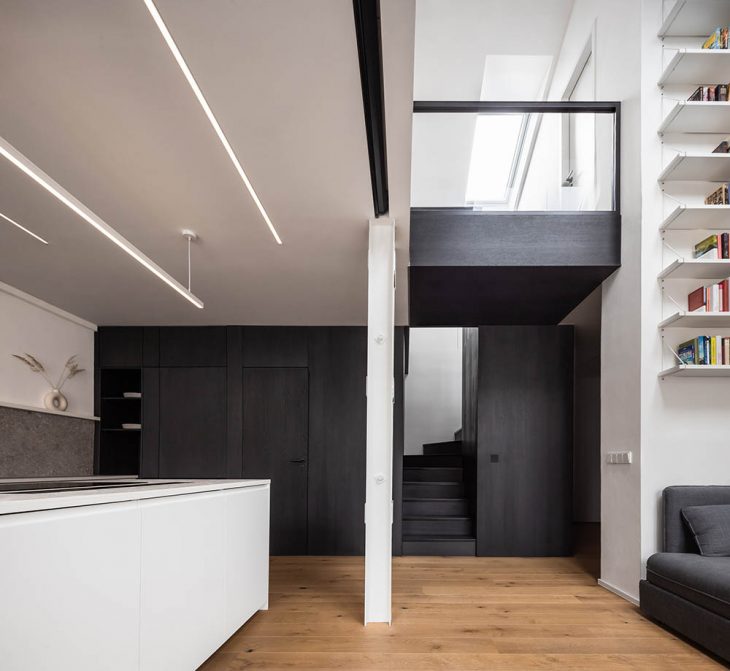 From the architects: We are in the attic of a 1930s townhouse in Prague Libeň. An apartment was built here in the 1990s. But there were too many rooms, more than the client needed, anyway. The joy of open attic space was lost in the clutter. Our task was to find it again.
The height is an essential quality in any attic. With that in mind, we open up the living room to create a double-height space accentuated by a tall bookshelf on one of the walls. In the centre of the apartment we insert a new core: a black wooden box to conceal a small bathroom, make up the stairs and catwalk on the second level, while still allowing daylight deep into the entrance hall. This way we simplified the layout without resorting to structural changes.
The open plan kitchen living room is located at the bottom of the two-level apartment. A pull down projection screen is installed between two structural posts in the middle of the open plan room. The kitchen with island has additional storage space hidden in the black box. The second level is more private. Black wooden catwalk above the living room connects the bedroom with a second bathroom. A rooftop terrace can be accessed from the bedroom through a French window.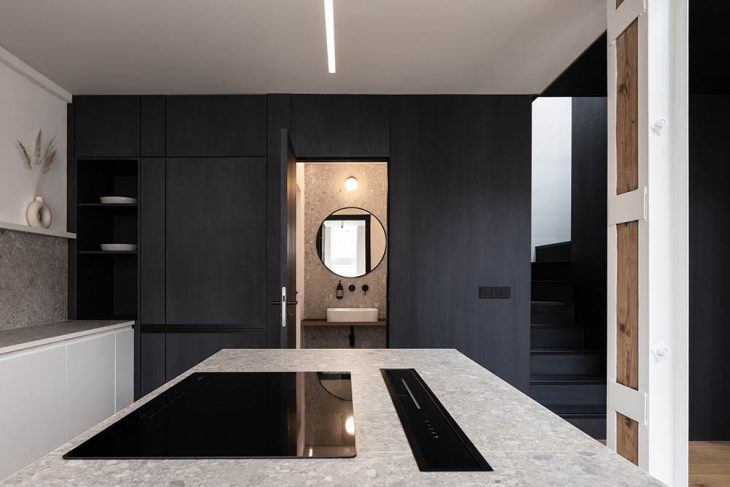 The material palette is reduced down to oil treated veneer for the black box, oak veneer flooring, and terrazzo for the kitchen worktops, backsplash and bathroom surfaces. White colour tones are used for the rest of the furniture, and white wall paint. The exposed roof truss elements and steel posts in the living room are left bare. Plain linear lighting in the kitchen underscores the raw character and geometry of the space, creating a juxtaposition with the two elegant glass chandeliers in the open plan living room.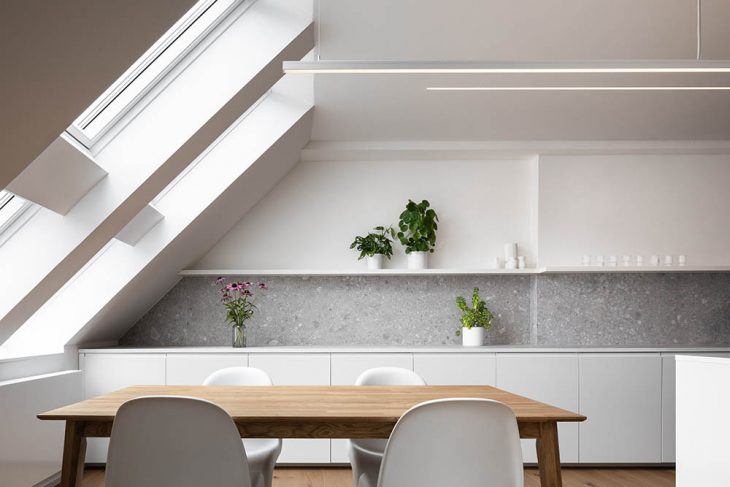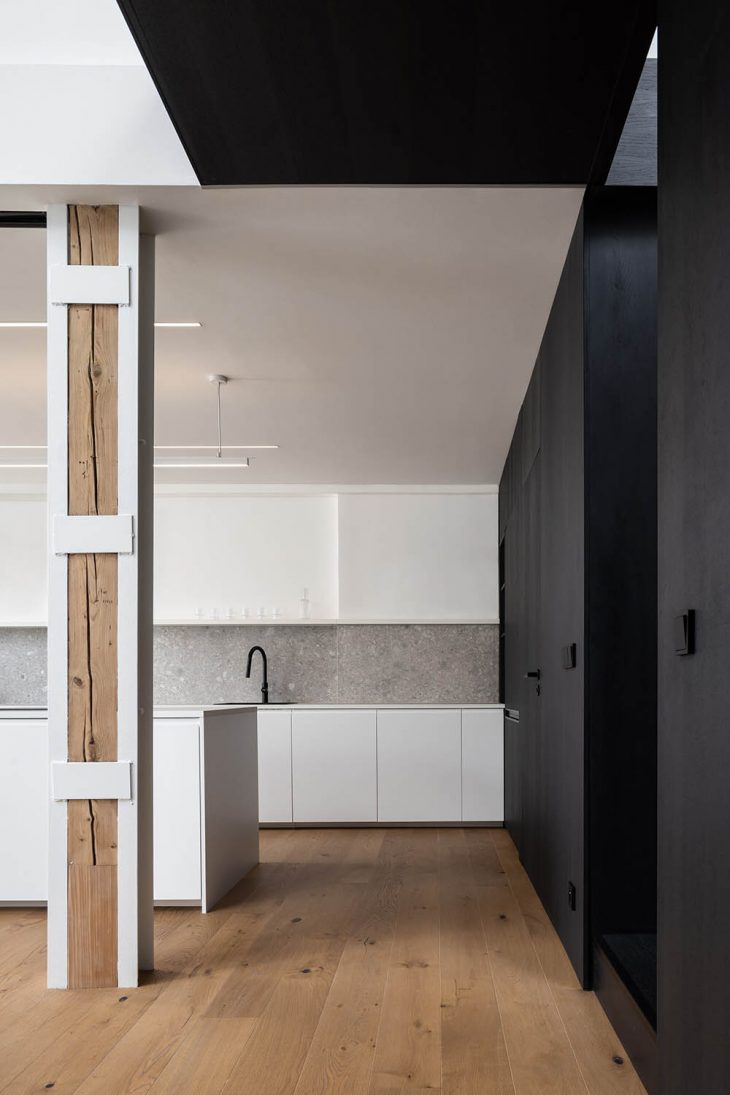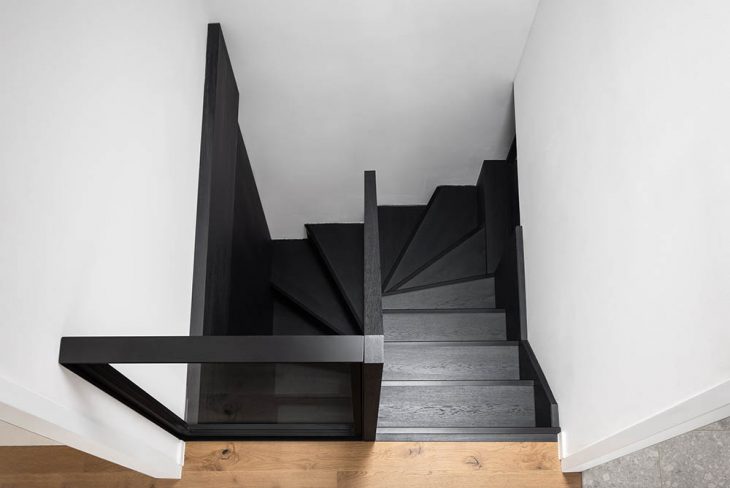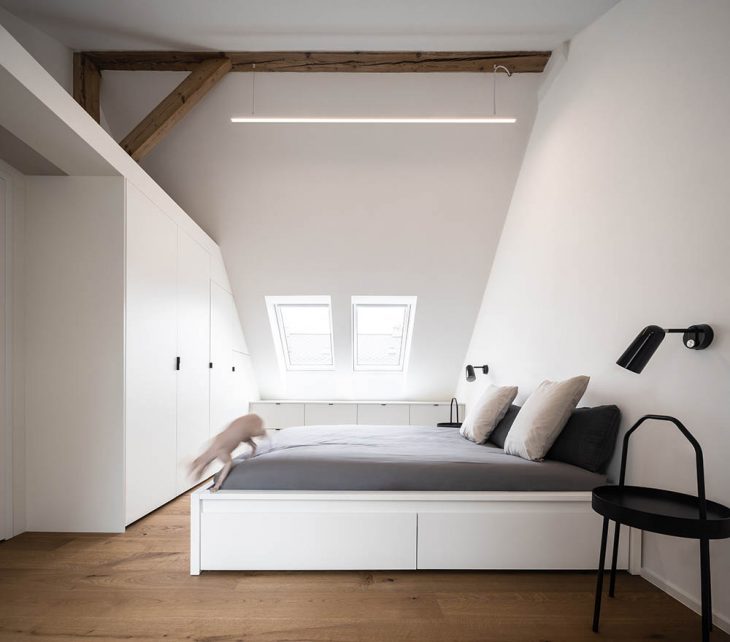 The client experienced some changes in his personal life during the final phase of the construction and asked for cost reductions. In an effort to economize we made some detailing changes that wouldn't affect the whole project. In the end we managed to maintain the original bold architectural concept.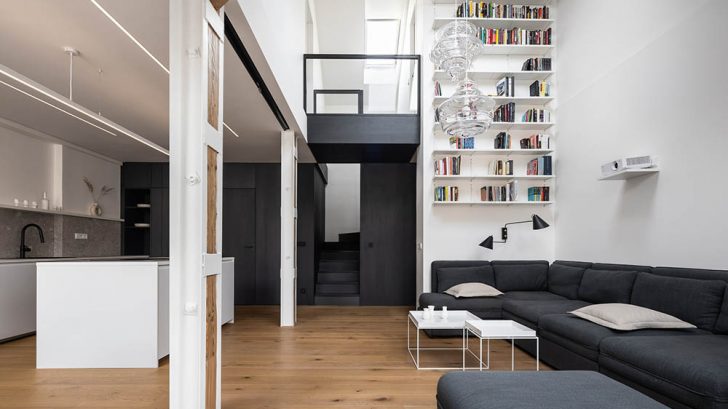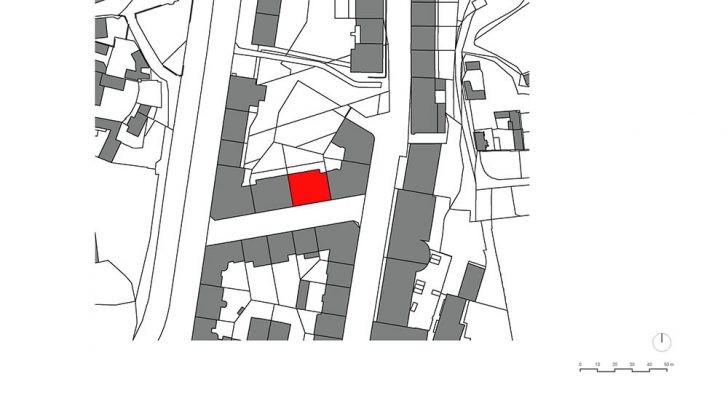 Studio Komon architekti – komonarchitekti.cz
Author Martin Gaberle
Studio address Zenklova 24/54, 180 00 Prague 8 – Libeň, Czech Republic
Co-author Bořek Peška
Lucie Roubalová
Jana Drtinová
Project location Prague 8 – Libeň
Project country Czech Republic
Project year 2019
Completion year 2021
Built-up Area 141 m²
Gross Floor Area 109 m²
Usable Floor Area 84 m²
Photographer Tomáš Slavík – www.tomasslavik.cz
Collaborator Cabinetry: Zlatý řez