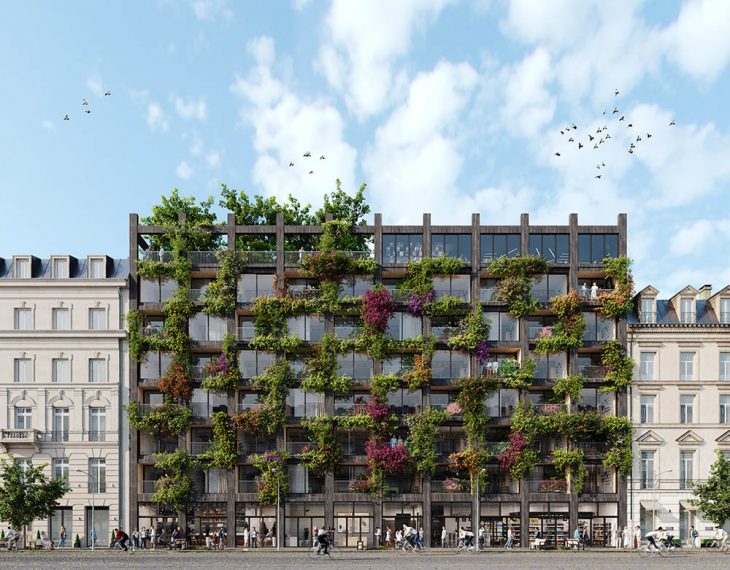 Paris-based architecture design studio, Cutwork has designed a pioneering 'PolyRoom' prototype prefab unit for Bouygues Immobilier's new shared living brand, launching across France in 2023. 'PolyRoom' is a modular studio prototype unit that reimagines compact, multi-use space to establish a new concept of today's bedroom – designed to be reconfigured to fit the user's changing activities and needs. The project reimagines the French residential model – modeled after the traditional family structure – to solve significant social and urban issues such as the loneliness epidemic, single, isolated living, working from home, and housing demand. Discover more after the jump.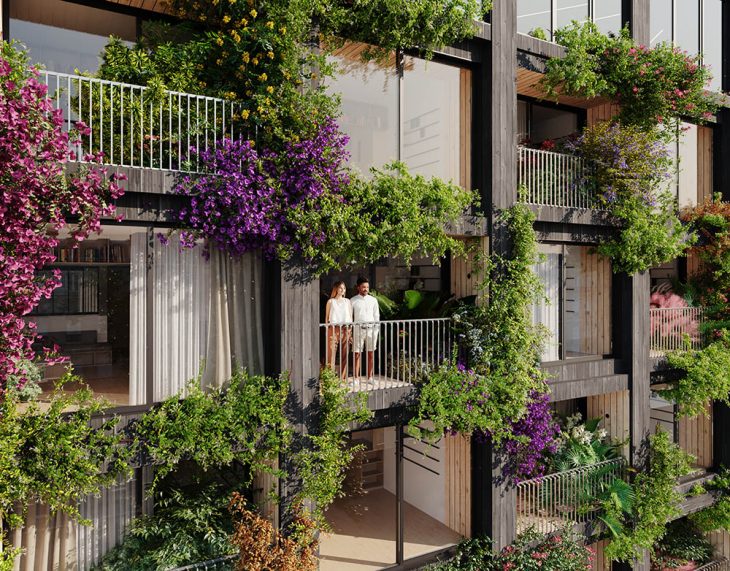 From the architects: Cutwork has devised the full interior concept for a groundbreaking new coliving company launched in 2021 by leading French developer, Bouygues Immobilier. Committed to rethinking the next urban era, Cutwork designs pioneering spaces that reflect new ways to live and work.
With the first modular unit, 'PolyRoom', showcased in Paris until March 2022, and the initial completed site due to open in 2023, Bouygues Immobilier Coliving is dedicated to simplifying the way in which we rent, use, and share living spaces. Cutwork was commissioned by Bouygues Immobilier to reinvent today's residential model, presenting a versatile living space that operates beyond the standard conventions of the contemporary home.
This new company is designed to make it easier for working people, between 25 and 40 years old, to access high-quality, affordable living and a socially connected life, addressing the widespread epidemic of loneliness within this generation. The brand offers all-inclusive services and accommodates both short and long stays.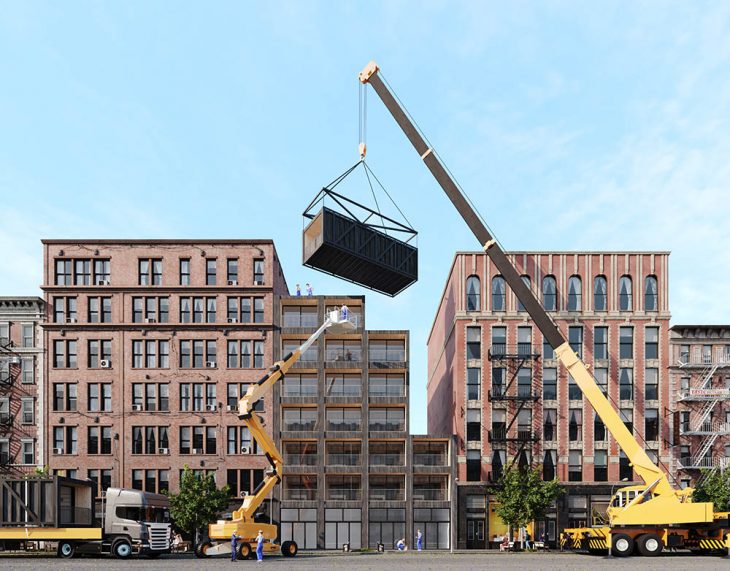 The project incorporates prefab architecture conceived and designed by Cutwork, then fabricated by DMD Modular. These prefab bedroom modules can be produced in bulk and stacked like LEGO bricks to construct the complete residential building in significantly less time than conventional construction methods.
The units help define the distinct brand experience with high-end materials and could accelerate construction and expansion across France, vastly improving the quality control of the finished building. Bouygues Immobilier plans to open up to 15 sites by 2025, providing 2,500 bedrooms. A first site for the full modular construction is in early discussions and planning.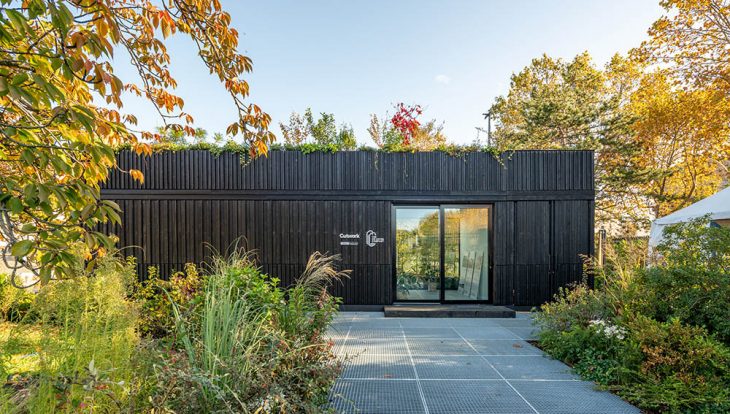 The project sets out to address today's key urban challenges:
How can design address the increasing need to do more in less space?
Over the past 50 years in France, the size of the accommodation has shrunk more than 20% – dropping below 60 m2.Tod ay's trajectory in all major urban centres is clear: We need to do more in less space.
For their solution, Cutwork co-founder and architect Antonin Yuji Maeno (half French, half Japanese), took inspiration from the Japanese concept washitsu. A washitsu is a central room in traditional Japanese homes. It has no predefined or single dedicated purpose, but rather is an adaptive space that can take any shape to meet inhabitants' changing everyday needs.
In European and American homes, each room is designed for a single, predefined use: living room; bedroom; dining room; home office; etc. In contrast, a washitsu is an 'anything' room, open to reinvention and continuous adaptation. This led the Cutwork team to question: What is the bedroom today? Reimagining the bedroom, they carefully infused the idea of washitsu to reconfigure the space for a range of different activities: sleeping; eating; working; socializing; relaxing; yoga; etc.
One key element is the bed: The bed is the thing that takes up the most space in a bedroom. In Cutwork's design, the bed lifts to disappear into the ceiling, freeing up space for other activities. Sliding partitions, smart storage, and modular, multi-use furniture give residents flexibility to appropriate the space to their needs.
"It's no longer about the amount of m2 we live in but about living in polyvalent spaces that are designed to be reconfigured to fit all our intimate and social needs," says Antonin Yuji Maeno, Cutwork cofounder and lead architect.
Designing a home today means confronting the rising housing crisis.
The UN has projected that by 2050, there will be 3 billion more people living in cities than today. If this continues at the current rate of growth for housing, more than 2 billion new homes will be constructed by the end of the 21st century. This means building a one-million person city every week.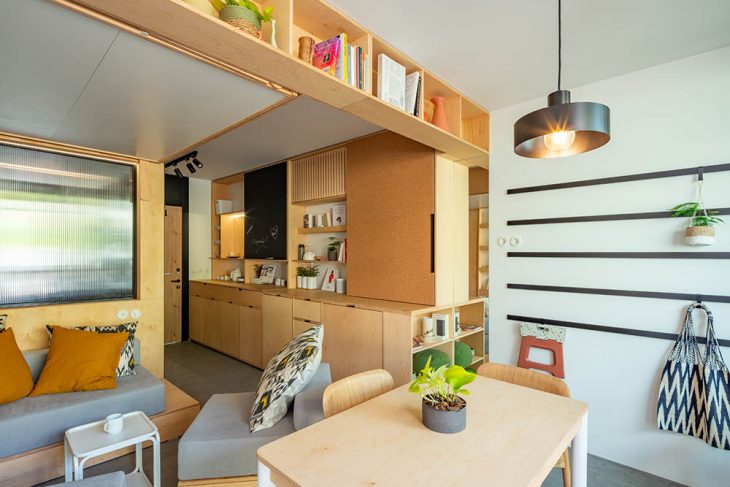 This demand is unprecedented and Cutwork believes that prefab is part of the answer, as modular prefab construction can significantly reduce the time from design to occupancy. Once planning permission is approved, buildings can be completed at a far faster rate, ultimately reducing the time from permissions to occupancy.
As a modular unit of construction, 'PolyRoom' can be stacked like LEGO bricks to rapidly create new buildings for Bouygues Immobilier's new shared living brand. Cutwork views prefab modular architecture as a potential defining characteristic of the next urban era, completely transforming the construction industry, particularly for residential and living spaces, which have been significantly slow to adopt this method when compared to the hotel industry.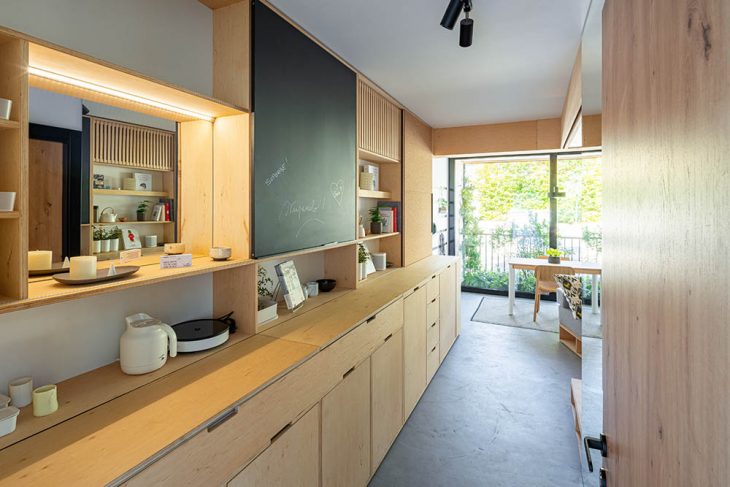 What is home after the traditional family?
For the last century, cities have been built for mononuclear families, defined as a married couple with 2.5 kids. Increasingly, in major cities, mononuclear families have fallen below 15% of households. This is a moment of transition where society's lifestyles have fundamentally changed.
People are naturally shifting from pre-packaged, conventional models to choosing less constrained, adaptive models of family. A multiplicity of new kinds of relationship structures are emerging, such as step-parenting, long-distance, fragmented family, open relationships, polyamory, etc. Despite this fundamental shift, the way homes are designed and built continues to reflect a century-old understanding of family and lifestyle.
Bouygues Immobilier Coliving offers studios and shared spaces for individuals and couples between the student period and the beginning of family life. At this stage in their life, access to city rental accommodation is viewed as a burden offering a low-value experience, generating anxiety and the conditions to feel loneliness.
In response to this shift and the growing demands for access over ownership, communal living experience, and the ability to work remote, Cutwork and Bouygues Immobilier partnered together to participate in and pioneer a new, adaptive vision of shared habitat.
How can we rethink the next urban era to activate biodiversity and preserve local ecologies?
"Buildings should be plant bombs," says Cutwork cofounder and lead architect, Antonin Yuji Maeno.
An estimated 421 million birds have disappeared in Europe in the last 30 years, while over 3 billion have disappeared in North America since 1970 – a quarter of the total population. Today, more than one in seven bird species is threatened with extinction or has already disappeared. Overall, 40.3% of bird species are considered to be in decline today.
This is just one of the many examples of ecological collapse we are facing. For Cutwork, urbanization plays a key role to reverse this trend. While building homes to address the rising housing crisis, it is vital to simultaneously reintegrate nature into urban developments in order to reactivate local biodiversity.
Bouygues Immobilier Coliving is carefully designed to help establish thriving, multi-species ecologies, even in dense urban areas. The design includes heavily planted balconies, façades, and rooftops – fully integrated into the basic prefab unit that the building is built out of. Specific species of plants are carefully curated and fit to the local ecosystem, helping to establish a niche for select insect species to support birds and biodiversity at each stage of the food chain.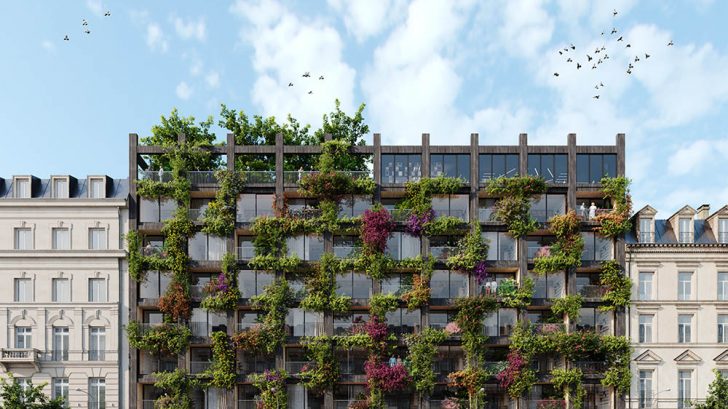 Project Bouygues Immobilier
Architect Cutwork – cutworkstudio.com
Type Residential, Shared Living
Project Size 54m2
Studio Room Size 21m2
Status In Development, December 2021
Scope Interior Design Concept, Prefab Unit Architecture and Design
Prototype Location Expo Porte de Versailles, 1 Place de la Porte de Versailles, 75015 Paris, FR
Photo Credit © photo Pierre CHATEL-INNOCENTI, courtesy of Cutwork