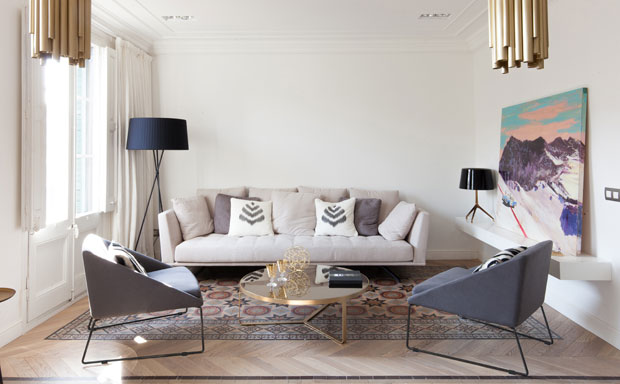 YLAB Arquitectos are sharing with us their masterfully taken refurbishment project of the Aribau Apartment in Barcelona (Spain). The lavish apartment is located in the classic Barcelona Ensanche area, the household itself has the sentiments of a traditional local architecture, taken with its narrow, long and partitioned layout.
The client, an English family in love with Barcelona and its friendly atmosphere, acquired the apartment as a holiday home. They wanted to change the distribution and preserve as many traditional elements as possible, while introducing contemporary and elegant new elements. The apartment offers a comfortable, hotel like atmosphere and allocates a spacious living room and three bedroom suites. Therefore, a complete redistribution including structural changes was needed. The design looks for the contrast between the traditional elements, serving as a base, and the contemporary custom made new furniture pieces that are layered on top of the original space while keeping a distance with it. Functionally there are two different day and night areas that needed a differentiated feeling. The day area is formed by the entrance vestibule, the corridor, the kitchen and the living room; all well connected with each other. The night area is formed by three independent bedroom suites, to provide some privacy for three different families. – from Ylab Arquitectos
RELATED: Find More Inspiring Apartments on ARCHISCENE
Scroll down for more of the project.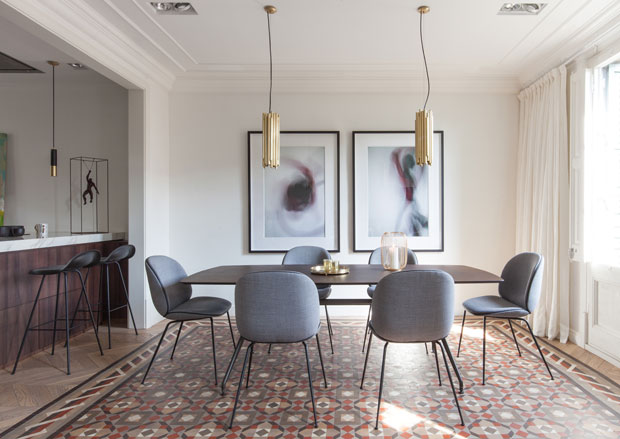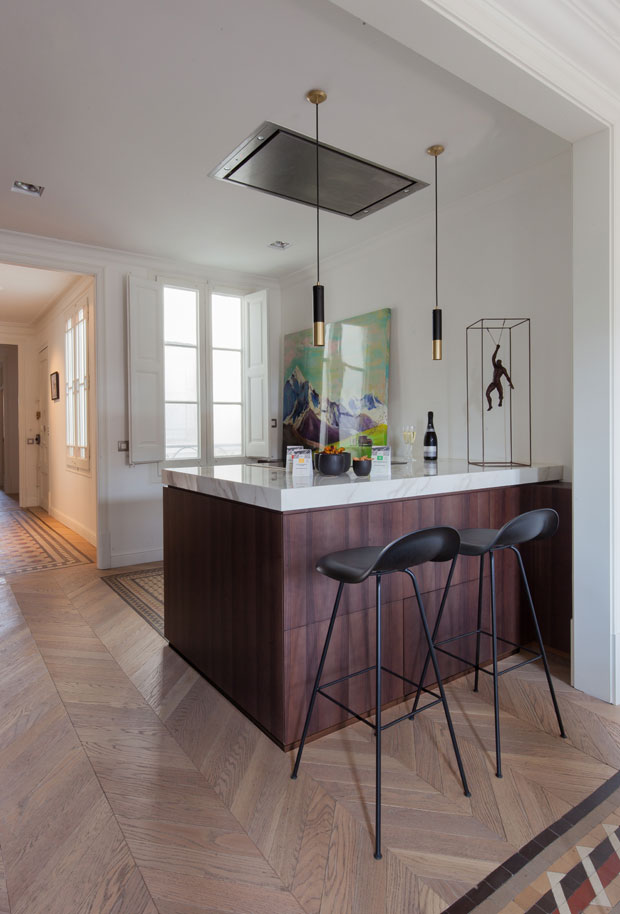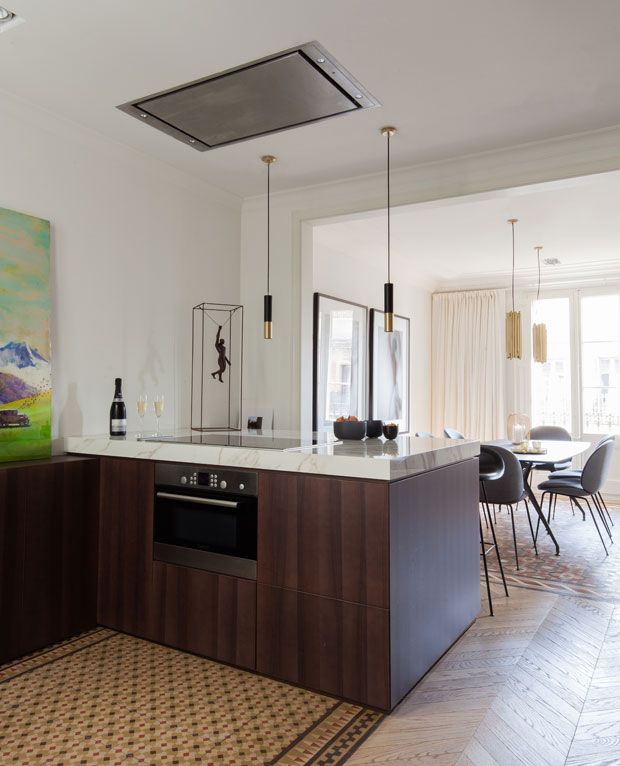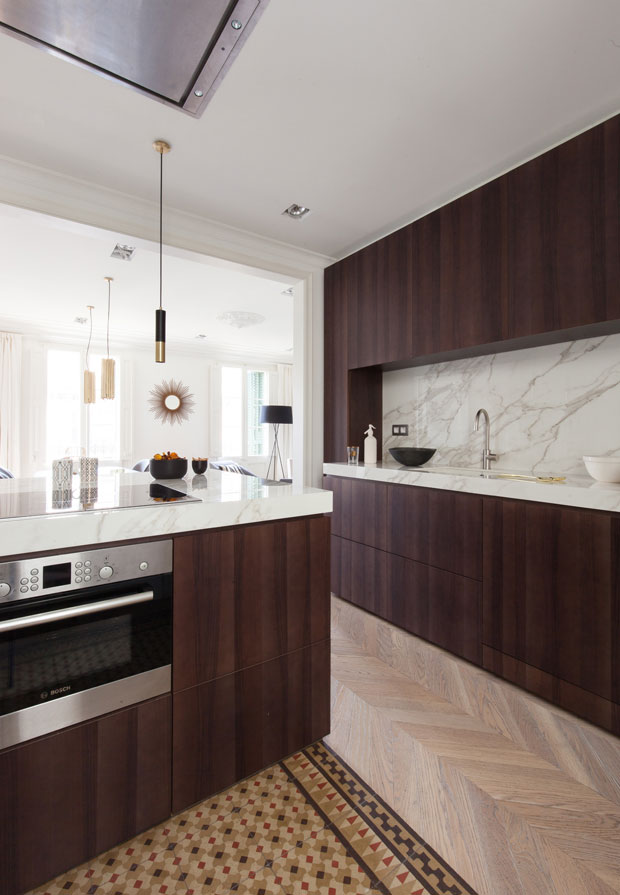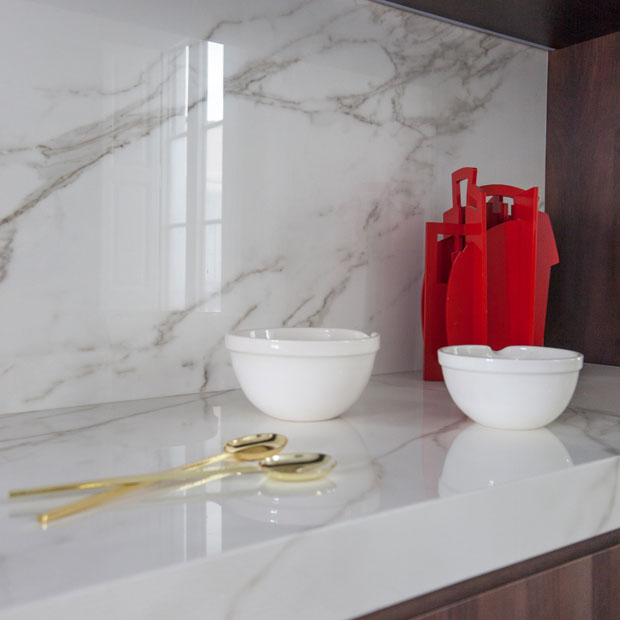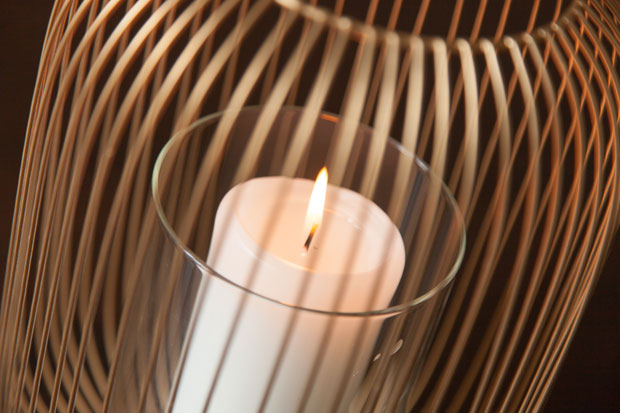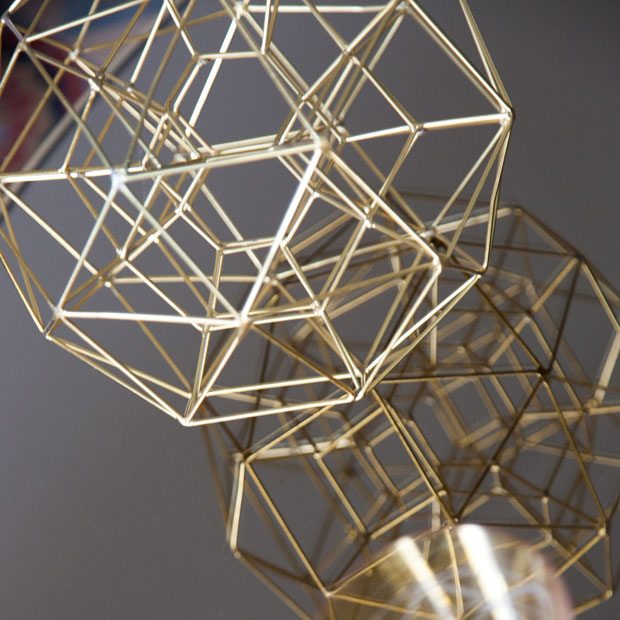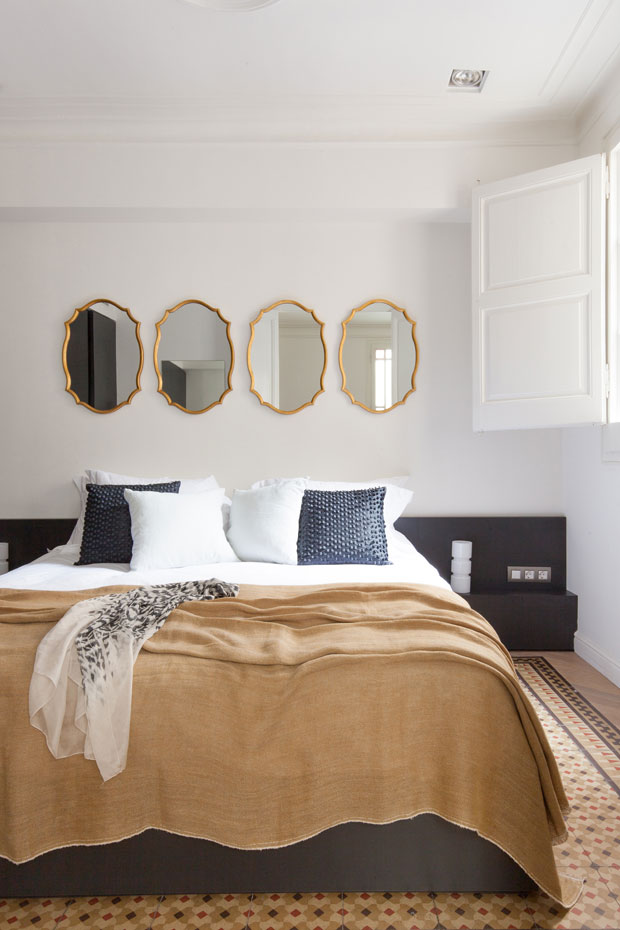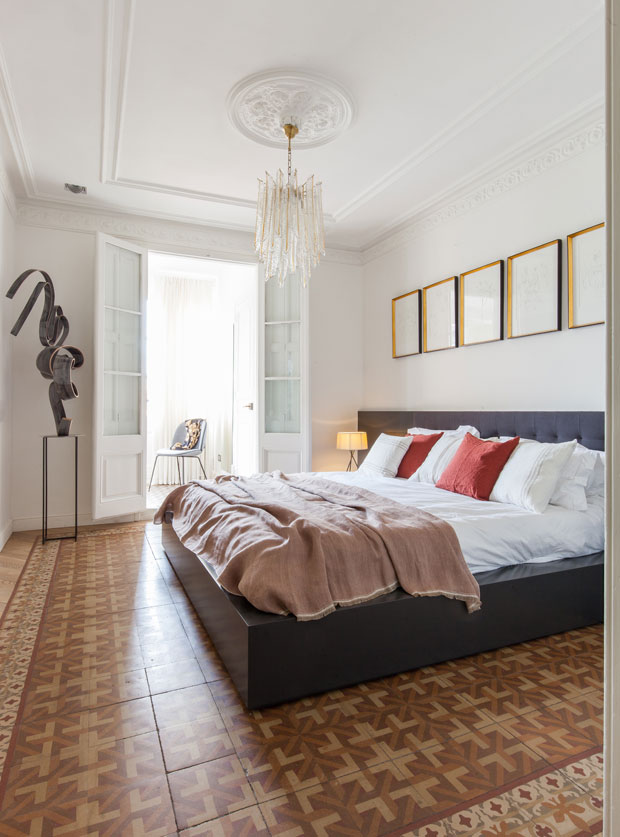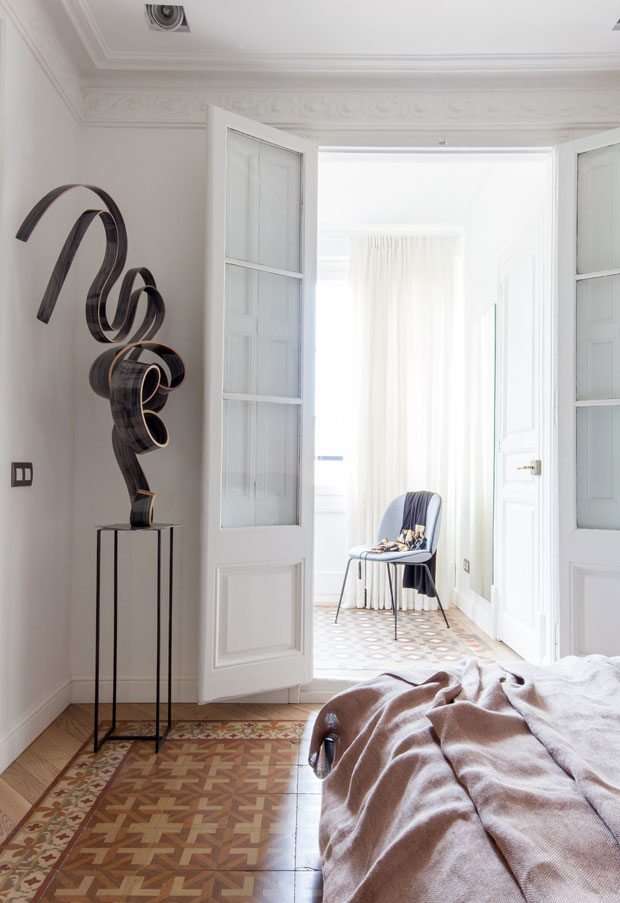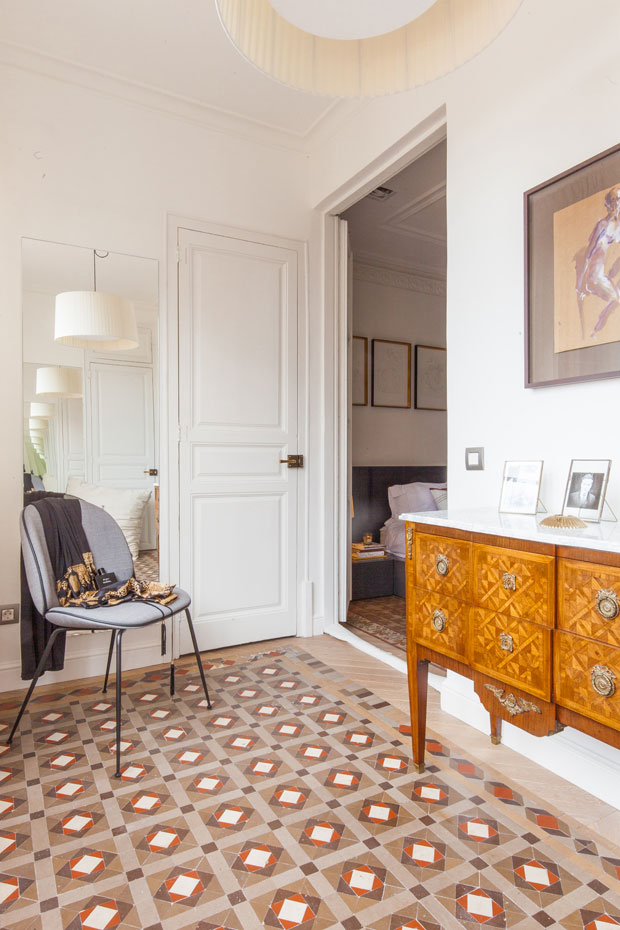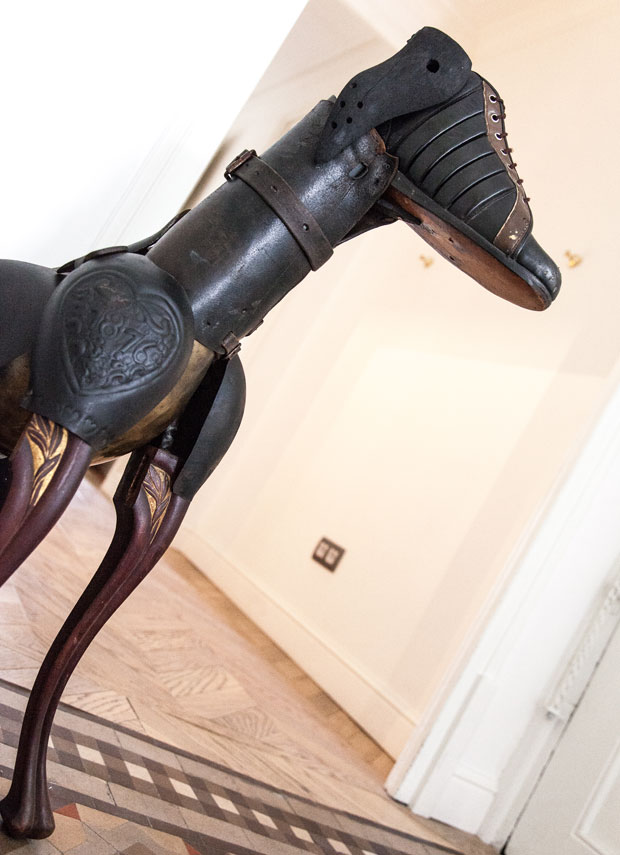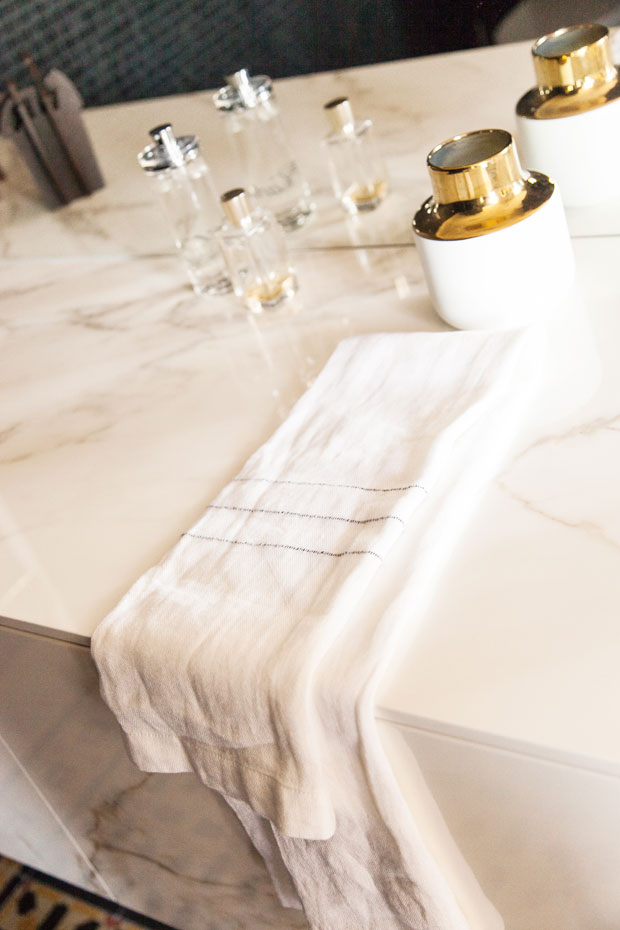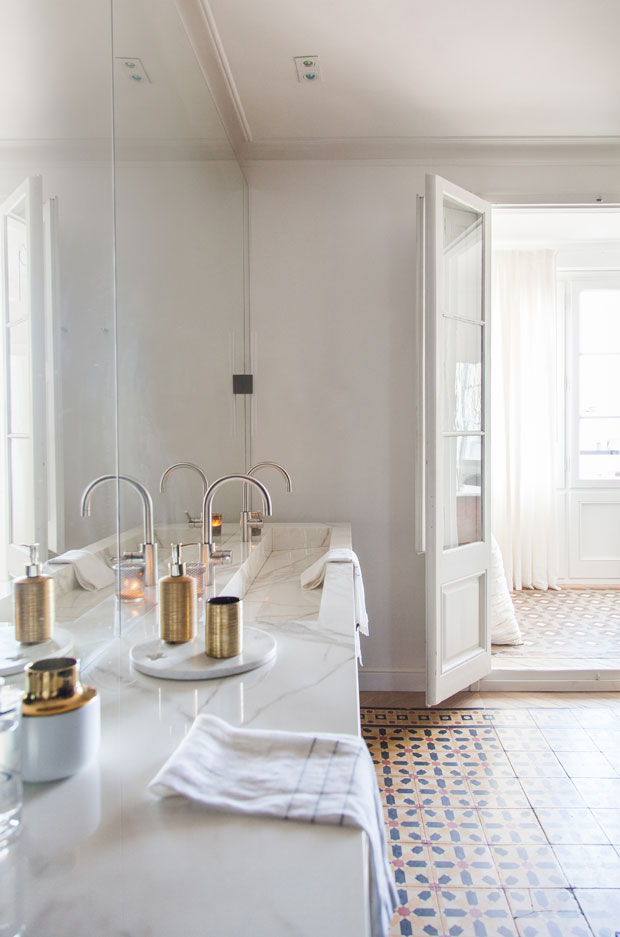 Flooring: Hydraulic mosaics by Mosaic del Sur
White continuous Pandomo K1 cement floor Painting and mouldings
Valentine white paint Ral 9010
Coving and mouldings by Orac Décor Custom-made wood furniture
Finishings in graphite lacquered wood, dark tinted natural elm wood veneer and white lacquered wood
Custom-made metal furniture Black iron sheet satin lacquer finished Lighting
Grid In Trimless black by Deltalight
Lotis recessed lamps by Modular
Aplomb dining table suspended lamps by Foscarini Sanitaries
Link suspended WC by Flaminia
Custom-made washbasins Corian Glacier White finished Custom-made showers finished with Artic White porcelain surface by Neolith Kitchen furniture, appliances
Custom-made kitchen all finished in black Nero Assoluto Bocciardato natural stone
Kitchen island finished in whitened natural oak veneer Faucet Blancolinus by Blanco
Cooker hood Invisible 18 EM by Gutman
Gas cooker PVA140-1 by Smeg Electrical accessories
Livinglight by Bticino Comercial furniture
Dining Wire Chair leather upholstered by Vitra Concrete dining table Boiacca by Kristalia
Kitchen high stools by Mater
Alanda central table by Paolo Piva
Images Courtesy of YLAB Arquitectos, photography © Tobias Laarmann. For more of YLAB projects visit their official web page www.ylab.es.