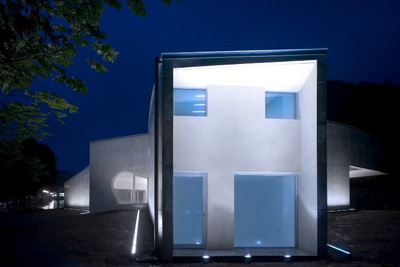 Project: Anyang Pavilion
Designed by Álvaro Siza, Carlos Castanheira & Jun Sung Kim
Location: Young-il Park, South Korea
Website: www.carloscastanheira.pt & alvarosizavieira.com
This impressive design for Anyang Pavillion in South Korea comes as elaborate work of Álvaro Siza, Carlos Castanheira and Jun Sung Kim. For more continue after the jump:
From the Architect, Carlos Castanheira:
Part From His Building Log
March 2005: This was an urgent matter and I immediately went to the site, to look around, take note, and bring back the necessary bases for an architect's work, as the theme was sober: a multifunctional space, a small, possibly multifunctional office, perhaps for the police, and toilets for those who walk the park's paths as well as for those who remain around the square or go to the local restaurants. Jun, a Korean architect who studied abroad, interned in Porto, and who is now based in Seoul has been a friend of mine for 20 years, and was waiting for me upon arrival. Our friendship and profession would establish the necessary connection. Arriving at the site, the urgency is present, the urgency of the urgency is present, because that is the way the country is, like its people and lifestyle. There is time to decide, but after decision comes the urgency. There is great euphoria at APAP 2005 – Anyang Public Art Project 2005. Many artists and a few architects have already confirmed it. There is some concern. Can so many guests of so many nationalities comprehend the urgency? Calmly, we gather elements, take photographs, solicit detailed plans, search for documentation, search for architectural precedents, most of it destroyed in the wars, for current architecture of merit….our friends help and point things out.
The site is an open space, shorn from the mountain, a square to be created. There are already compromises, perhaps they can be coordinated, even eliminated, we shall see. Back in Porto and the West. I try to transmit the experience, way of life, flavours and foundations of the work. Siza receives, perceives, questions and interprets like no other. From the first work session, a few timid, interpretive blueprints are made. The second session, supported by a model of the site, is more approximate, form becomes form, content in search of a programme. Other sessions follow, primarily on Saturdays and Sundays. The atmosphere is excellent. Models are built, scale is increased, the blueprints require alterations of the plans, models and 3Ds. It is necessary to return to Korea and present the project to the client.