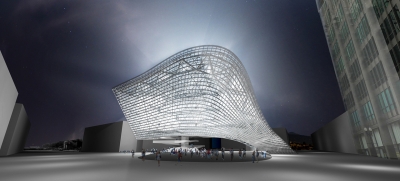 Project: Soundtheque Concert Hall
Designed by Garrett Ryan Miller and Mike Atherton
Location: San Francisco, California, USA
Website: garrettryanmiller.com
Created as a new landmark Soundtheque Concert Hall in San Francisco is designed for a location in Candlestick Point by Garrett Ryan Miller and Mike Atherton. Discover more of the project after the jump:
From the Architects:
Located in the center of the speculative master plan for Candlestick Point, San Francisco, the Soundtheque Concert Hall stands composed as a a beacon for the new urban center.
The project's origin is derived from a need to redefine the concert hall typology in order to better suit the current open-source climate of music consumption and production. Previous iterations of concert halls have resulted in a typological form that results in a very exclusive architecture gesture. The Soundtheque Concert Hall's uses three lenses in order to appropriately redefine the architectural typology. Geographical, climatic, and experiential filters are used in order to serve concert hall users in many different, yet specific ways.