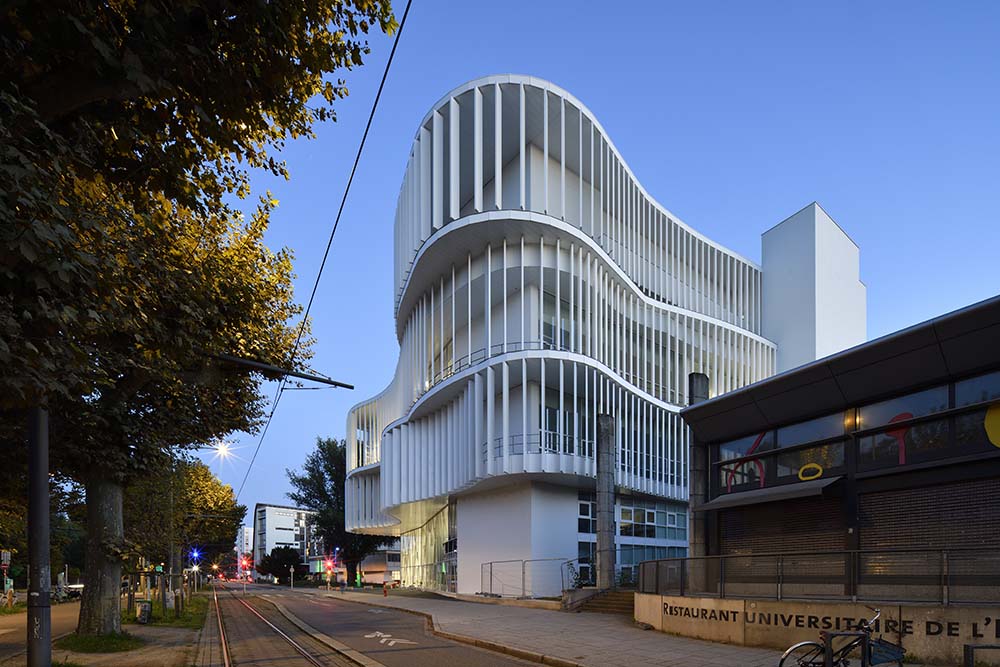 Jean-Pierre Lott Architecte recently completed Le Studium, a new University library, learning center, and the University of Strasbourg Press in Strasbourg, France. The idea was born out of the University of Strasbourg's ambition to equip itself with a unique structure that would serve as both a library and a student union facility, similar to a learning center. It is a third space, more than just a library, created to promote sociability and sharing.
The areas in the building are suitable for modern working practices. Both formal and informal places are needed by users. They anticipate modular rooms with mobile furniture, as well as spaces designated for collaborative work where silence is not essential, in addition to conventional reading rooms.
The project, which is the first building tourists encounter when they arrive, is located at the point where the Campus de l'Esplanade and the Historic Center converge. In addition to the project's stated goals, its remarkable urban setting serves as a strong visual cue to the metropolis that the university is present.
The proposed building has two faces from an urban perspective: a ground level that is largely transparent and invites onlookers inside; and a main body with flowing shapes that indicate movement and lightness. In terms of the spaces that make up the composition, it meets the requirements of the brief beyond this particular image. As a result, the ground level, the lobby, the Student Union, and the cafeteria can all be seen from the transparent podium that overlooks the common area. The reading rooms and stacks of collections are organized on two levels in the upper floors, where special attention has been devoted to the comfort and flow of the design, which is represented by the curves.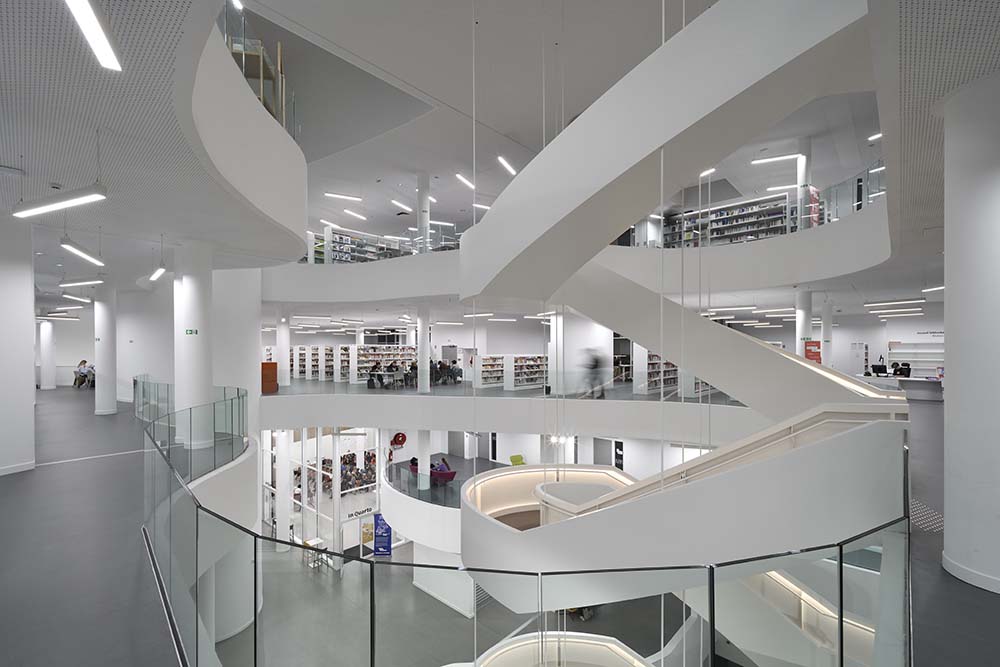 The effort on light control feeds into the façade's architecture. Large sunshades and brise-soleils shield the glassed bays from direct sunlight and filter natural light, which is diffused by the cantilevered floor. They are oriented according to the path of the sun to protect each space from direct sunlight while ensuring the necessary quantity of natural light and views of the city. The enormous kinetic veils are what give the project its ever-evolving forms. The appearance of the building changes depending on the amount of natural light, the location within the building, and whether it is daytime or nighttime.
Project information
Program: University library, learning centre and the University of Strasbourg Press
Address: 2 Rue Blaise Pascal, 67000 Strasbourg
Client: Université de Strasbourg
Project management: Jean-Pierre Lott – Architecte, Louise Van Grieken (project manager)
Serue – Oasiis – Acoustb
Surface: 12 000 m²
Cost: €22,000,000 excl. VAT
Calendar: Delivered in October 2022
Photo credits: © Christophe Bourgeois
Find more projects by Jean-Pierre Lott Architecte: jplott.fr