Safdie Architects design Proposal for National Library of Israel located in Jerusalem. Safidie's aim was to expanded library facility for the 21st century. Architects take advantage of the great outdoors surrounding the splendid location.
From the Architects:
As part of its comprehensive renewal process, The National Library of Israel organized a design competition to create an expanded library facility for the 21st century. The design brief called for the construction of a new building on a central site in Jerusalem, just south of the Knesset. Our solution positions the new library as a pivotal connection between several components of the National Precinct, connecting governance, culture and education.
For the National Library of Israel we propose a variety of work spaces appropriate for numerous public and private uses. Three floors of reading rooms located at the center of the library provide for privacy within community; carrels at the perimeter offer greater privacy, with views overlooking the city; and a grand public reading room, crowning the building on the top floor, opens onto a reading garden—one of several gardens located throughout the library. The grand reading room and garden are easily transformed into a space for dinners and banquets. Lectures, exhibits and performances can be accommodated in the library's auditorium, gallery spaces and public plaza.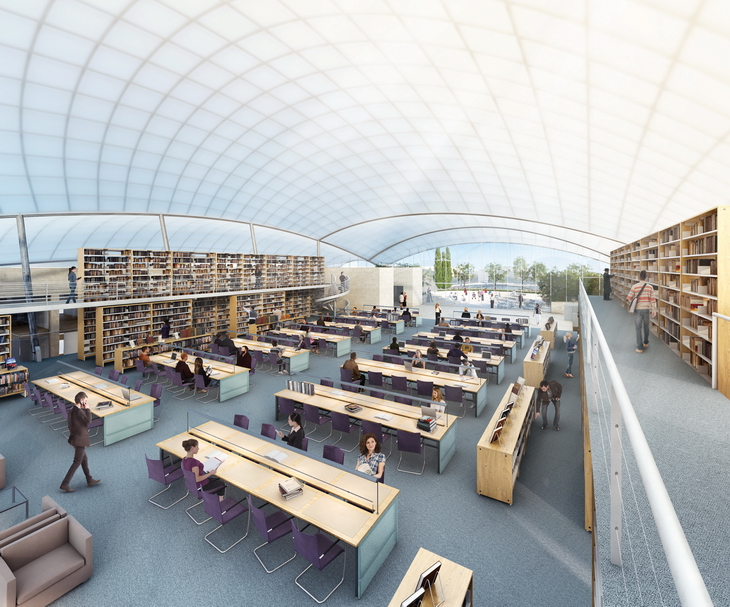 The library is an extroverted building, inviting from all directions and, from within, offering dramatic views of the Knesset, museum district and city beyond. The operations and workings of the library are open to public view and interaction. Rather than keeping the library's main collection hidden from view, the library celebrates its collection; its fast-stacks are located in the center of the library and visible from all directions, forming a 15-meter high base supporting reading rooms above. This location provides for an efficient flow of materials and, more significantly, makes the national cultural storehouse a major element of the library experience. A Visitor's Loop – incorporating permanent and temporary exhibits, the auditorium, seminar rooms and operational areas – provides glimpses of conservation, binding, and other library work without disturbing these operations.
The library structure and systems draw on local tradition and contemporary technology for energy efficiency and resource conservation. The library is constructed using a system of precast concrete inlaid with Jerusalem stone. The combination celebrates the color and texture of traditional materials and minimizes waste and assembly time. The library's buoyant roof is composed of a thin shell steel structure, enclosed by a white fritted glass and ceiling panel sandwich that both filters light and acts as an acoustic absorber. The light-permeable roof, extensive glazing, deep light shelves, and open interior spaces allow daylight to permeate every part of the building, greatly reducing the need for artificial light. Radiant heating and cooling localize air displacement, supported by geothermal cooling, earth buffering, and thermal labyrinth systems rather than conventional cooling towers. Rainwater reclamation allows for landscape irrigation and secondary use within the building.
Project: Proposal for National Library of Israel
Designed by Moshe Safdie (Safdie Architects)
Client: National Library of Israel
Location: Jerusalem, Israel
Website: www.msafdie.com