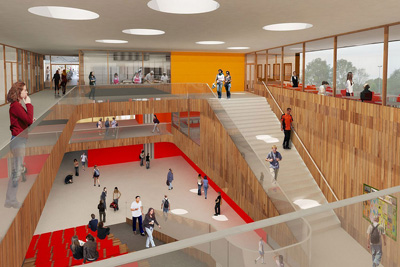 Project: Noorderpoort College
Designed by Mecanoo
Location: Stadskanaal, Netherlands
Client: College in Stadskanaal
Website: www.mecanoo.nl
Dutch Mecanoo architects proudly describe their Noordeport College project as a villa on water and they are right to do so, construction of their winning design will begin in 2012 with completion expected for 2014.
For more images and Mecanoo's description of the design continue after the jump:
Mecanoo architecten has won the architectural selection for the new Noorderpoort regional community college in Stadskanaal, the Netherlands. The 8,500 m² college is like a mansion with beautiful wetlands as a front lawn situated within the town's green heart. The community college provides education to 1300 students in the Engineering, Health care and Services sectors. Construction is to begin in 2012 with doors opening in 2014.
The atrium is at the heart of the building and features a large grandstand. It is the most important meeting place and provides access to every floor. This is where the different departments present themselves with their showcase windows that provide a literal view of what the various disciplines have on offer. Noorderpoort is no traditional school but a modern educational environment where theory and practice are intertwined. The school is an exemplary model for the partnership between education and the business world. Several commercial businesses within the building contribute towards its multifunctionality.
Noorderpoort has an atmosphere that is both welcoming and striking. Striking is the interplay of the flowing forms of the wooden slats with a lot of glass above the open facade.The aim is for the building to achieve a BREEAM Very Good rating in sustainability. This rating is attained by application of underground thermal storage, sustainable materials, water treatment by means of a helophyte filter, a high degree of flexibility and healthy indoor ambient conditions.