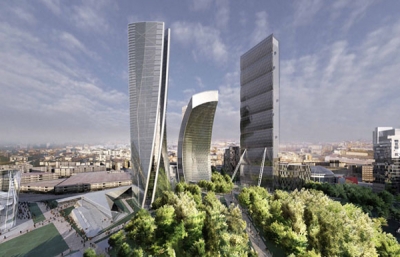 Project: Citylife Tower
Designed by Arata Isozaki & Andrea Maffei Associati
Design Team: Pietro Bertozzi, Takeshi Miura, Alessandra De Stefani, Chiara Zandri, Vincenzo Carapellese, Roberto Balduzzi, Francesca Chezzi, Takatoshi Oki, Stefano Bergagna, Paolo Evolvi, Elisabetta Borgiotti, Adolfo Berardozzi, Sofia Bedinsky, Atsuko Suzuki, Antonietta Bavaro, Carlotta Maranesi, Higaki Seisuke, Hidenari Arai / Andrea Maffei Architects s.r.l., Milan, Italy
Client: CityLife s.r.l., Milan, Italy
Built Surface for the Tower: 81 615 sqm
Surface for Parking Areas: 44 485 sqm
Maximum Building Height: 207 m
Number of Floors: 50
Number of Office Floors: 46
Location: Milan, Italy
Website: isozakimaffei.it
Citylife Tower is a solution shaped for a design capital that Milan indeed is, this massive project proposal is work of Arata Isozaki & Andrea Maffei Associati. For more images as well as architects description continue after the jump:
From the Architects:
Milan is the city that best represents the international face of Italy, comparable to London, Frankfurt, Paris. Unlike many historical Italian cities, Milan is more related to its development in the nineteenth and twentieth century, to be more precise after the industrial revolution. In this sense, design in Milan is confronted with the more contemporary face of Italy, made up of factories, underground, concrete and steel and not so much of particular historical legacies. Witness the fact that the Futurist movement has developed mainly in Milan, a movement created to respond to the themes of the contemporary city. It was not a particularly important relationship with the large existing excellence, but rather a reflection on the themes of the contemporary city. To develop the project, we immediately thought it was interesting to rely on a single designer, the design of the complex. Given the size of the lot we decided to aspire to re-interpret the complexity of the city through most designers who, at odds with each other, bring the power of buildings with different shapes and materials.