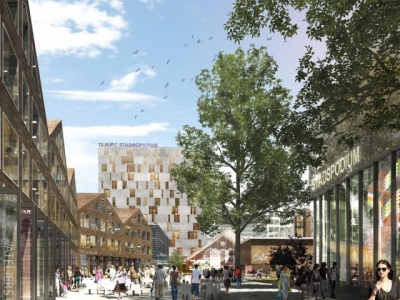 Project: City Campus Tilburg
Designed by BARCODE Architects
Team: Dirk Peters, Caro van de Venne, Hendrik Bloem, Simone de Bergh, Jos Reinders, John O'Callaghan, Christiaan Harmse, Francesco Bogoni, Querien Velter, Nieves Ruiz Alvarez, Philip Vandermey, Thom Schreuder, Laura Ubachs
AAS: Marc Glaudemans, Marnix Scholman, Thomas van Wanrooij, Jeroen de Waal, Mark Machielsen
Size: 150 000 m2
Location: Tilburg, The Netherlands
Website: www.barcodearchitects.com
Dutch practice BARCODE Architects takes on the massive task of creating a masterplan reshaping an area of a former railway site into the City Campus Tilburg project. The complex takes on 145,000 square meter scope providing space for both office and residential program but as well as cultural centers, retail and even a high school. The object is to unify education, business and culture into a lively district for its residents and visitors.
BARCODE stands for the buro for architecture and contemporary design, see more of their Tilburg design after the jump: