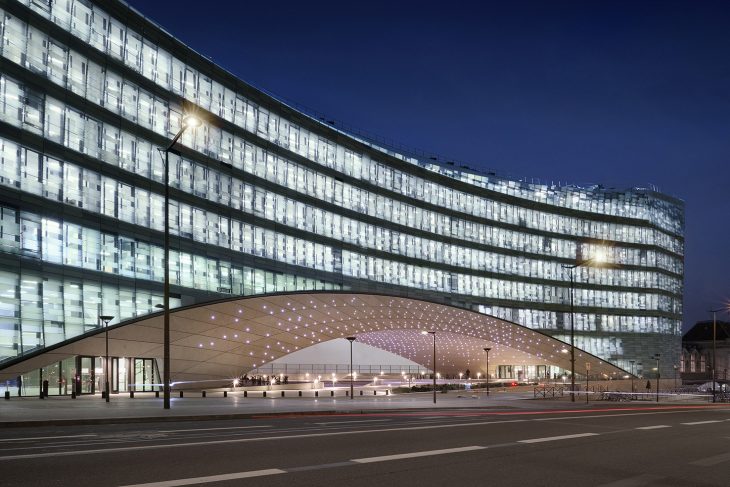 BOA Light Studio, in collaboration with Snøhetta and SRA Architects, recently unveiled the MEDIA PLAZZA, within the new head office of the Le Monde group. It is one of the flagship projects in a rapidly developing Parisian district. Discover more after the jump.
Located at the above to the Gare d'Austerlitz, on Avenue Pierre Mendès France, the building was designed as an inhabited bridge laying above the city and bustling night and day with journalists covering the News for this key French media group including Le Monde, Courrier International, Télérama, La Vie, Huffpost and L'Obs.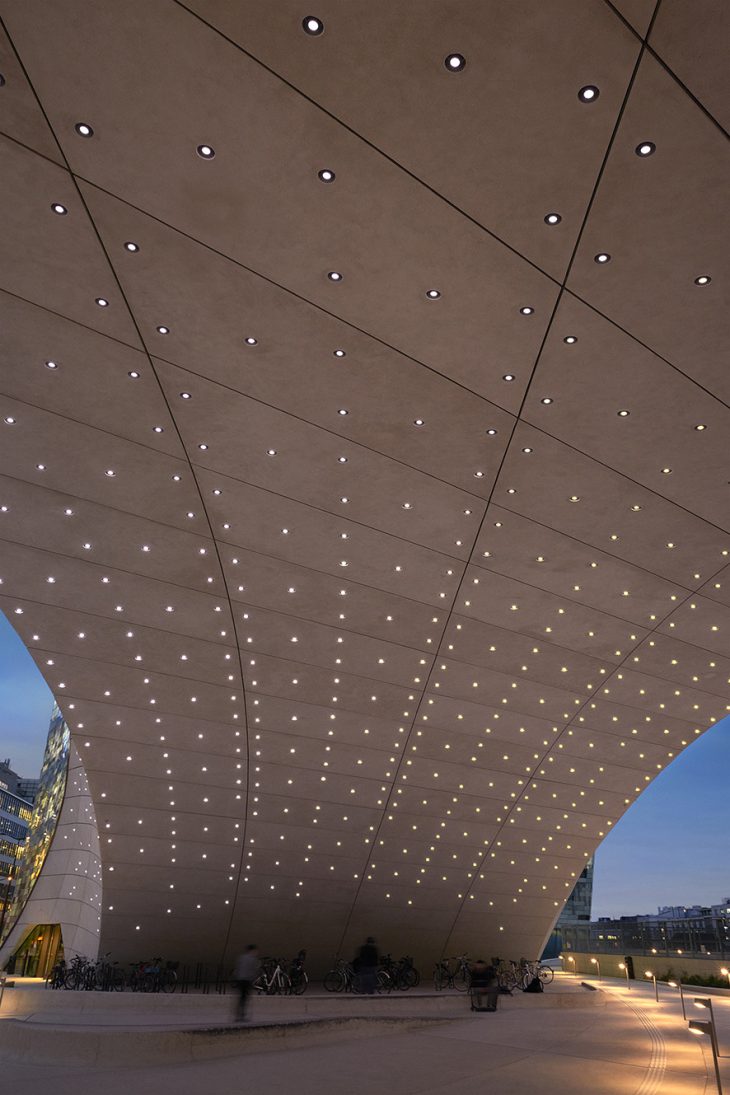 Arched over an area of 23,000m2 on over 7 floors, the arch plays with transparency and the views of the capital's left bank. Jean-Marie Priol, artistic director of BOA explains: "Delighted with our previous collaboration with SRA on the Galeries Lafayette Champs-elysées project from 2019, we immediately agreed to collaborate on all the aesthetic and technical elements of the dynamic lighting concept for the Media Plazza. Our challenge was to create lighting that would be anchored within the architecture; that would appeal to the employees on a daily basis while interacting on a grander scale as the vault is set on a public space."
For 5 years, the BOA team worked on this luminous skin that would interact with the surrounding urban landscape. With a dynamic sparkle, the light's narrative reflects the vibrant activity coming from within, but also adopts a soft, universal, pulsating rhythm adapted for the public space.
The long, architectural loop creates an echo with an almost imperceptible repetition of the colours and lights of Paris. For each of its projects, BOA creates a direct relationship with its environment. For the Media Plazza, the vault oscillates between warm and cool whites, symbolising Paris and the river Seine.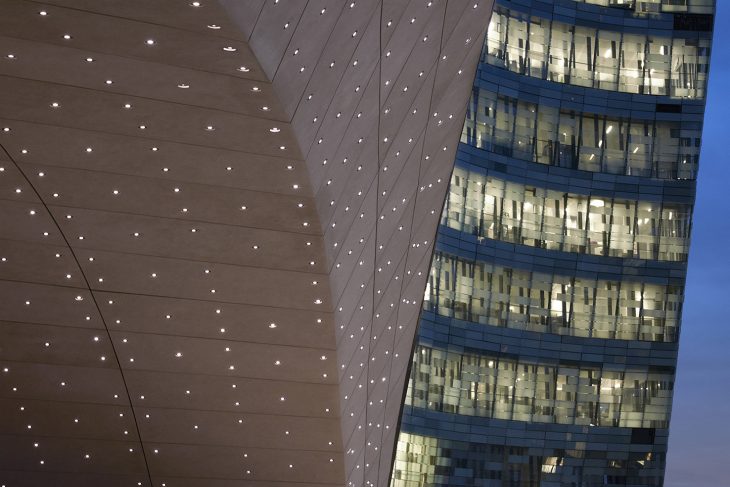 "The technical feasibility was made possible thanks to the excellent craftsmanship. The perforation of the concrete to accommodate the lighting fixtures was shaped, by hand, by an artisan concrete worker, for whom we designed a tailor-made integration plan. The large LEDs were integrated using a recessed metal stud for the aesthetic while meeting the practical constraints for maintenance. The built-in installation therefore makes it possible to change each LED from the outside, just like a light bulb" adds Fabienne Maman, who oversaw the technical production and artistic collaboration.
At night, the spectacle is amplified. The vault comes alive. The building appears gradually in the urban landscape, subtly emerging in the night and melding with the lights of the capital. With original, dreamlike narratives, BOA designs powerful and rousing projects that emanate poetry and emotion. For the Media Plazza, the animations were designed by capturing elements from the sky, a touching tribute to the activity within the building. "This group of journalists and press tells us
about the state of the planet; our work embodies this and broadcasts it into the skies of the world" concludes lighting designer Nedir Benkhelifa, on the creative and technical synergies of the custom experience."
Project Type: Office Building
Intervention: Architectural Installation
Schedule: 2021
Client: Le Monde, Redman
Status: Completed
Location; Paris (Fr)
Lighting Design: Boa – boa.fr
Project Team; Snøhetta, Sra, Cicad