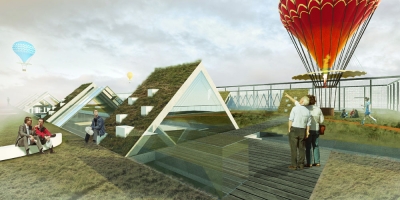 Project: Science and Technology Park
Designed by idcode
Project Area: 6 400 sqm
Location: Opole, Poland
Website: www.idcode.pl
Studio idcode is sharing with us their engaging design for Science and Technology Park in Polish town of Opole, for more images as well as architects description continue after the jump:
From the Architects:
Location. Competition site is located on the periphery of the city, where the city meets the country side of fields and loosely scattered single-family housing. Site is in close proximity to the neighbourhood shopping centre "Karolinka" and the newly established conference centre. Both existing buildings located near the area, cause a temporary influx of people in and around the city, which enables the integration of people with what is happening in the park.
Strategy. The global economic pressure and extraordinary advances in information technology have dramatically changed the nature of office work. The increasing ubiquity and mobility of information technology paradoxically stresses the importance of face to face human interaction. Science and Technology Park should combine theoretical reflections with practical solutions.
Such a process must be on a constant exchange of ideas and discussion. The objective and main goal of the strategy is to create a typology of office to promote human interaction and communication, promoting creative work.
Idea. We resigned from the vertical communication for horizontal integration. Loose office modules arranged on the site, created a space of integration and communication between office modules.
The concept is a combination of horizontal character of the building with the existing landscape of suburban fields. By creating a landscape project in which the field and discussion form a functional space of fields to the discussion.
Function. The proposed building consists of a few functional layers which form an integral whole:
– Office layer – Four lanes of loosely scattered office modules, which are open to the inner courtyard. Each module has the possibility of direct exit into the green courtyard.
– Green courtyard layer – This space has been designed to temporarily take the form of a winter garden. On the roof sliding glass was installed, which slides up or slide down according to the needs of usage space. In this space, resides urban furniture for discussion and exchange of ideas.
– Layers of green roof – accessed to employees and outsiders people. There are sports facilities (running track, basketball court, tennis courts), allowing their use by both park staff and local community. Whole roof has character of open field for organizing different outdoor events.