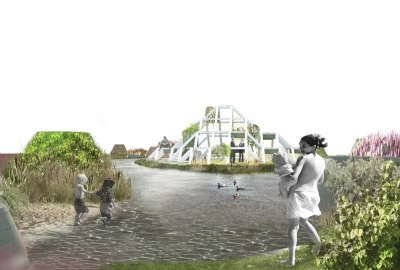 Project: Pulse Park
Designed by CEBRA
Client: KildebjergRy, Skanderborg Municipality
Size: 24 057 ft2
Location: Ry, Denmark
Website: www.cebra.info
CEBRA architects are in charge of Pulse Park design already under construction in Danish town of Ry, discover more images as well as a work in progress video after the jump:
From the Architects:
CEBRA's fitness landscape the Pulse Park is taking shape. The project consists of three activity zones in connection to the residential and business area Kildebjerg Ry near Aarhus. The video shows the grid structure in the Zen Zone – a small hill on an island surrounded by water that features acitivities like yoga, pilates and meditation. The Zen Zone is all about relaxation and activating all your senses. The other zones consist of the Play Zone with a series of geometrical trees for both play and work out as well as the Pulse Zone with tracks, bulges and bowls for runners, bikers, skaters etc. The Pulse Park's three zones are establishing an optimal framework for physical activities and excercise while forming an integrated part of the surrounding landscape, the area's other leisure activities and Kildebjerg Ry. The Pulse Park is expected to be ready for use during August 2012.