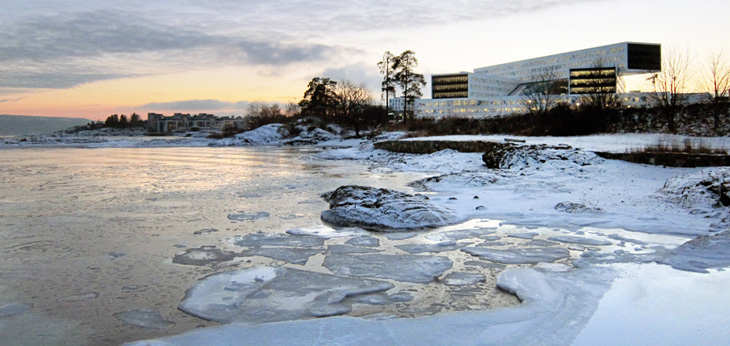 Norwegian energy company Statoil asked A-Lab to design their headquarters located on the Fornebu peninsula outside the city.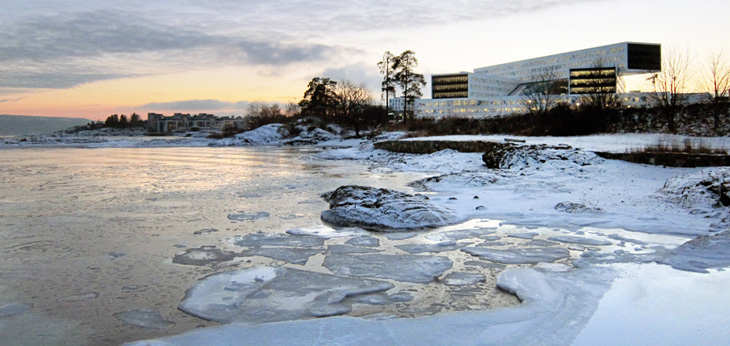 From the Architects:
With this new building at Fornebu outside Oslo, Statoil is gathering its international and regional offices under one roof. The innovative new offices will provide an inspiring and very flexible working environment for 2500 of the company's employees. The design by a-lab was the winning proposal in an international competition held in February 2009.
After a detailed project planning phase and a construction period of less than 20 months, Statoil's new headquarters were completed in the autumn of 2012.
Limiting the environmental footprint

The Fornebu area, which was previously the site of Oslo's main airport, has been undergoing a radical transformation to new commercial buildings, residential buildings and public recreation areas. A key challenge has been to balance size and architectural expression with the natural surroundings, while introducing new impulses that enliven the park and commercial area. More specifically: how does one design a 65,000 m2 commercial building complex to make it blend with Fornebu's idyllic shoreline?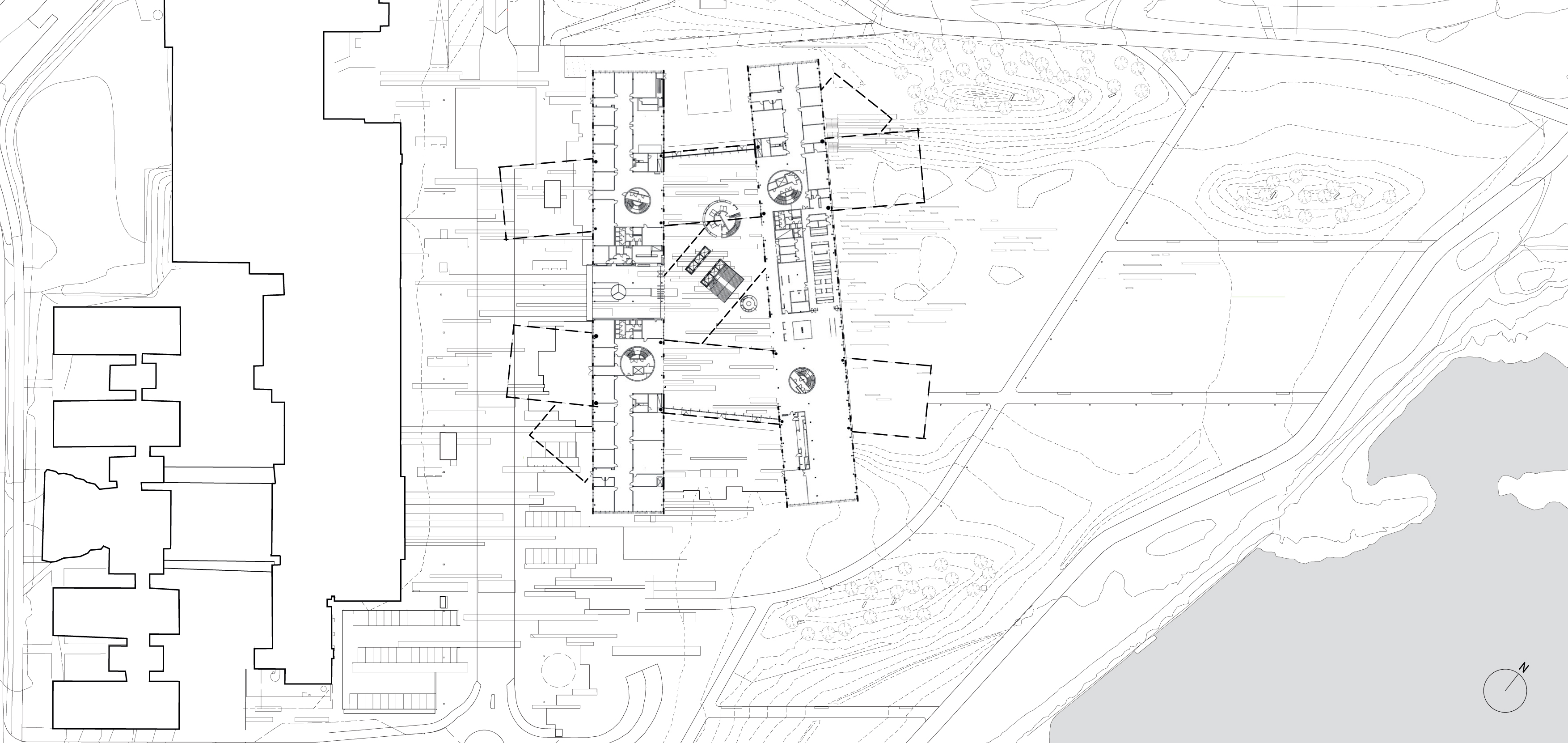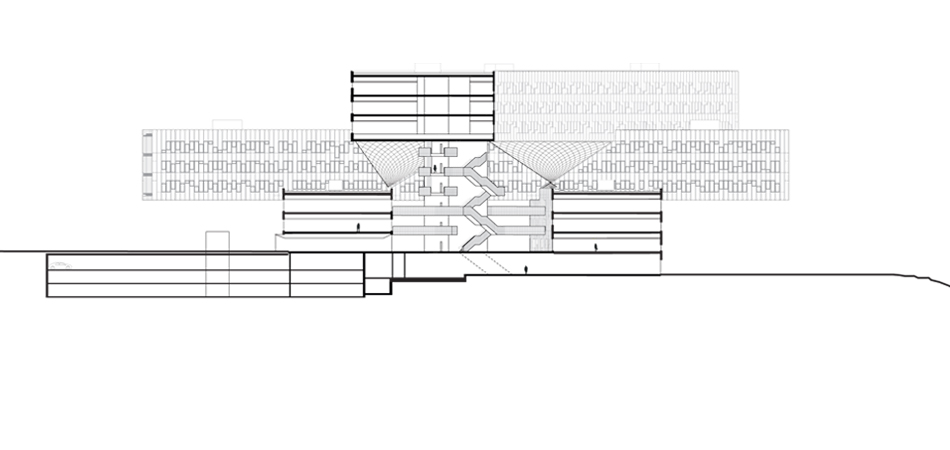 Highly flexible solutions

A-lab's innovative concept was inspired by construction techniques that are well known in the petroleum industry. Five three-storey lamellas of identical size were stacked; each is designed with a high degree of flexibility that would ensure the workspaces could easily be adapted to changing future needs. The placement, well away from the property's boundaries, limited the complex's environmental footprint and allowed it to be surrounded by a generous amount of publicly accessible green space. This also creates a large and attractive shared atrium for the users of the building.

For Statoil, it was a clear objective to gather its organisation in a single efficient headquarters. The innovative offices have an unusually low energy consumption that satisfies Statoil's ambitious environmental demands. Impressive use of cantilevering, with up to 30-metre overhangs, and the advanced glass-roofed atrium, make the building unique in Scandinavia.
Thorough dialogue at every stage

Thanks to detailed and thorough planning, and a fruitful solution-oriented dialogue between Statoil, the architects, the client and owner, the construction companies and all subcontractors, construction of the building was completed in less than 20 months. Statoil was deeply involved throughout the project's development, approving the overall concept and floor plans, detailed functional and room planning, choice of materials, surfaces, colours and lighting. The result is a building where the company that will be using the building, as well as the owner, the architects and construction companies express great satisfaction.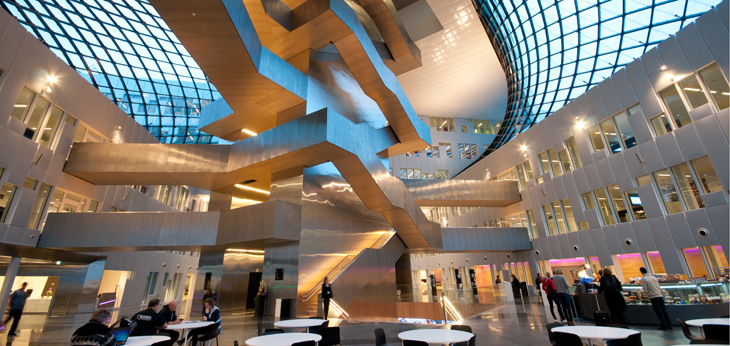 Project: Statoil Regional and International Offices
Designed by A-Lab
Interior Architects: A-Lab (No) and Momentum Arktitekter (NO)
Landscape Architects: Østengen og Bergo (NO), concept, and Rambøll Norge (NO), detail
Construction: Skanska (above-ground commercial building) / PEAB (foundation and underground structure)
Client: IT Fornebu Eiendom AS Total
Area: offices 65,500 m2, plus underground parking garage 52,400m2
Location: Fornebu, Norway
Website: a-lab.no