Project: Vitra Building
Location: Sao Paulo
Designed by Studio Daniel Libeskind
Website: www.daniel-libeskind.com
An impressive design for a residential building in Sao Paulo is a first Daniel Libeskind project in South America, for images and architects official description continue after the jump.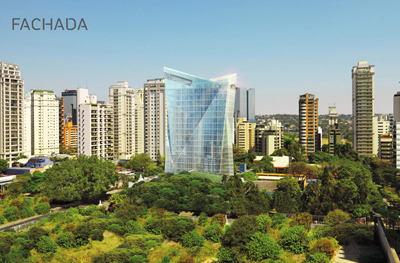 JHSF, one of the largest companies in Brazilian real estate, launches Vitra in São Paulo, a high-end residential building designed by Daniel Libeskind. It will be the first project in South America by the award-winning Polish-born American architect behind the Ground Zero master plan development in Manhattan and the Jewish Museum Berlin, among other projects.
Vitra is a multi-faceted, luminous glass tower with a sculptural shape. According to the architect,"it represents the unfolding dynamism of a unique place and an energetic population full of optimism and potential, gesturing openly to a wide panorama of São Paulo and the Itaim neighborhood."
According to Libeskind, inspiration for the design came from Brazil's natural and urban beauty and from its people who have been able to show the world their shared humanity. "It was with this spirit that I designed a residential tower which expresses that optimism, the vibrant culture and the dynamic possibilities of a truly pluralistic world," he says. The building will include 14 apartments – one per floor plus a two-floor penthouse – from 565 to 1,145 square meters. The main distinction is that each unit's floor plan will be unique.
"Vitra radiates a new spirit for condominium living within a vibrant urban neighborhood and is a celebration of an open culture with energy and life of an evolving city and region. A sculpted crystalline form, inspired by the dramatic beauty in the powerful natural resources of Brazil, Vitra creates a new icon for the city of São Paulo, "Libeskind explains.
The development is committed to sustainable practices that will contribute to overall environmental conservation. Vitra will stand on Horácio Lafer Av., in the Itaim Bibi district, between Salvador Cardoso St. and Lopes Neto St. Near Presidente Juscelino Kubitschek Av. and Brigadeiro Faria Lima Av – one of the city's main thoroughfares -, the site offers quick and easy access to several leisure sites such as the Ibirapuera and Do Povo parks.
Construction is set to begin in July 2011 and delivery is scheduled for 2013.