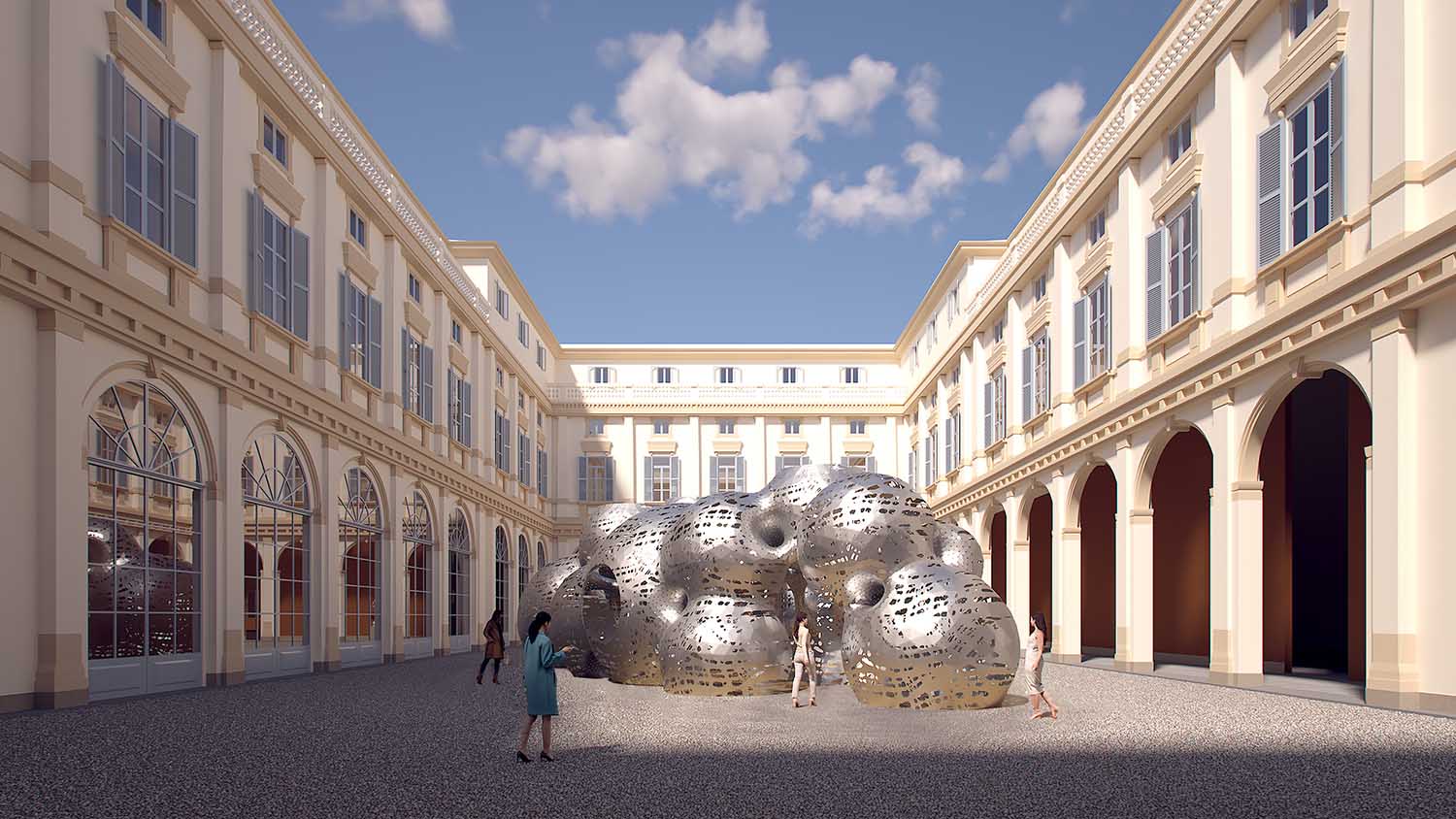 11 new Objets Nomades by Atelier O, Raw Edges, Atelier Biagetti, Marcel Wanders, Zanellato/Bortotto, Studio Louis Vuitton, and Campana were unveiled by Louis Vuitton during Milan Design Week 2023.
The Maison also unveiled Marc Newson's beautiful redesign of the iconic Louis Vuitton trunk, the Cabinet of Curiosities.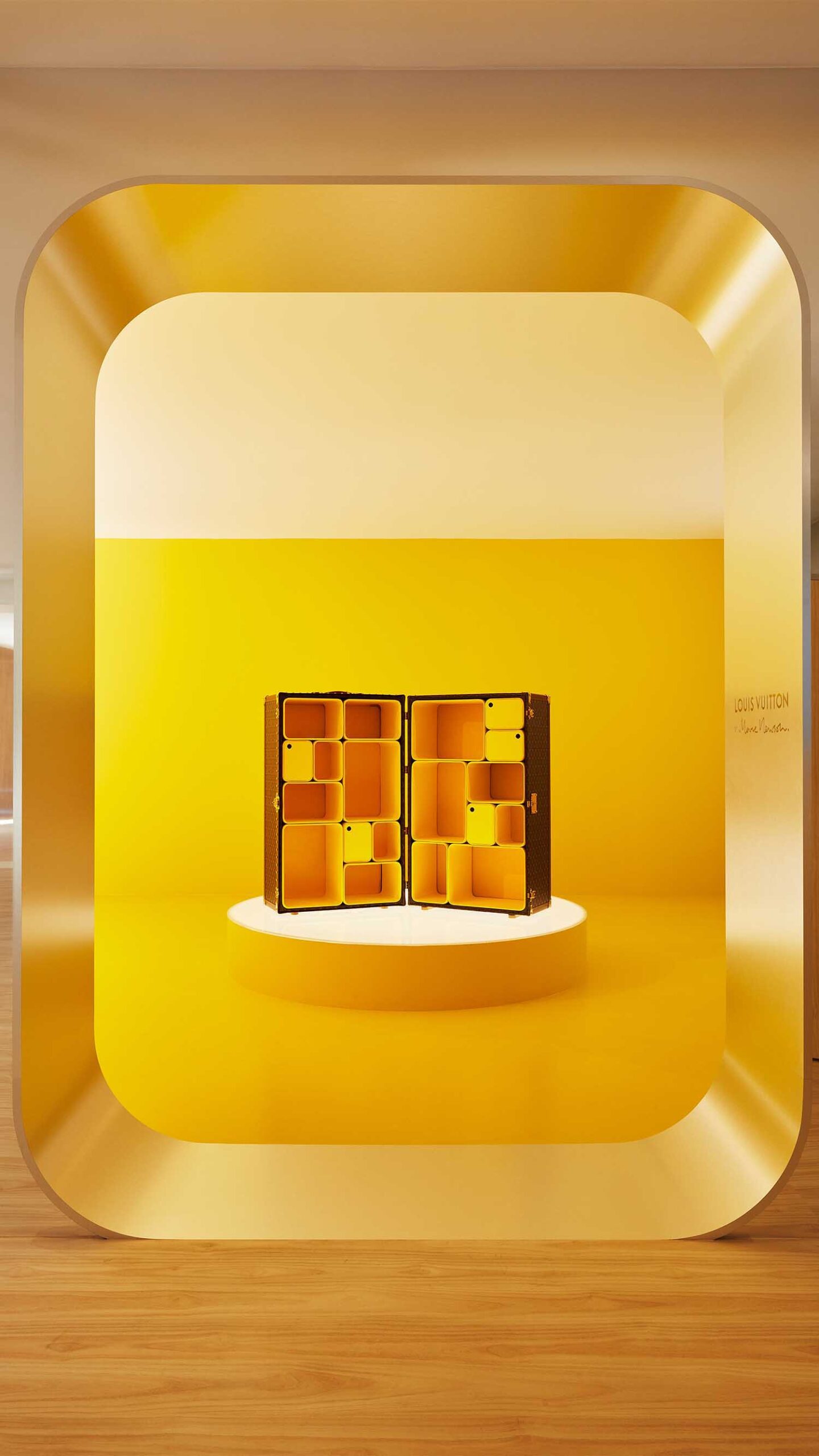 Finally, a fascinating and alluring metallic pavilion by French architect Marc Fornes was presented in Louis Vuitton's annual show of mobile architecture.
The Louis Vuitton Objets Nomades collection of innovative and practical furniture and objects, created in 2012, has expanded to nearly 60 pieces by a variety of respected international designers. The 11 new Objets were shown in a space that was especially created in the venerable Palazzo Serbelloni.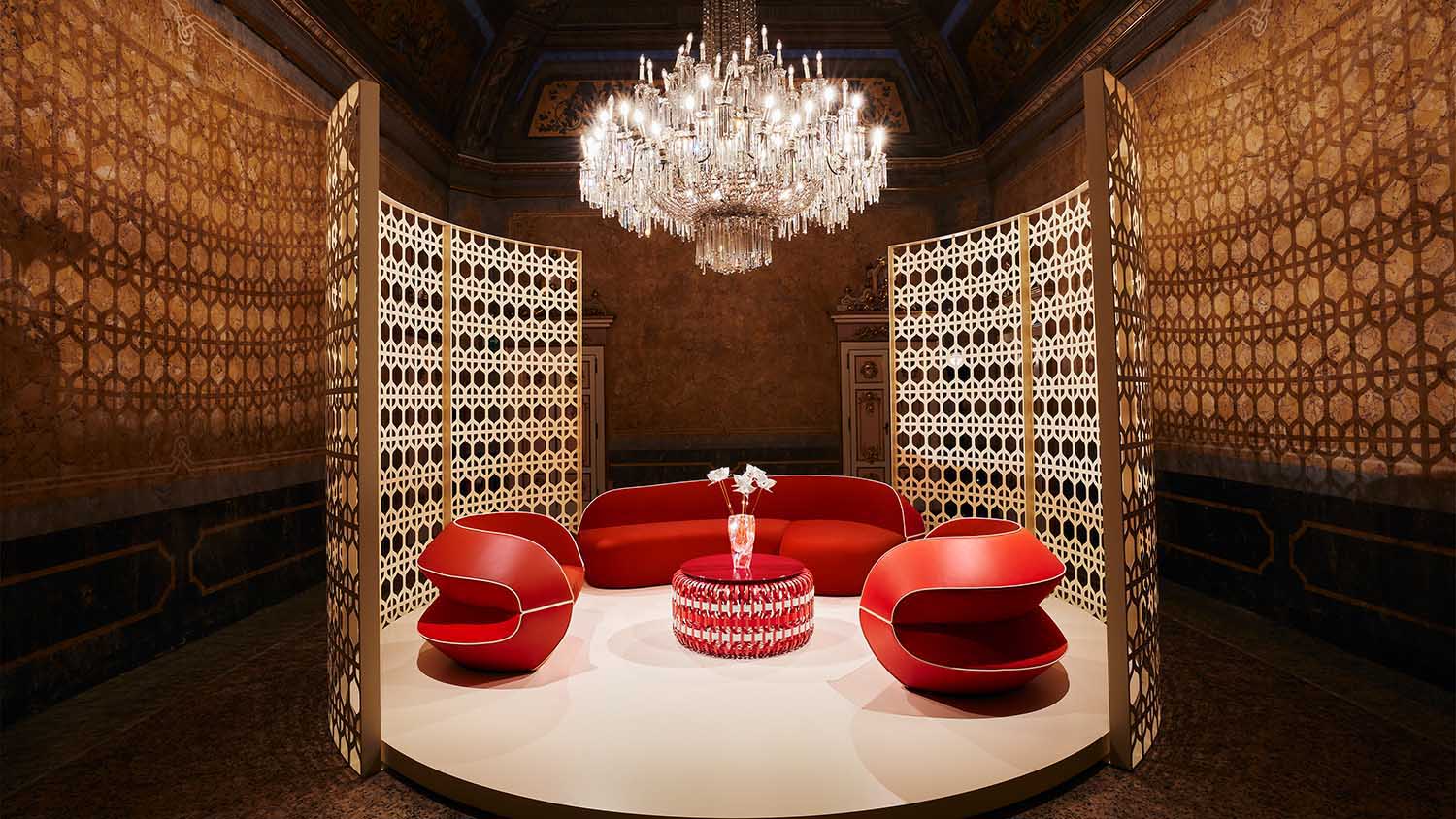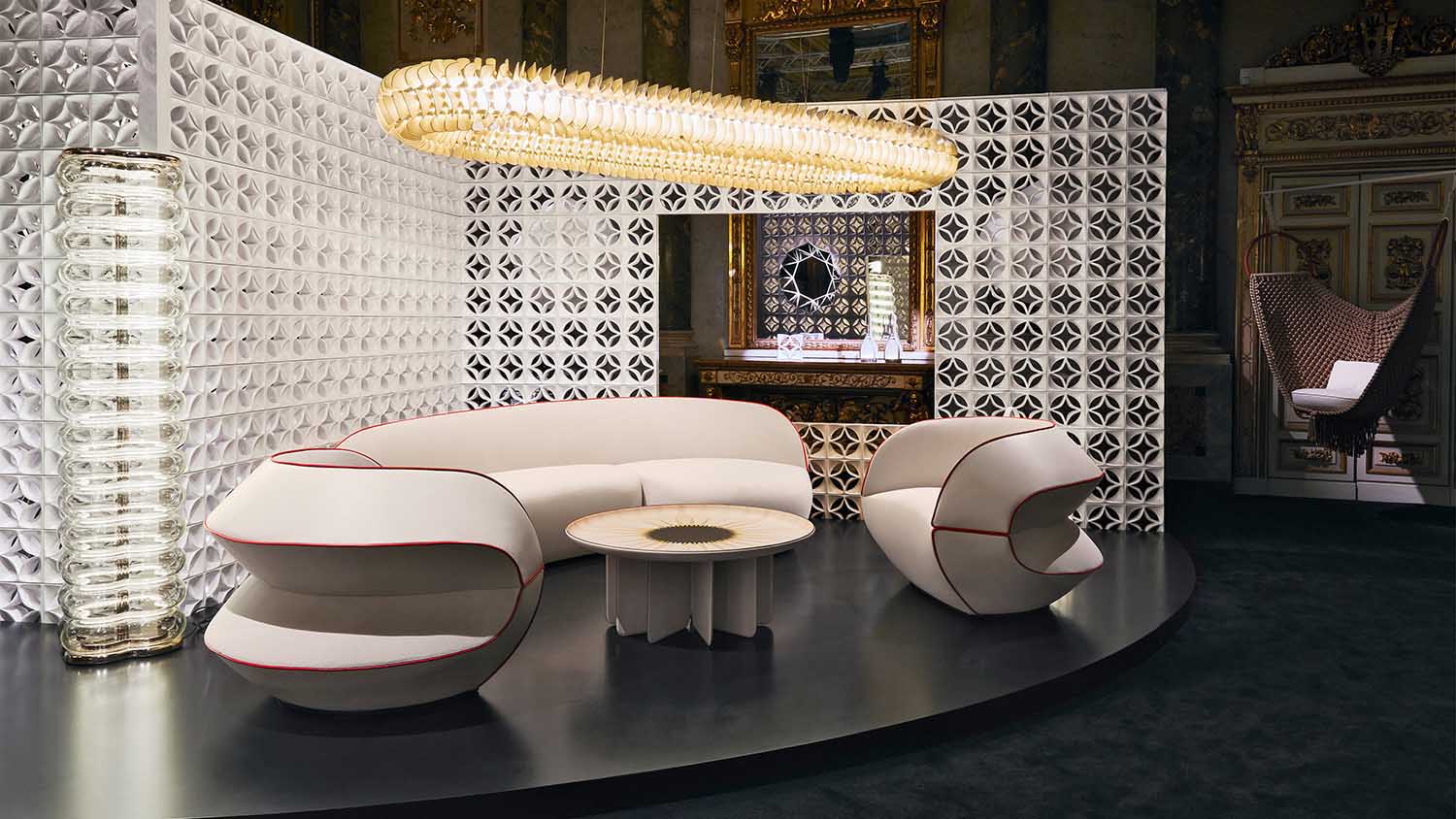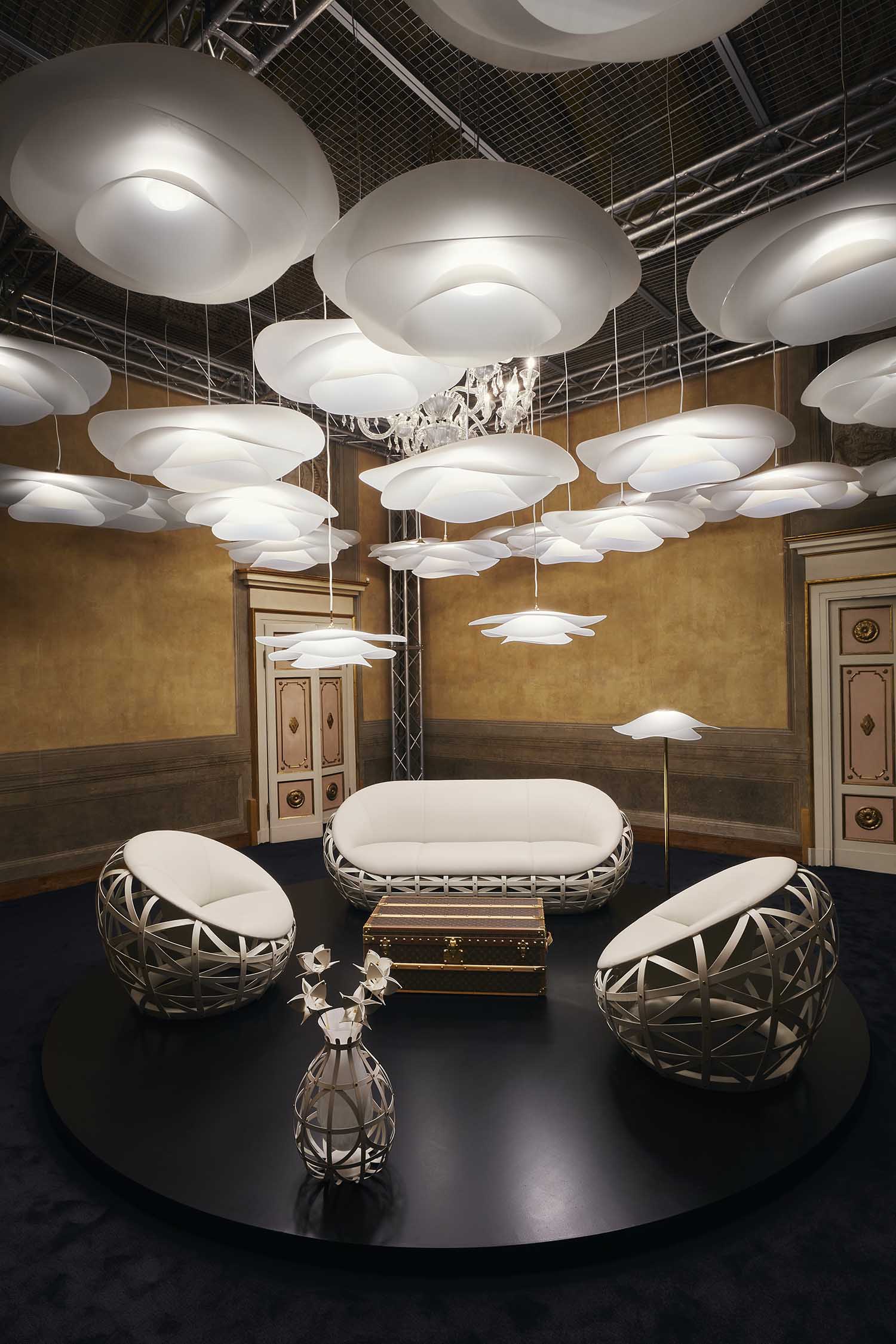 Atelier O, a collaborator of Objets Nomades from the collection's inception, exhibited four new items in Milan. Chandelier is a 1.2-meter-tall sculpture made of leather and light that is made up of 36 expertly twisted, two-tone straps that are a combined 145 meters in length. Champagne-colored metal hoops give the straps dimension and form. Quetzal's colorful leather "feathers" on its plumage make it a sizable decorative mobile and an attractive portrayal of the sense of flight. The 57 frosted glass bracelets and 57 folded, two-tone leather "petals" that make up the hanging Piva Lamp, which is a tribute to the beauty of continually changing light and color, are arranged in a floral pattern. Last but not least, Origami Bowls are useful and brilliantly simple works of art that are constructed from a single piece of leather that has been artfully folded and fitted together to create a flexible three-dimensional form. Binda Armchair and Sofa, designed by London-based Raw Edges, is sculptural and playfully imposing;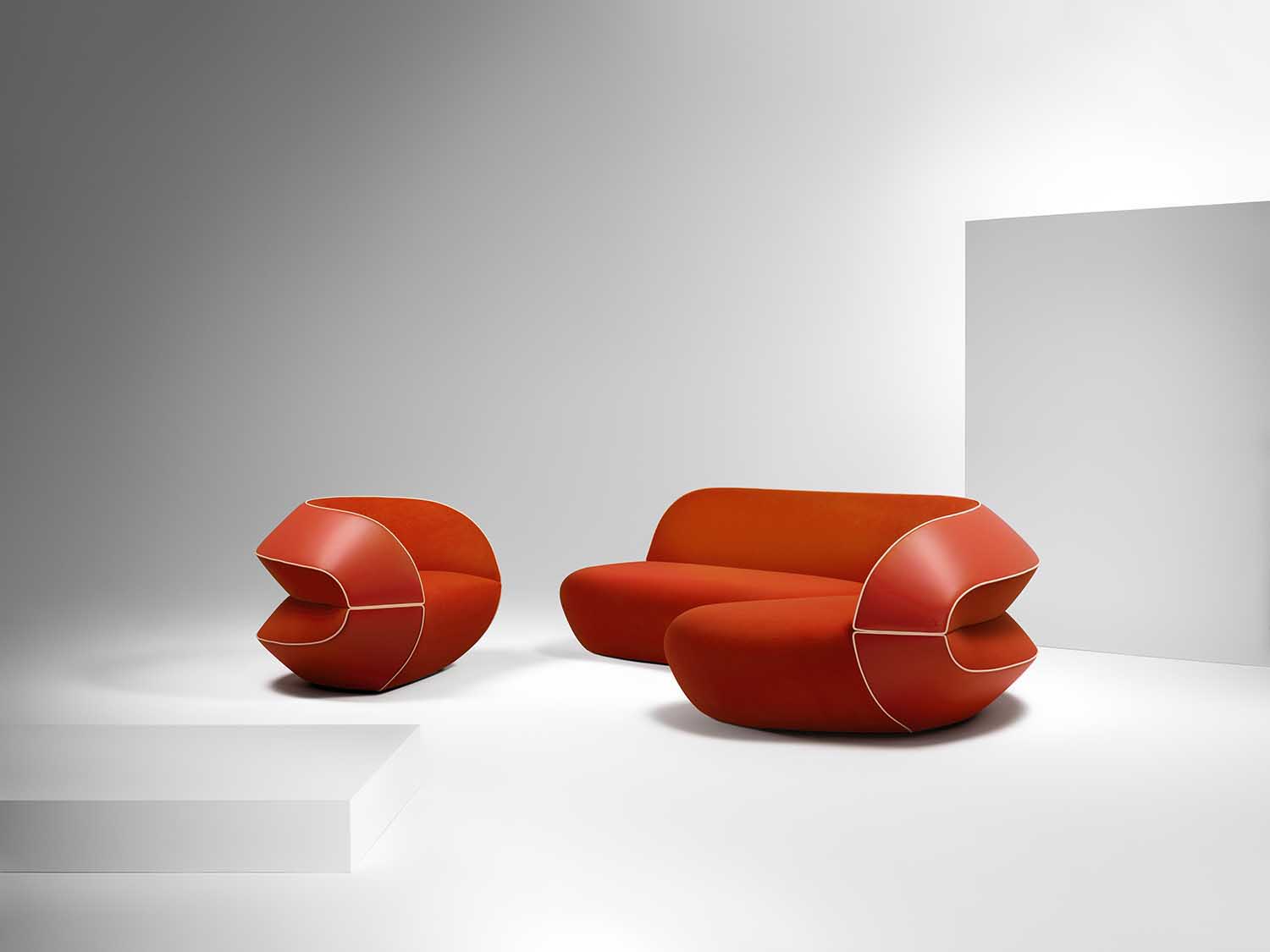 Their shape, inspired by the curved lines on a tennis ball, has a wonderfully rounded angularity that is emphasized by their brilliant leather exteriors and cozy velvet interiors. The innovative Flower Tower lamp by Atelier Biagetti, which takes its cue from Louis Vuitton's renowned Monogram, is a shimmeringly transparent column made of 15 glass bubbles fashioned like flowers. When lit, the lamp gives the impression of floating magically. A softly diffused pool of light is produced by the Capeline lamp by Dutch designer Marcel Wanders thanks to its three calmingly undulating aureoles of frosted glass. Three horizontal bands of leather are wrapped in a striking metal base with a honeycomb pattern on the Basket Table by Italian designers Zanellato/Bortotto. The table is exquisitely finished with a top made of shiny enameled lava stone. The new Bookends in marble and aluminum from Studio Louis Vuitton are designed to mix and match, while the Flower Carafe and Twist Glass both have flowing designs based on the Monogram flower. Last but not least, Campana's iconic Cocoon hanging chair will be shown in a brand-new Disco Ball edition, with its shell and cushions coated in silver mirrored mosaic, while the whimsical Bomboca sofa has been converted into a sparkling metal-effect sculpture by the Brazilian designers.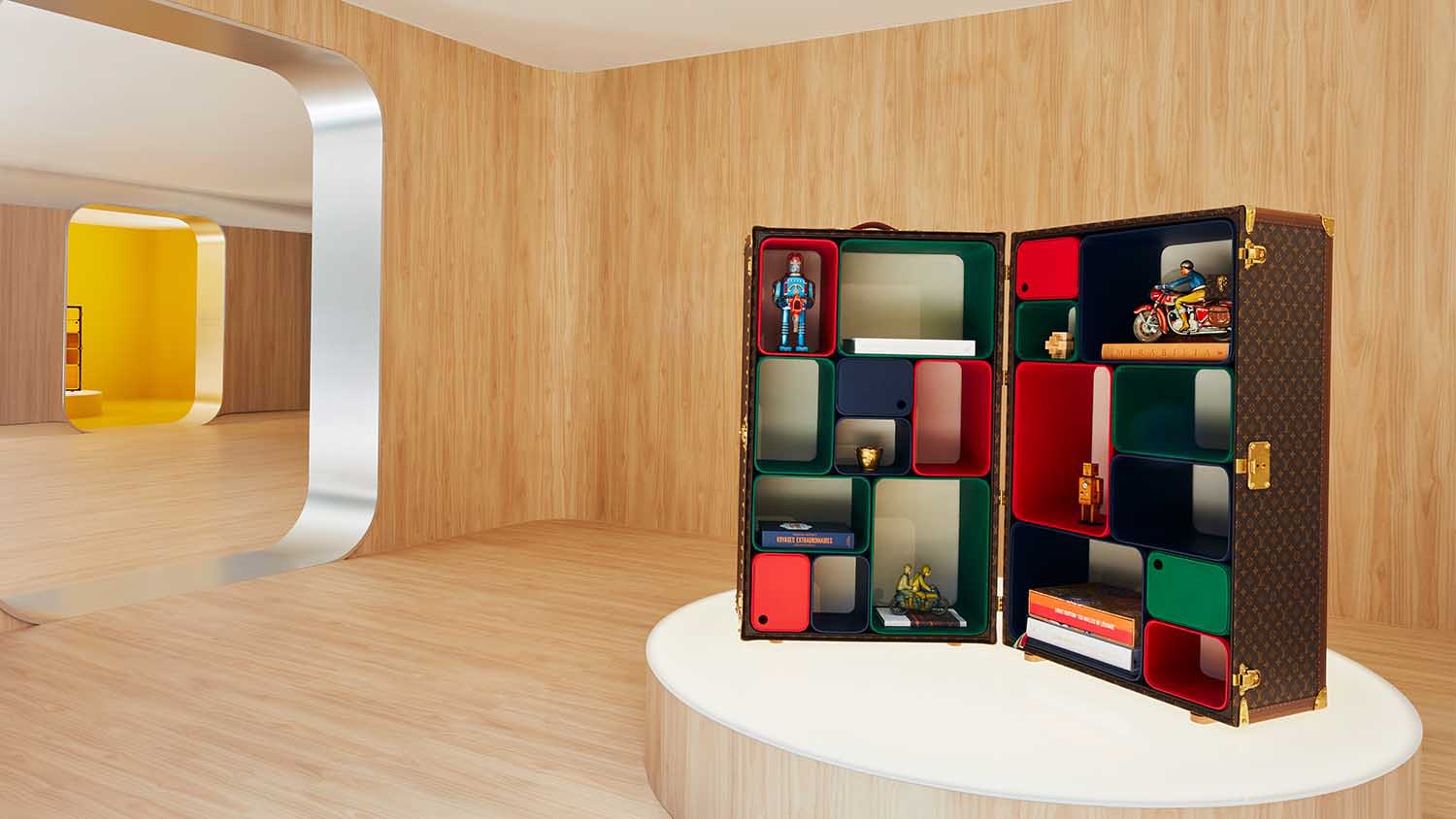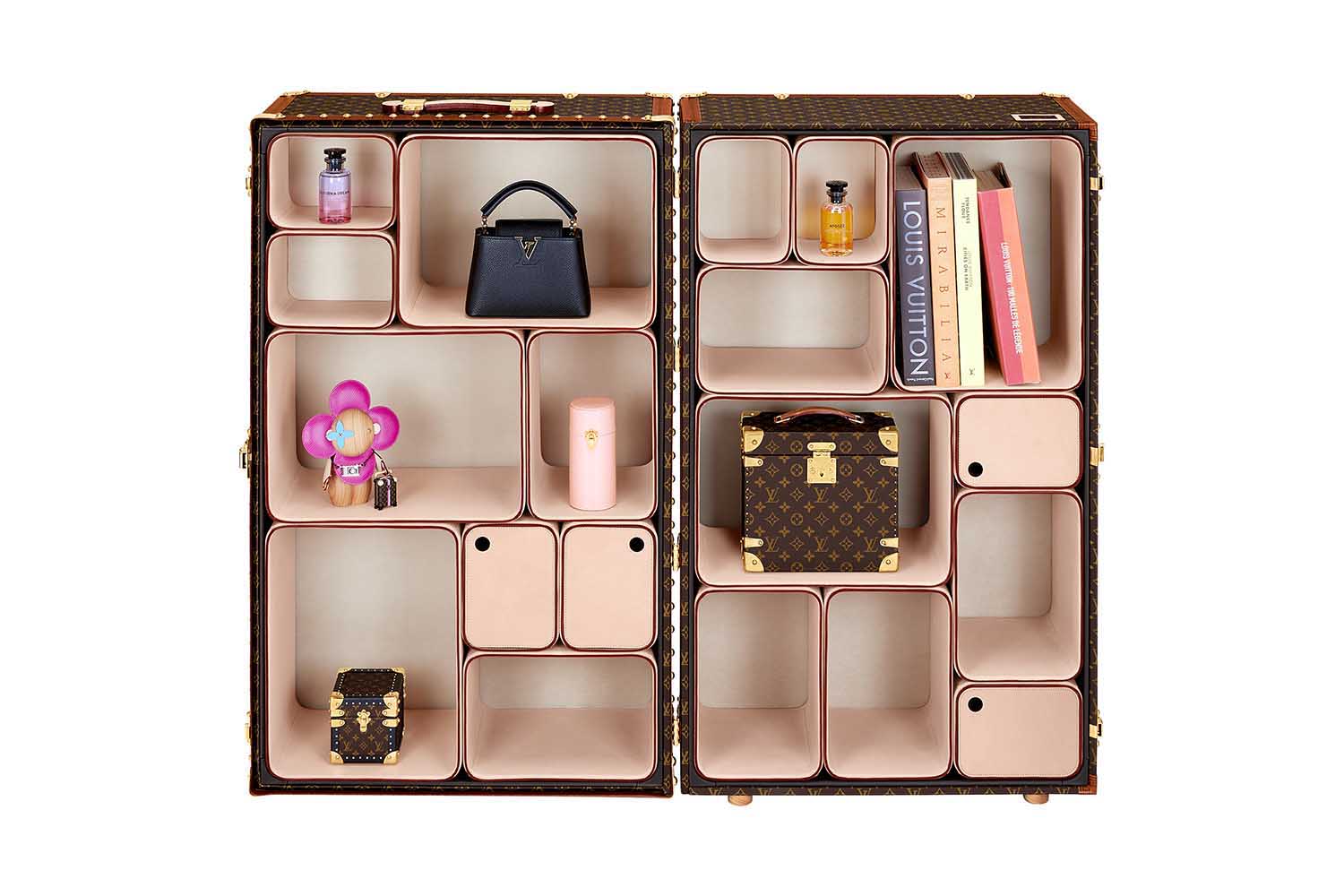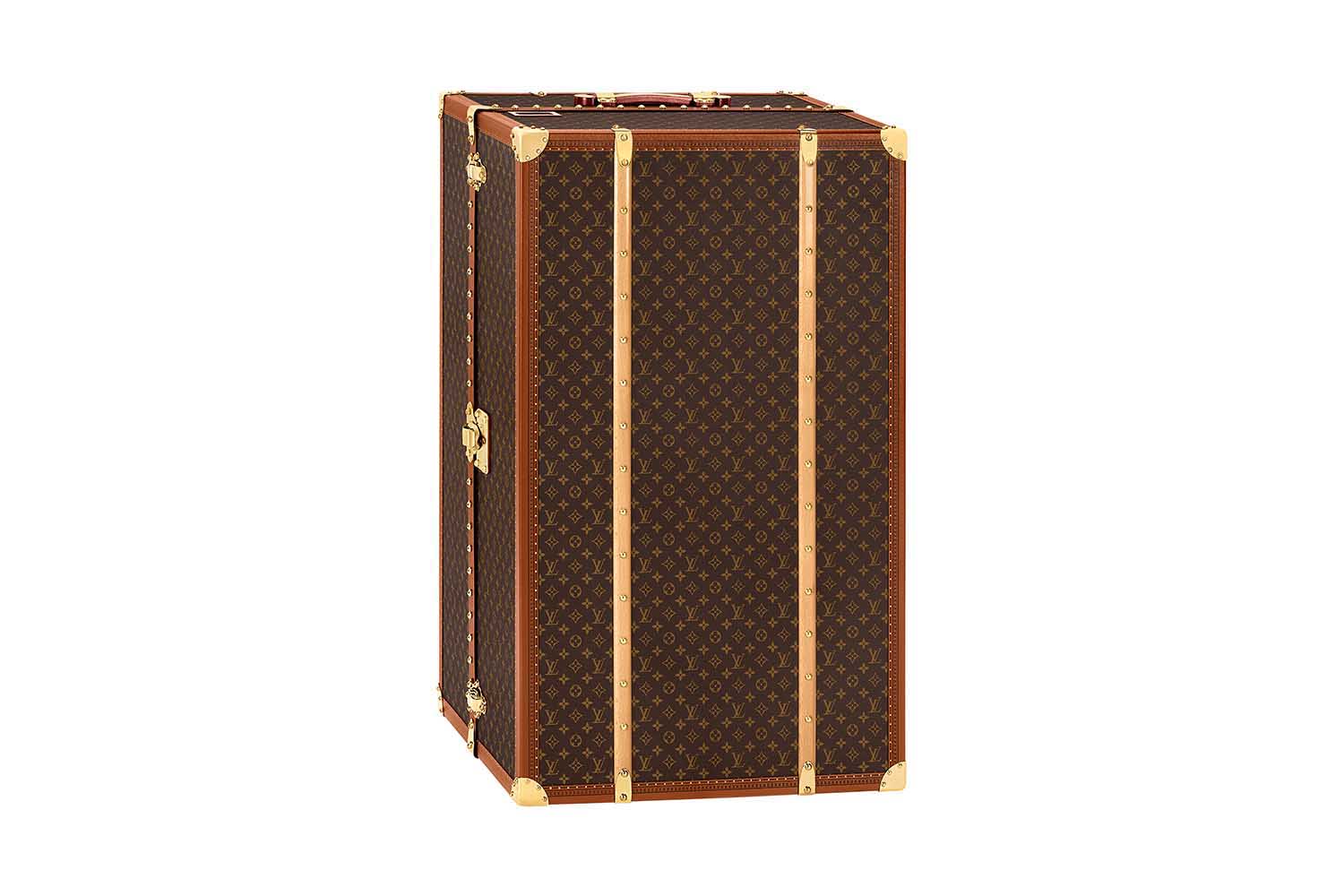 Palazzo Serbelloni also played host to another significant Louis Vuitton world premiere: Marc Newson's intriguingly innovative Cabinet of Curiosities, which turns a hard-sided Louis Vuitton luggage trunk into a chic presentation cabinet.
The new, specially designed trunk has a Monogram-covered exterior and is packed with 19 metal, leather-covered cubes, including 8 with doors and hidden compartments for valuables. This is the Maison's third luggage collection with the renowned Australian industrial designer, following his Pégase and Horizon luggage lines.
The trunk, the first item ever made by the Maison to open at a 180-degree angle, and the cubes make the ideal showcase for literature, artwork, and mementos from travels.
The trunk may be configured internally in over 1,000 different ways using the three sizes of cubes, which are available in three colorways. This makes the trunk a highly adaptable and portable cabinet of wonders. The Cabinet of Curiosities by Marc Newson is a stunning limited edition of 40 pieces that is finished with a metal plate signed by the Maison and the designer. It is a monument to both the Maison's legacy and savoir-faire as well as the designer's appreciation of intellectual elegance and utility.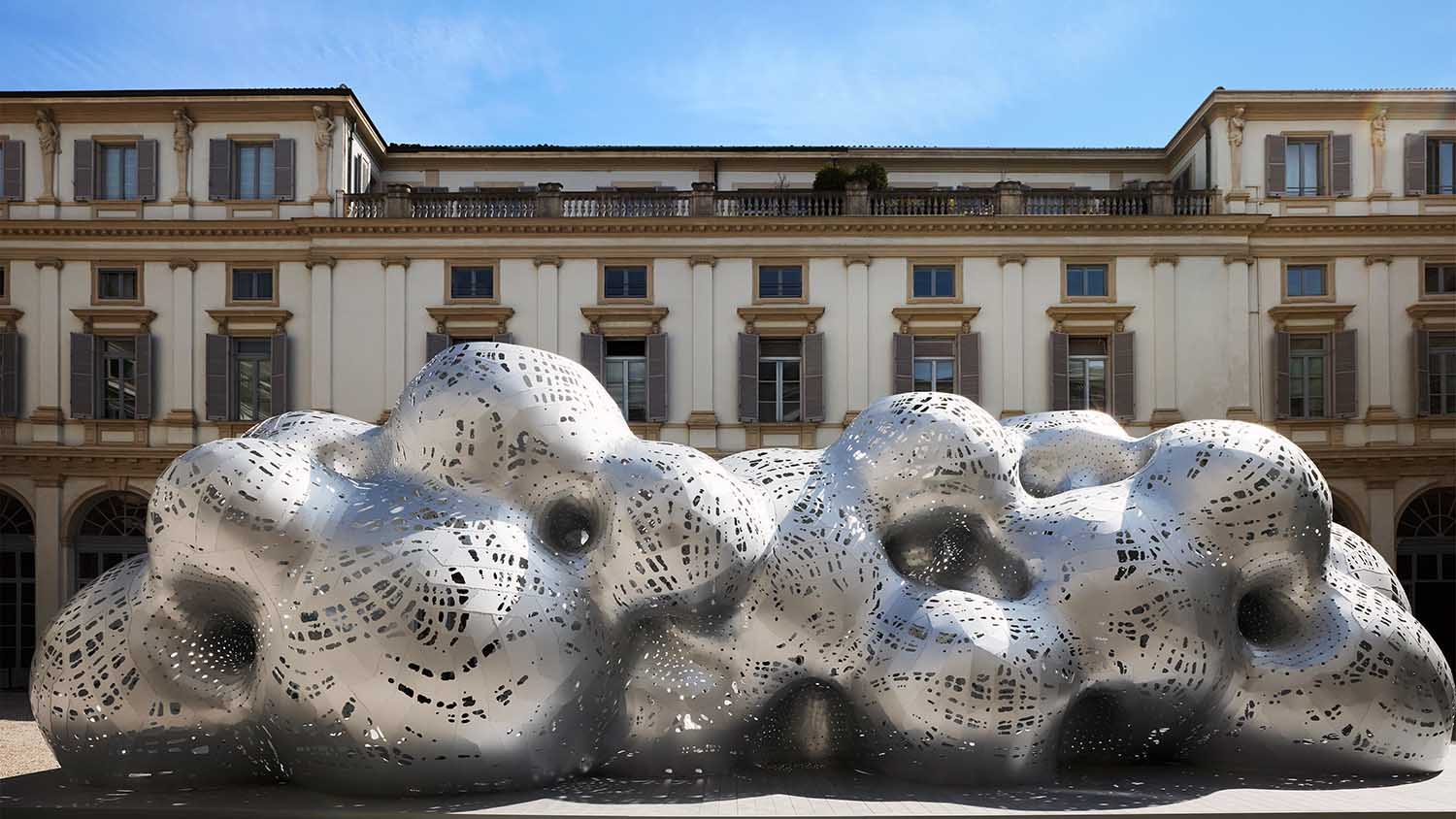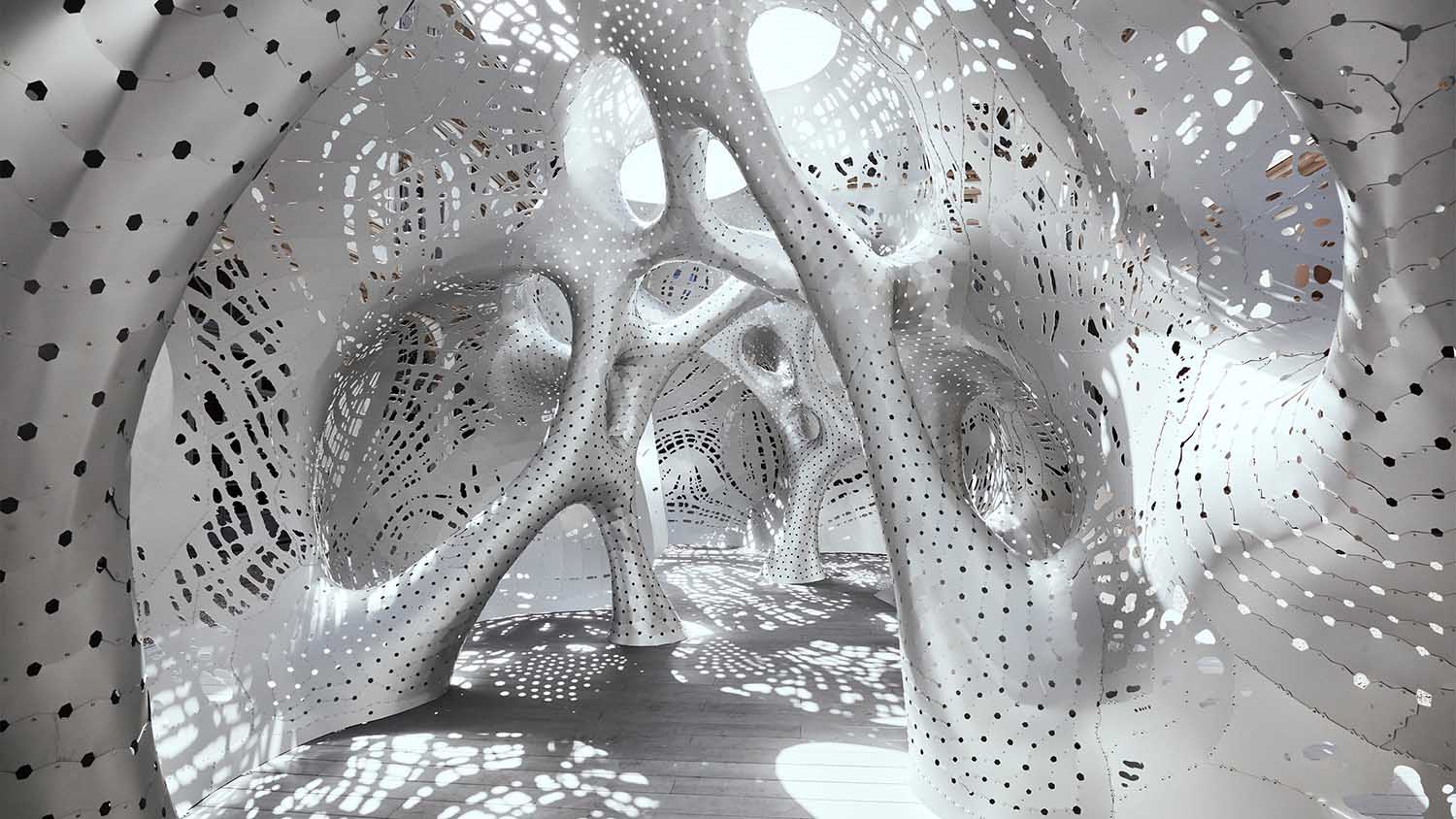 In addition to Marc Newson's Cabinet of Curiosities and Objets Nomades at Palazzo Serbelloni, Louis Vuitton presented Marc Fornes' nomadic pavilion, a remarkable example of the French architect's recognizable coral-like creations from New York. The ultra-thin structure, which like a living thing that has spontaneously bubbled up from the palazzo's courtyard, is made of more than 1600 specially shaped and patterned anodized aluminum sheets, some of which are as thin as 1 millimeter. The specially designed, ultra-thin pavilion, which follows works by Charlotte Perriand (2015), Matti Suuronen (2017), George Candilis (2018), Shigeru Ban (2019), and last year's Nova House, is the most recent example of mobile architecture to be displayed by the Maison in Milan.
It will feature a number of activities during Milan Design Week, including a live workshop with atelier o, the release of Louis Vuitton Skins, a new publication exhibiting Louis Vuitton store designs, and an open debate with well-known Objets Nomades designers.
Image courtesy of © LOUIS VUITTON
Find out more on Louisvuitton.com