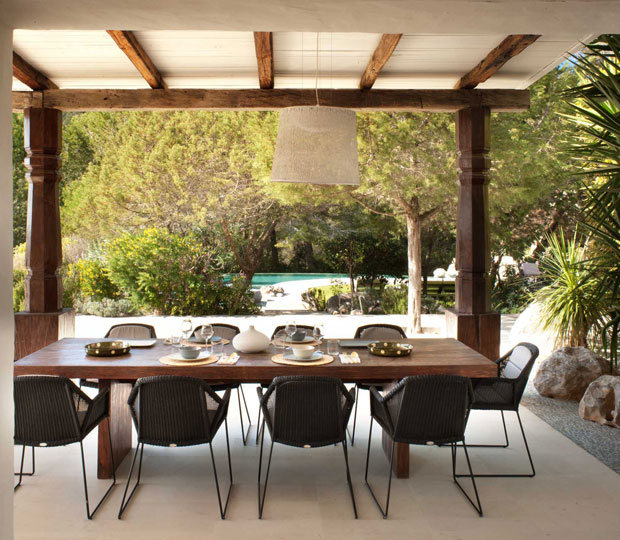 Nothing complements a beautiful home more than the right colour scheme, décor, and furnishings. Many people spend a great deal of time researching, consulting, and testing to make the interior looksimpeccable. When it comes to selecting outdoor furniture however, this equally important aspect is often completely overlooked. The right outdoor furniture should accurately reflect one's taste, character, and lifestyle. The following considerations will help ensure you find the outdoor furniture that perfectly matches your needs and also greatly enhances the beauty of your home.
Who will be using the outdoor area?
The household may consist of a large family, a couple, a single person, an elderly couple, or numerous other combinations. It's important to bear in mind how many occupants will be using the furnishings and what their requirements or limitations may be. For example, furniture that is solid and heavy may not be easily moved or rearranged by a single person or an elderly couple. In this case it may be better to buy something light weight and easier to handle, particularly if the space is small and the furniture needs to be stored away after use.


On the other hand, a larger family may need multiple furnishings that are sturdy and will wear well over the ensuing years. The furniture may stay in place and never need to be moved if there is ample room for entertaining. Image above from Silver Wood House by Ernesto Pereira
What is the main function of your outdoor area?
For most people it is important to strike the right balance between pure relaxation and entertaining guests. If the space is smaller and will mainly be used for lounging, curling up with a good book, or unwinding with a few drinks then there may be no need to fill the area with a table and outdoor dining chairs. Lounge chairs and end tables may suffice. On the other hand, if you enjoy hosting parties and barbeques where food will be served outdoors to numerous guests then it will likely need to have suitable furniture.
Changing Styles
It's important to remember that just like fashion, trends in furniture also change. While it may be tempting to start by buying a few items of furniture and plan to add more later, this may not always be possible. Stock comes and goes, manufacturers close down and design styles change. It is always better to buy everything needed in one fell swoop rather than risk having to piece items together in an ad hoc fashion that may not be an exact match. Be sure to visit any furniture showroom or store for more information.
Comfort
Make sure the furniture you choose is comfortable to use otherwise you may find yourself having to retreat back indoors to really relax. Some furniture looks stylish but is not very practical when it comes to spending more than a few minutes sitting on it. If this is an issue that is identified after purchasing it may be difficult to find suitable cushions or padding, especially if the furniture is of a unique design. This is also an added expense that places an additional strain on the budget. Rather than just look at the furniture when making your purchase, try sitting on it for at least 10-15 minutes to find out how comfortable it actually is.Choosing high quality Contemporary Outdoor Furniture should avoid any concerns about discomfort.
Under cover or exposed to the elements?
Where will the furniture be situated outside? Is the area protected from the weather under a pergola or shelter, or is it completely exposed to the elements all year around? Will the furniture be left in place or will it be stored away in a garage during the winter months. These factors will need to be considered when choosing the right furniture. Wooden furniture that stays outside rain, hail, or shine needs to be treated with oil or lacquer to ensure it has a long, functional life. Wrought iron furniture must also be regularly painted with a rust inhibitor. Furniture built from stainless steel, aluminium, glass, or certain plastics will endure well regardless of the weather conditions it is exposed to. Image above Summerhouse in Denmark by Kim Holst Architect.
There are so many options to choose from with furniture designers and manufacturers catering to a wide variety of tastes and budgets. Whether you are looking for something intimate and relaxing, rugged and durable, artistic and nuanced, sleek and modern, or simply utilitarian and functional, you are sure to find your ideal outdoor furniture by following the previous suggestions.