Project: Bank ING Direct
Designed by Outsign
Location: 55 Republic street, Lyon, France
Website: www.outsign.fr
French practice Outsign shares with us their work on an interior design of Bank ING Direct in the French city of Lyon.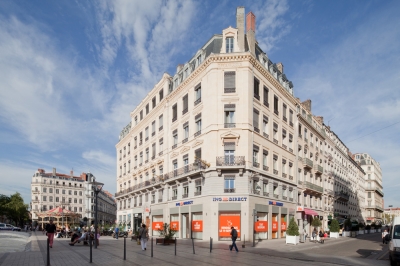 From the Architects:
Arouse the surprise in a modern and nonconformist space
Through the concept of « banking coffee », the famous online bank ING Direct urges the public to come to take a refreshment in a new space, located 55 Republic street in Lyon. So, the concept without agency of the new online banks answers with originality the need of the users to be closer.
The ING Direct Café has nothing to do with a traditional agency. Just like in Apple Stores, the visitor comes to relax in this comfortable space to «consume» the brand's product. For example, the consumer can read the newspaper, can consult the accounts, deposit checks and take advices from a devoted team behind a counter like at the bank.
The space organisation
The ING Café is easily identifiable from the other side of the street : the facade is composed of naked shop windows, which foster the interior design's perspective and promotion. The entrance is marked by two plants containers.
The place presents a good visibility so diurnal as night, thanks to a lighting of dramatization.
ING Direct ordered its space of 200m2 in three different zones : a bank counter has for vocation to inform and to redirect consumers; a space of relaxation equipped with Wi-Fi connection and free magazines, while drinking a hot beverage; and finally a third space where users can consult an adviser in privacy to discuss various products and banking services proposed by ING Direct.
Customers can also make their current transactions at the counter, without appointment.
Objects borrowed from the domestic world (clock, wide armchairs and pillows, cloth sofas) stand side by side with the qualitative choice of materials, including textiles, warm material, carpets, parquets, lace curtains, adhesives, blinds …
The sound comfort is facilitated by the conception of a wall cover made with painting and adhesive, as well as by the blades of the ceiling, which offers better accoustics. This architectural specificity constitutes a real visual marker, but strengthens the dramatization of the space. These soft, flexible and continuous lines do not imply a break.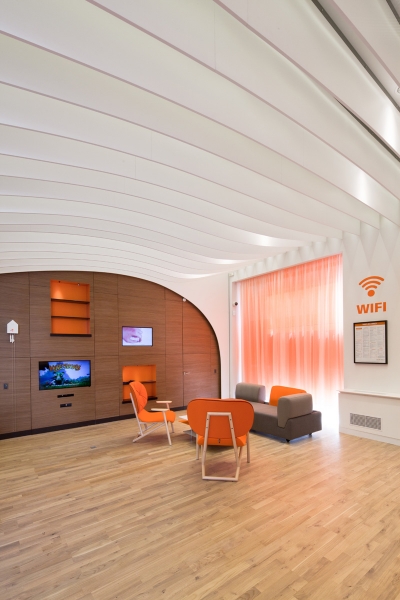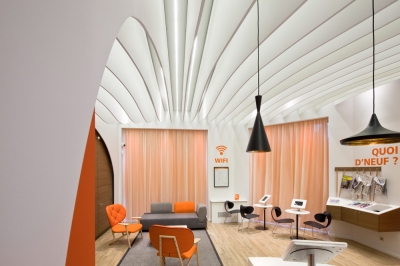 When this wall is opened, it lets appear an equipped kitchen with sink, dishwasher and refrigerator. This ingenious solution allows to combine practicality and design in the space.
The customer experience in a space service stems directly from the adviser who is the only human contact.
The classic «face-to-face» encounter is replaced by a «side-by-side» configuration facilitated by the custommade furniture.
Round table and a sofa, evoking once again the coffee shop ambiance, aim to place adviser and customer on the same basis, abolishing the traditional hierarchy.