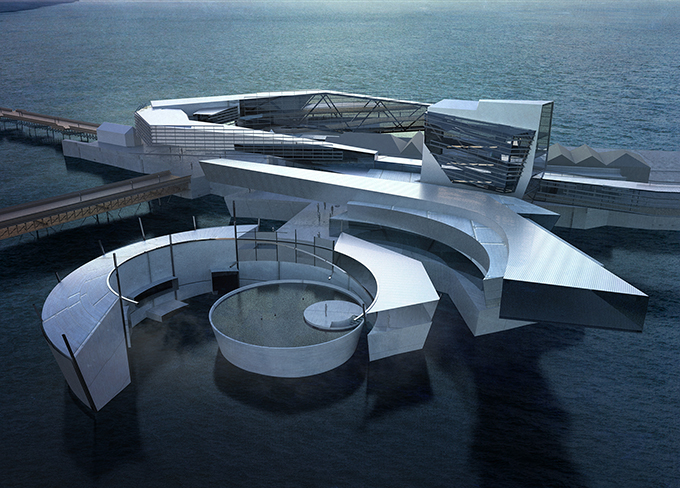 Matteo Cainer Architecture have exhibited two of their latest projects at the III Architecture Pisa Biennale in 2019. With the theme "Tempodacqua" ('Time of Water') – the Biennale addresses the theme of water and sustainability, and as underlined by its director, the choice of this theme does not mean simply selecting from a wide range of projects related to the most current trends and debates, but rather deepening the responsibility of the project by imagining scenarios and configuring new solutions. Water is therefore seen as "the founding act of everything that belongs to us. The aim is not only to raise awareness and create awareness on the theme 'Tempodacqua' (Time of Water), but to develop concrete ideas to help change the imagery of change".
Matteo Cainer Architecture's projects both use water as a design element contributing to the discourse at different scales. Sant'Antonio Musicale in Trieste, Italy as a more urban and civic project, while Birnbeck Island in Weston-super-Mare, UK as a more individual and personal approach to water and the sea.Both projects contribute to the wider on-going discourse of designing in harmony with nature and using nature as an element of design. It is important that projects are alive, that they can breathe and have the capacity to change and adapt to nature itself.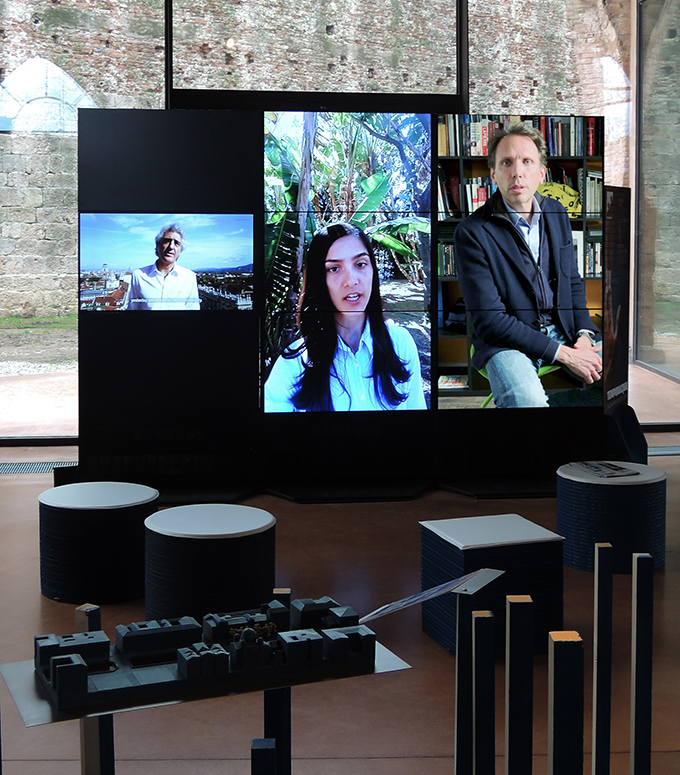 Birnbeck Island
Seaside towns and ports encapsulate the romance and character of the British people. For over two hundred years, they provided an escape from the industrial workplace. Mundane and exotic co-existed there side by side, and discovering the extraordinary in the ordinary has always enchanted the curious visitor. Birnbeck Island, abandoned for many years, has been used as a steamer pier, a weapon testing area and as a pier-head ride with multiple recreational facilities. Our proposal echoes its history both through a conceptual interpretation of a steam engine and as a destination for today's hedonistic leisure seeker.
The resulting project is an extraordinary mechanistic structure that interlocks remnants of the Victorian infrastructure (buildings/pier) with a new wellness centre. Our proposal is a natural fusion generated from the site as a destination detached from the hectic contemporary urban chaos, and as a more personal and holistic journey that focuses on introspection and draws together man and nature, through the evocative and suggestive power of the sea.
Specifically designed so that each area can offer a new ecological approach, it provides multi-therapeutic baths with thalassotherapy, various areas for both physical and mental treatment, training and fitness facilities, and the hotel with all its amenities. The priority for us was to take full advantage of the isolated location and particular weather conditions, not only to enhance its setting but also to create consciousness towards the environment. As a result its elements are expressed as steam engine mechanisms whose qualities are further articulated in the detail of the design.
The new project harnesses and generates its own power through the use of the spectacular tides (10 metres) typical of this area, and by flooding basins and parts of the project and activating turbines, visitors are constantly obliged to reassess and change their paths. This gives the apparently static geometrical structure a machine-like aesthetic with dynamic components and the qualities of a working engine.
Birnbeck Island therefore becomes a wellness oasis, offering multiple treatments in perfect fusion with the setting, technology and man. The aim was to design with and for the sea: to allow the water to bring the project to life and let it breathe and adapt as an autonomous marine body where architecture and nature are in a symbiotic harmony; a project capable of sparking a new awareness of our ecosystem and a 'blue thinking' approach.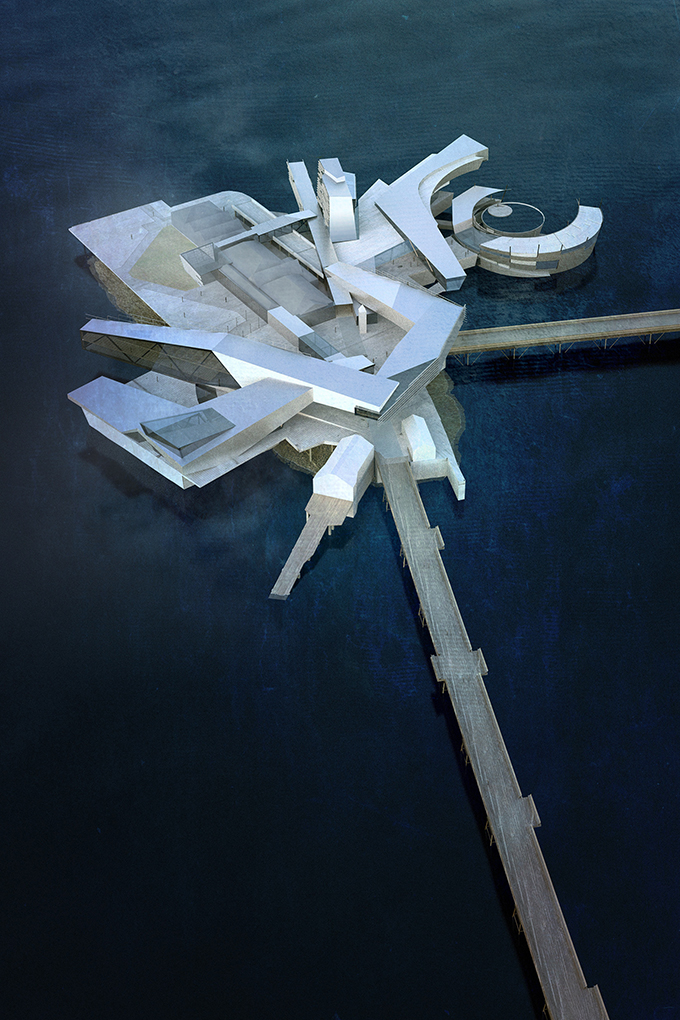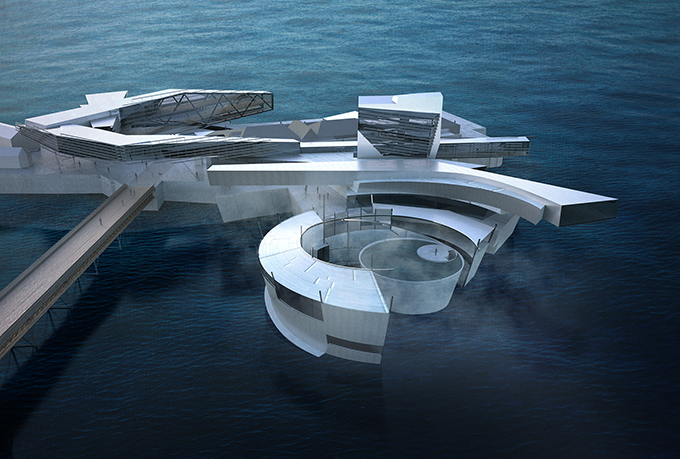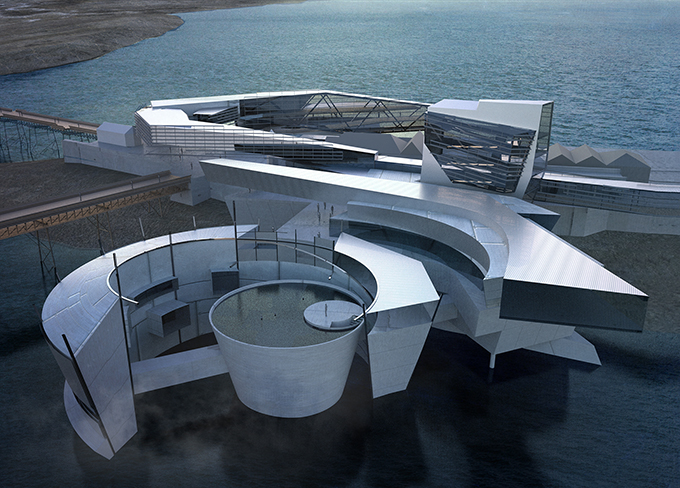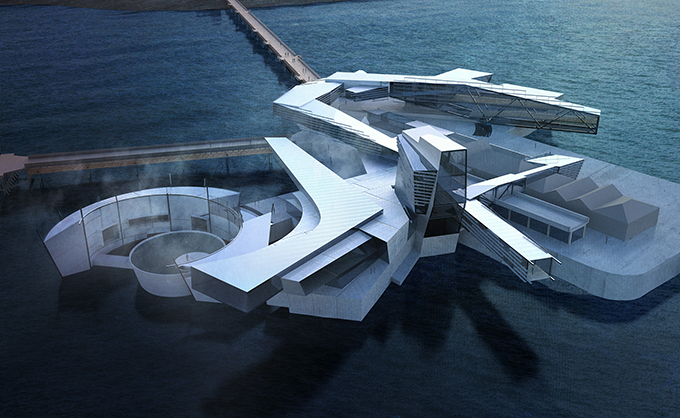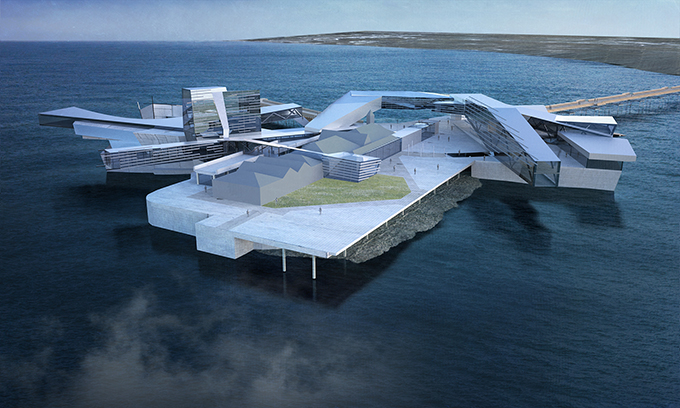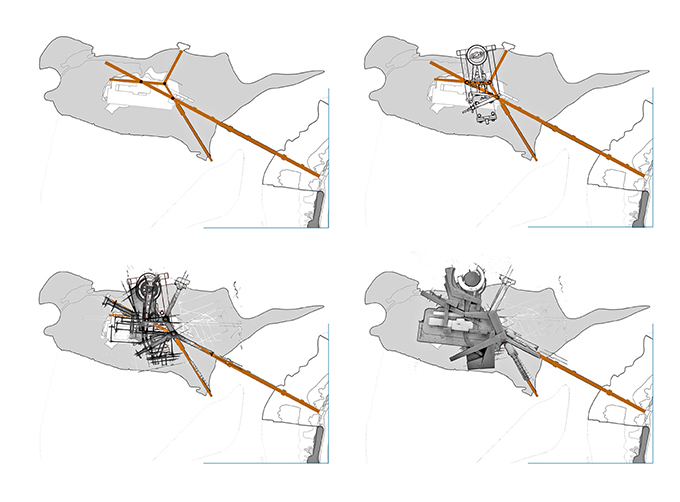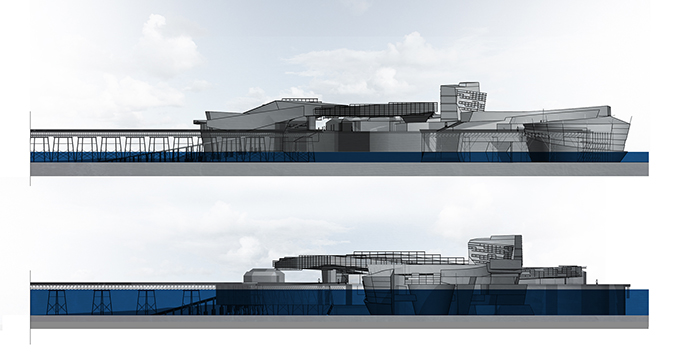 Name: Birnbeck Island
Architects: Matteo Cainer Architecture
Location: Weston-super-Mare, UK
Programme: Spa and Fitness Centre
Client: Urban Splash
Size: 27,000 m2
MCA Principal: Matteo Cainer
MCA Team: Avigael Perez, Nina Bobinac
Videos: Carlitography.it, Motionplatic.com
Images are courtesy of Matteo Cainer Architecture
Find more projects by Matteo Cainer Architecture: www.matteocainer.com