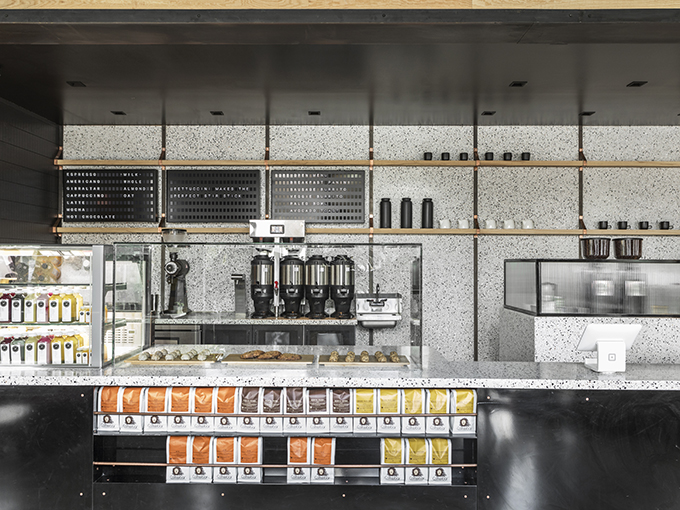 San Francisco-based Walker Warner Architects and Nicole Hollis Interior Design were in charge of this transformation of a nondescript strip mall building into a bespoke, community-oriented coffee shop located in California's Silicon Valley. Take a look at the complete story after the jump.
From the architects: Coffeebar is a contemporary space in the heart of Silicon Valley's venture capital center, Menlo Park, California. The design teams collaborated with Coffeebar founder Greg Buchheister to reimagine a building that was once a nail salon and an Asian food market into a curated, modern café that would draw in commuters and residents alike. The exterior was transformed from a simple commodity building to a bespoke retail destination. A simple material palette of steel, cypress, and glass creates a contemporary ambiance while offering durability in a heavy traffic environment. Elliptically-shaped, exterior wooden louvers float in front of the oversized glass windows and doors to provide sun protection and soft natural light into the interior. The steel trim and blackened standing-seam metal panels convey a sophisticated, industrial quality that complements the interiors.
Taking inspiration from Italian coffee bars, the 3,378-square-foot interior features terrazzo countertops and walls. A bicycle chain chandelier, bicycle enamel paint and an alcove partitioned with metal chain curtains pay homage to the biking culture of Silicon Valley. A live-edge walnut communal table, which is accented by striking butterfly joints in teal blue, anchors the space. Banquettes, hightop tables with terrazzo counters, and copper-top café tables edge the interior. A custom designed retail area supports the front counter with its high customer turnover. Interior details include a copper-paneled water station, copper wall panels with exposed riveting and ash walls. The floor is the original concrete that has been highly polished.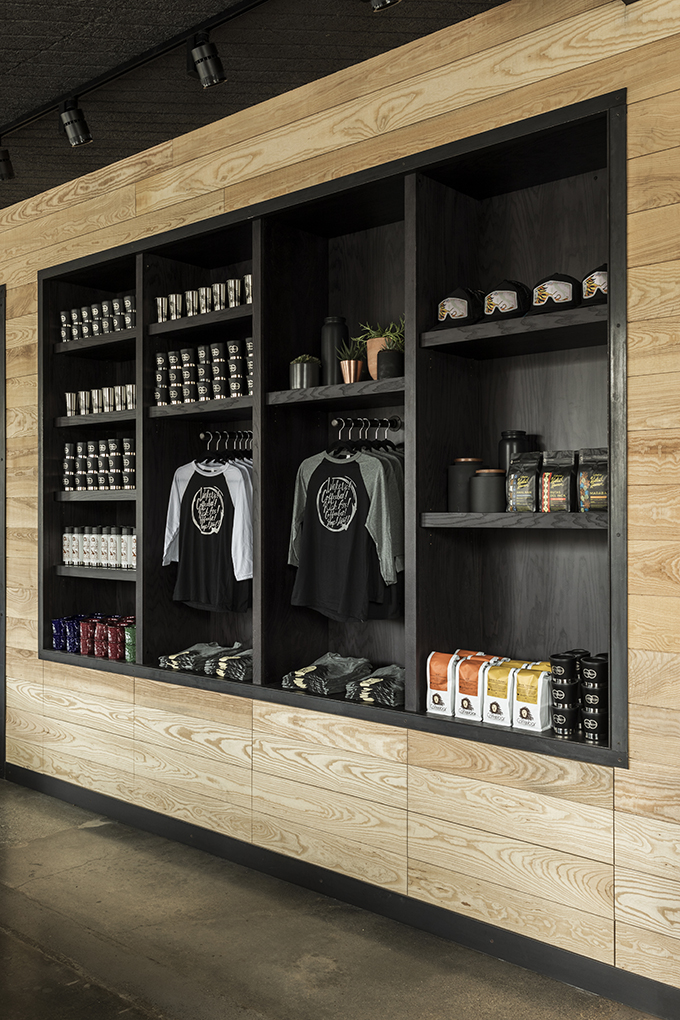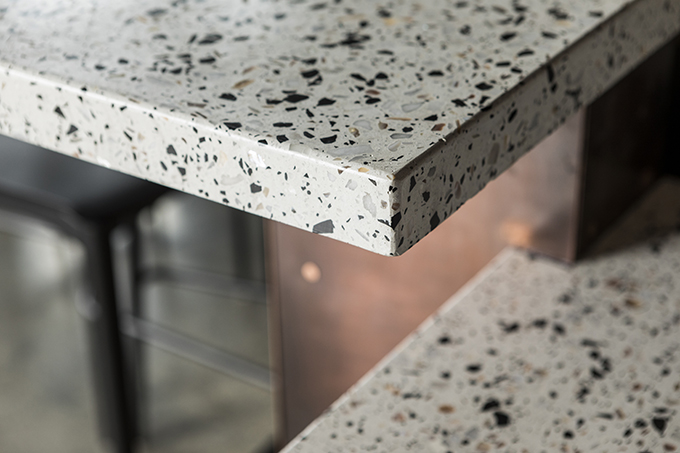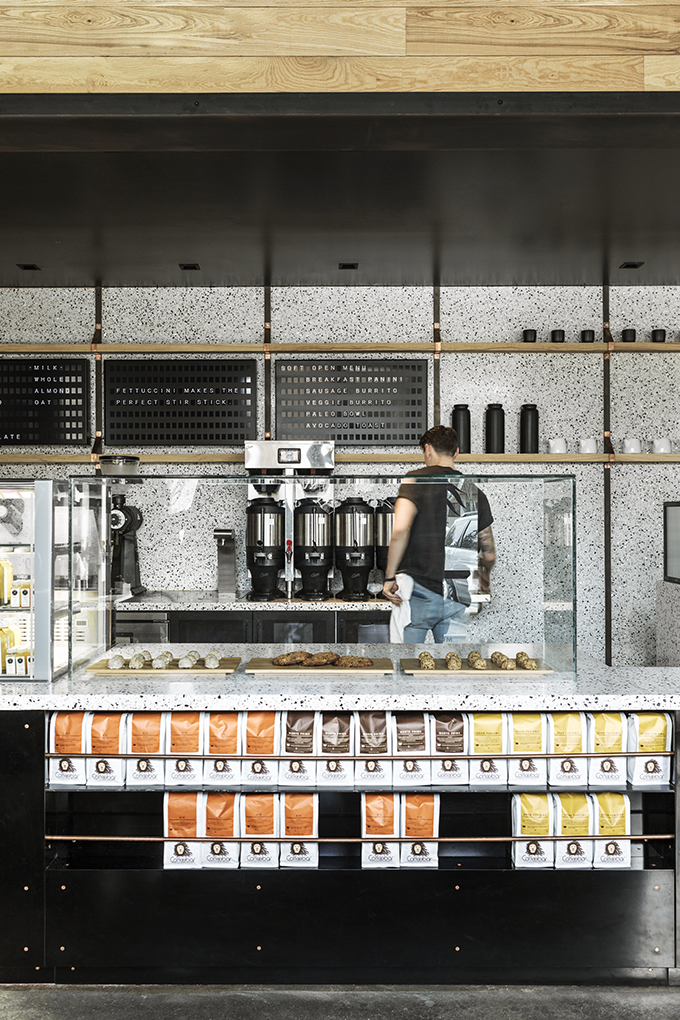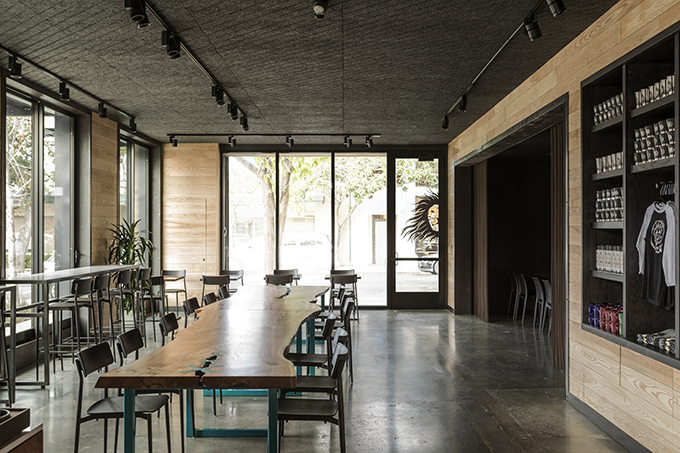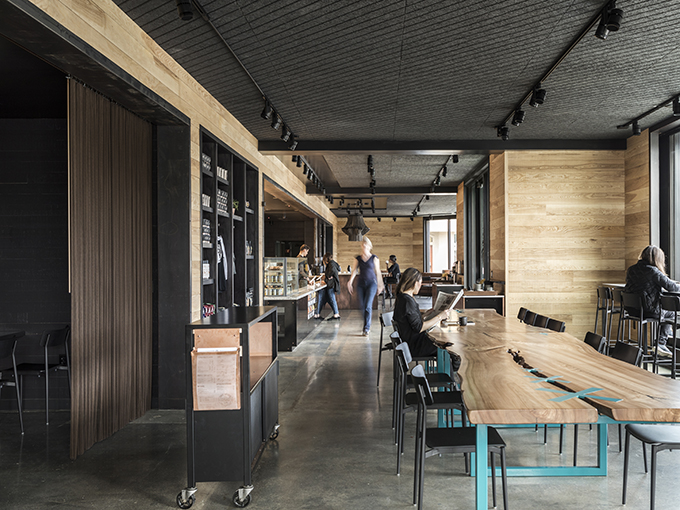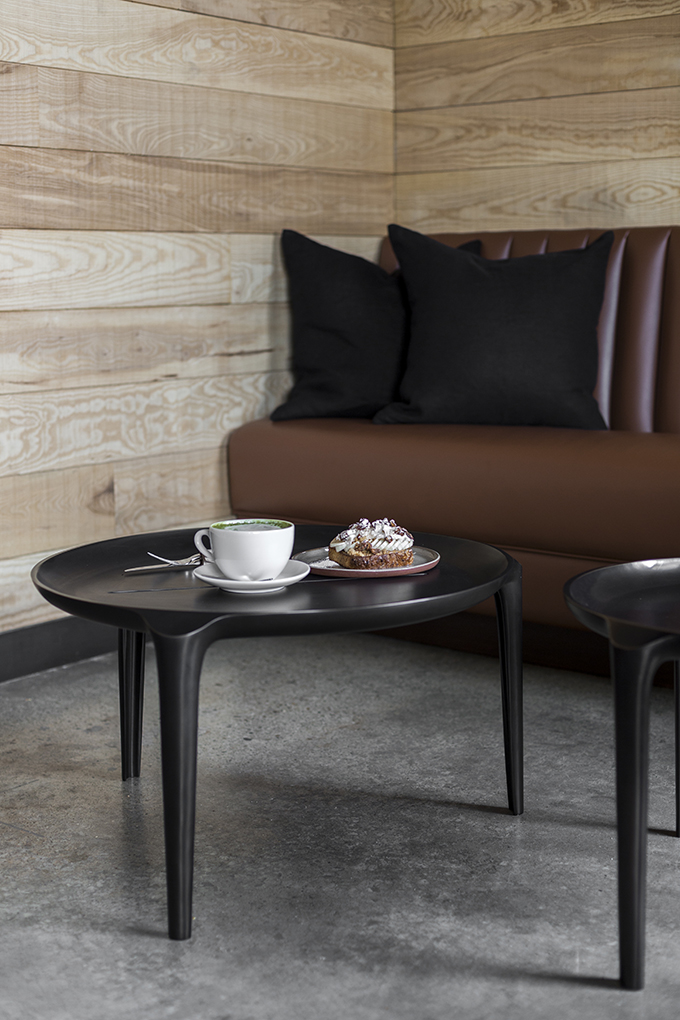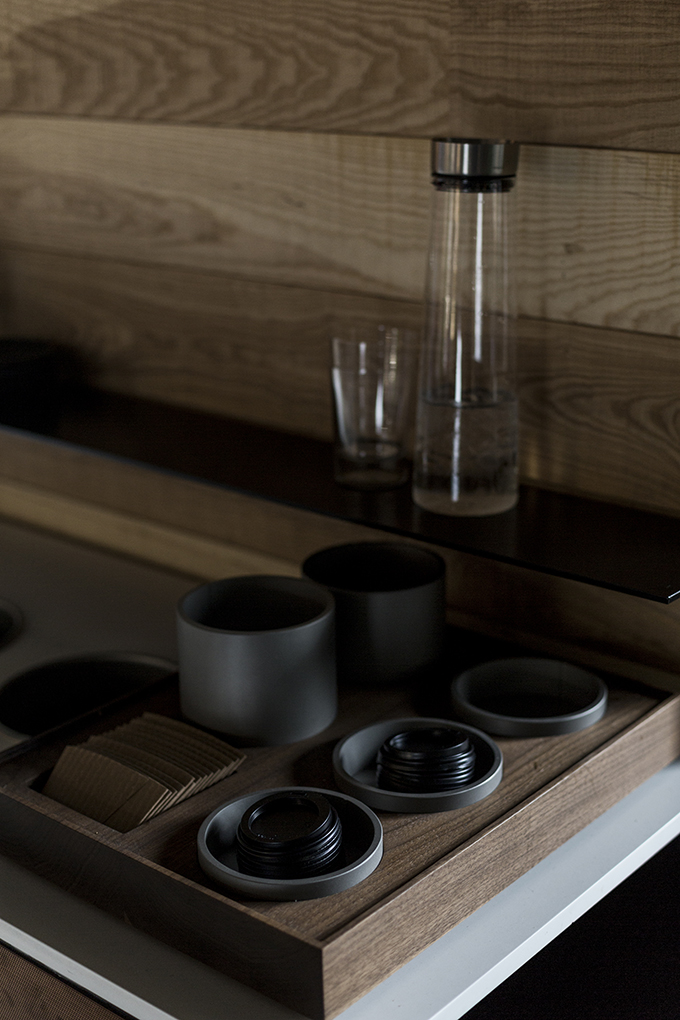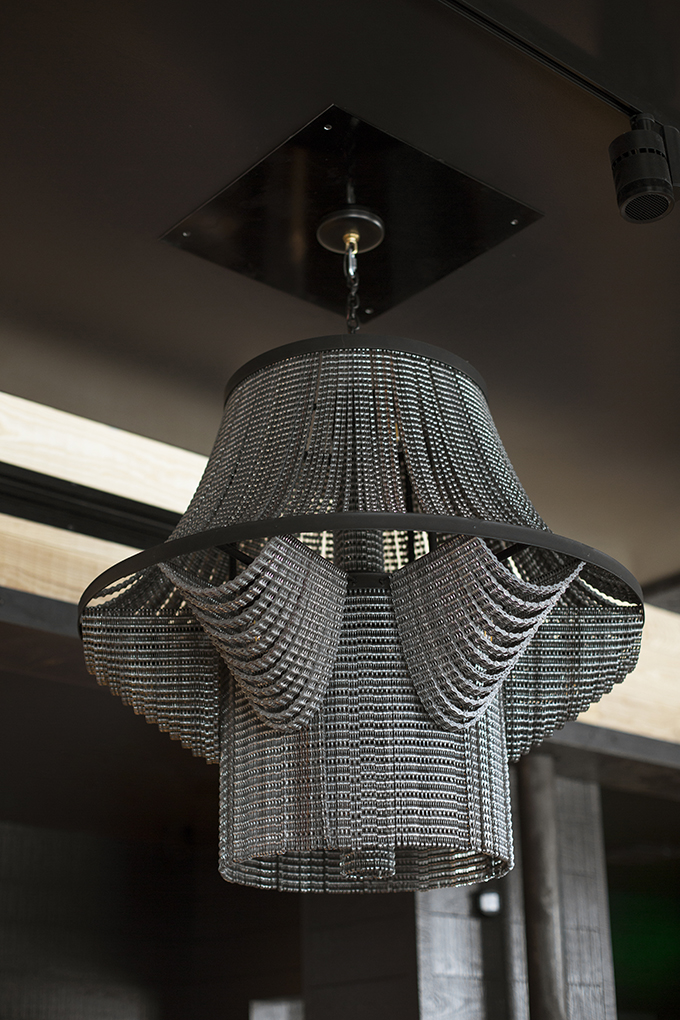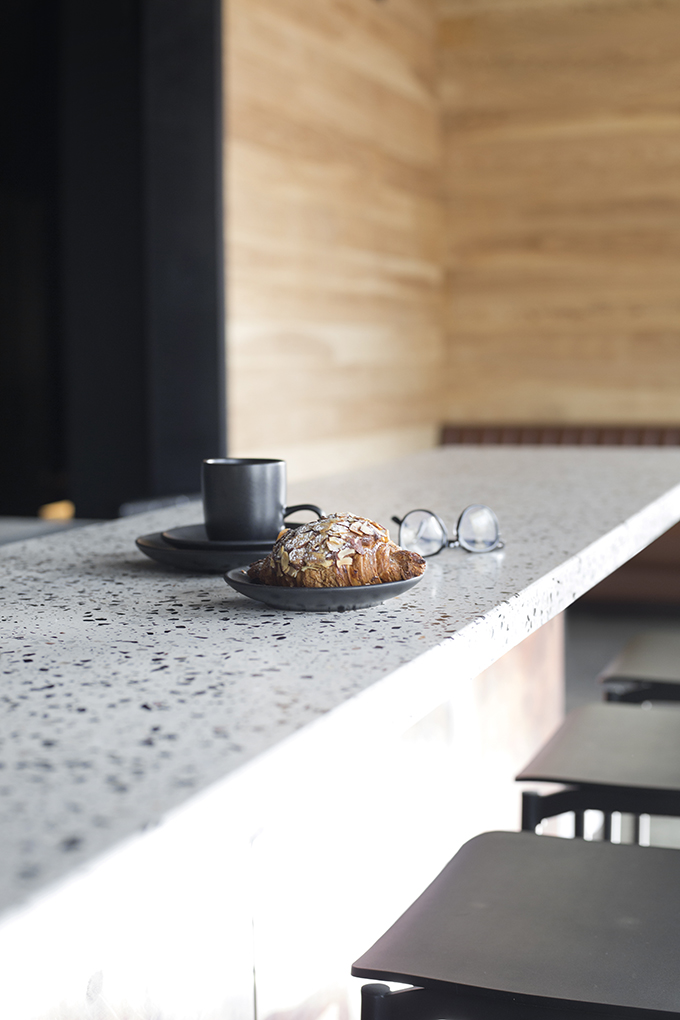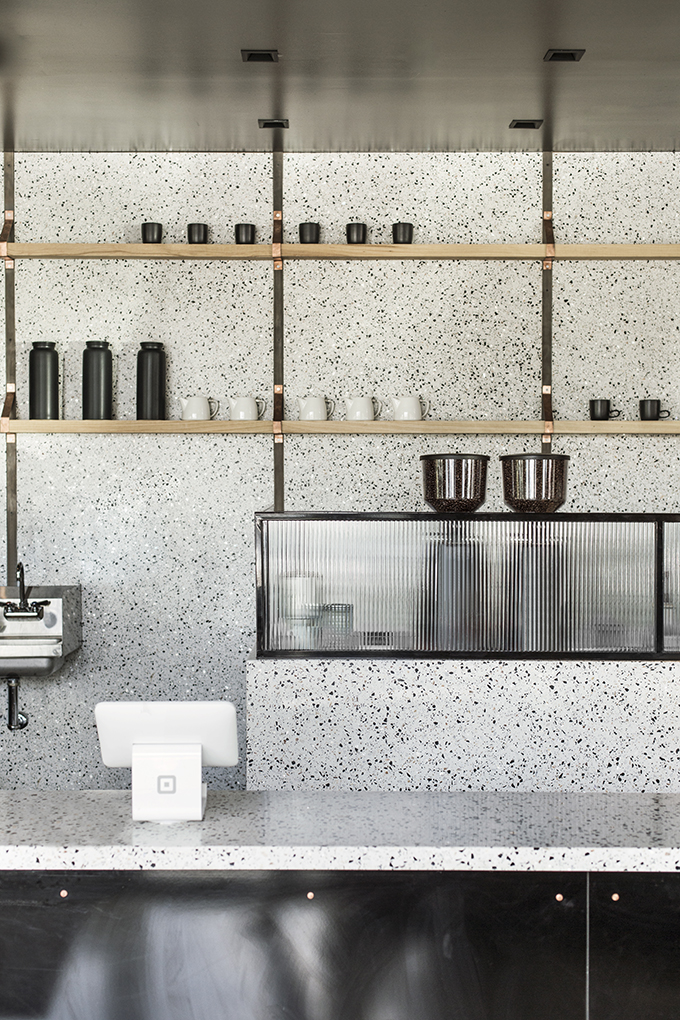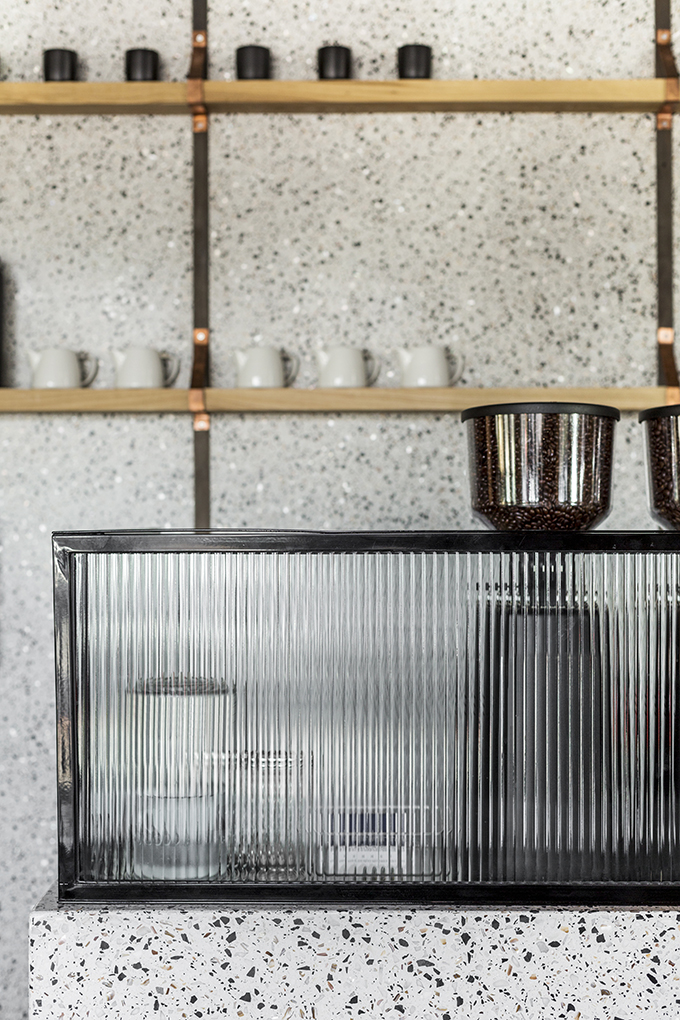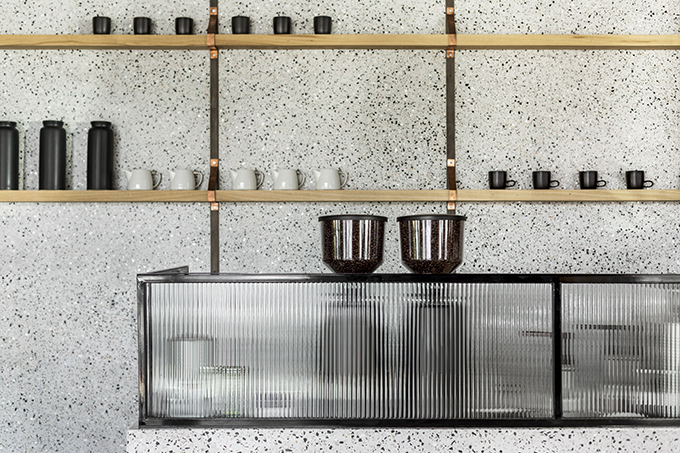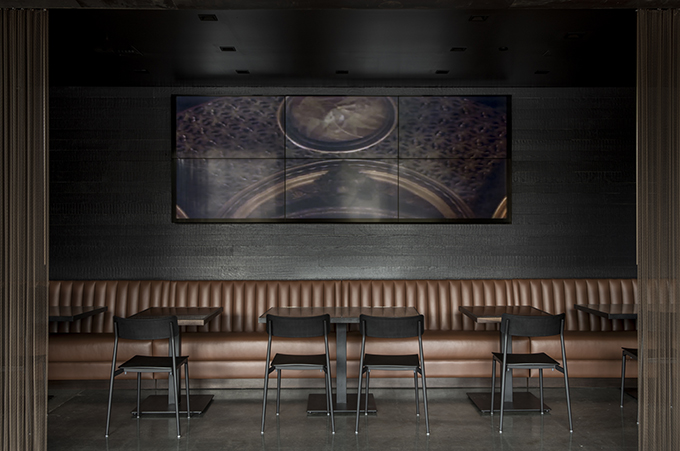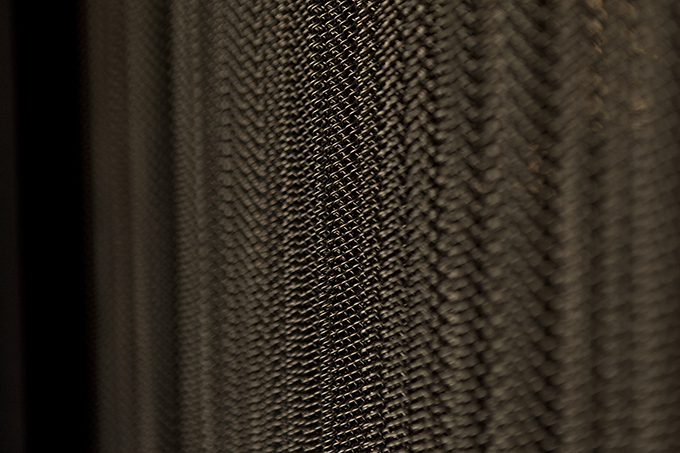 Project Team
Walker Warner Architects (Architecture) – /www.walkerwarner.com
NICOLEHOLLIS (Interior Design) – www.nicolehollis.com
Cody|Brock (Contractor)
Eric Johnson & Associates (Lighting Design)
Walker Warner Architects Design Team
Greg Warner, Principal
Helen Tsang, Senior Project Manager
Charles Gurrey, Designer
NICOLEHOLLIS Design Team
Nicole Hollis, Principal and Creative Director
Danielle Yuen, Senior Designer
Shannon Niehenke, Senior Design
Julia Clements, Project Designer
Photographer
Laure Joliet
Resources
Bike Chain Chandelier: Design by NICOLEHOLLIS; fabricated by Facaro Designs
Terrazzo: American Terazzo Co.
Menu Signage: Vestaboard
Walnut Table: Design by NICOLEHOLLIS
Metal Curtain Material: Fabricoil-Cascade Architectural
Tufted Banquettes: Shelby Williams
Tufted Banquette Upholstery: Kravet#606 Valera (Colorway: Sienna)
Linen/Vinyl Banquettes: Alexis Moran
Water Station: Design by NICOLEHOLLIS
Copper-Top Cafe Tables: Design by NICOLEHOLLIS
Terrazzo Hightop Tables: Design by NICOLEHOLLIS
Cypress Siding: ARC Wood & Timbers
Elliptical Cypress Louvers: ARC Wood & Timbers
Steel Trim: Custom metal by Mountain Forge Inc., Truckee, CA, Anton Standteiner
Standing Seam Metal Panels: Sheffield
Oversized Glass Windows and Doors: Arcadia Storefront System (aluminum)
Ash Interior Paneling: ARC Wood & Timbers