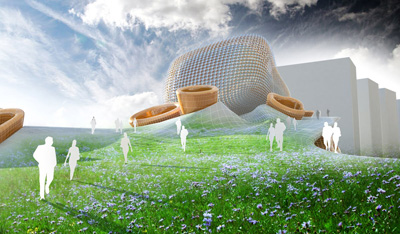 Project: Lilla Råby
Designed by Anahita Nahoomi, Lina Davidsson, Miranda Westfelt & Robert Janson
Location: Lund, Sweden
Website: jansonrobert.blogspot.com
Anahita Nahoomi, Lina Davidsson, Miranda Westfelt & Robert Janson explore new concepts both in architecture and landscaping while creating their Lilla Råby project. For more images and architects description continue after the jump:
From Robert Janson:
Lilla Råby is a small quarter in Lund, Sweden. The area is located close to the center of the town.The place is experienced empty, it doesn't encourage to activity and is currently full of barriers, both physically and mentally. It is characterized by a pedestrian and a lane which divides the area into two different parts.
These parts today contain a sport center, a kindergarten, a high school and some historic buildings that are worth preserving.Our task was to create more activity and life in the area while preserving and improving the functions that exists today.We also wanted to create a new link between the south part and the center of Lund. The idea was to create a smooth transition in scale between the high buildings to the west and the smaller scale buildings in the surrounding neighborhoods. In our proposal, we have chosen to work with buildings that encourage activity both inside and outside.
The sport hall's roof creates a landscape that could be used for different purposes during different seasons. While it creates a green space in the summer, it can be turned into a sledding hill in the winter. It also creates a natural link with the small scale residential neighborhood adjacent to Arkivgatan.
This residential area has a dense village structure with green roofs and narrow paths that opens up to a common garden where one can grow vegetable as well as it forms a meeting place for the residents. The houses that lies along the Hardeberga path has room for minor activities and businesses on the ground floor while the second and third floor is residential.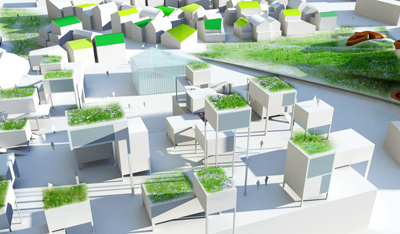 Site with existing buildings. The school buildings in the west corner is preserved but the function has been replaced by a market hall, study areas and a cafe. On top of the building, we have chosen to build small student housing and rooftop parks in order to increase the activity in the area.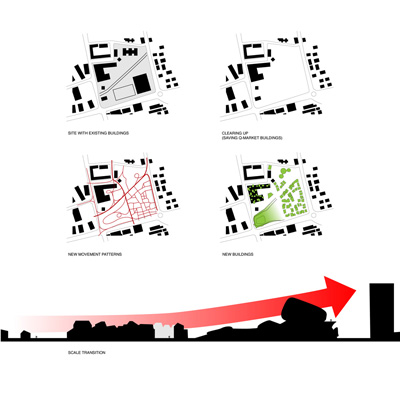 Clearing the site. On the north east side of the quarter lies Lilla Raby kindergarten. It has preserved its location, character and the amount of green space while the new building encourages playfulness and climbing both indoors and outdoors.
New movement patterns. Between the kindergarten and the market is a path lined by partly old and new buildings of small scale character. These houses can be used as studios, workshops or "pop-up" galleries. Lilla Råby is not just a new center outside Lund, its an active community with a rich cultural life, social encouragement and close contact with agriculture and nature.