Orange Architects have recently completed The Cube, a 50 meter high residential tower located in Beirut, Lebanon. The rotation of the volumes on each level, offers residents spacious outdoor areas, as well as panoramic windows that are up to 12 meters wide.Take a look at the complete story below.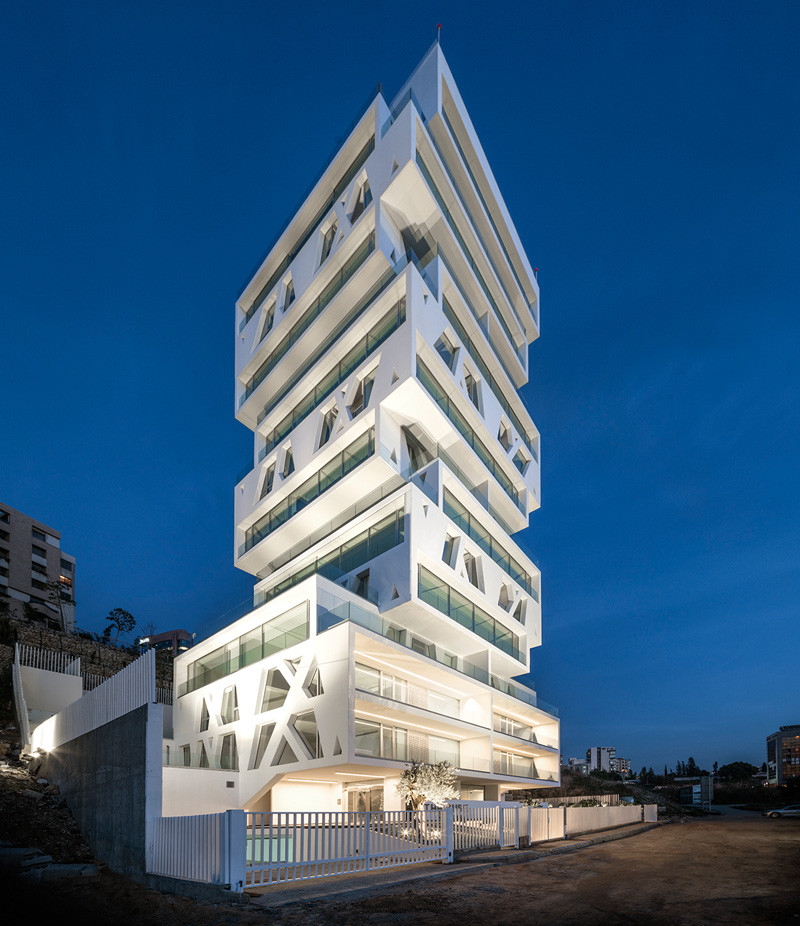 Commissioned by the Lebanese development corporation Masharii, a new luxury residential tower on Plot 941 in Sin el Fil titled The Cube Building, has been designed by Orange Architects. This firm, formed in 2010, is the result of a partnership between the Dutch architecture firms JSA, CIMKA and Hofman Dujardin. They state that the 50-metre-tall block will contain 19 apartments ranging in size from 90 to 180 m2. The concept for the tower is simple but extraordinarily effective: 'maximizing', making optimal use of the site's potential, the local building code and the fantastic views of Beirut and the Mediterranean. Within this conceptual framework, we will develop the most extensive building programme possible. The maximum height will be achieved, and the view from each apartment will be optimised. For this purpose, 100-percent flexible floor plans have been developed.
A central egress core containing elevators and stairs runs as a rational anchor through the heart of this offset and outset scheme. Because each apartment (which from the second floor up, comprise entire floors) is supported off of this core, their orientation around the core is of no structural concern and therefore free. Each unit is essentially composed of two open-webbed girder walls and two glass facade walls. Each level is rotated 90 ̊from the levels above and below, creating a stepping effect. In addition, the rotation and the offset arrangement of the apartments allows for large outdoor terraces to accompany each, located atop the out-jutting roof of the unit below.
At ground level, the tower can be read as partially built into the hill which accompanies it on the site. There is a lobby, a 25-car parking garage, as well as other standard support facilities. The roof of this lobby area is used as a common area for all residents and an outdoor playground for children.