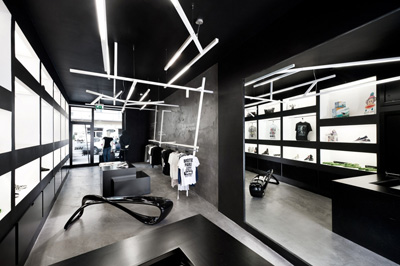 Project: HOME / Unusual Store
Designed by Luigi Valente
Design Team: Cristian Farinella, Lorena Greco
Lighting Plan: Luigi Valente, Cristian Farinella, Lorena Greco
Client: Salvatore Gaglione
Location: Venafro, Italy
Website: www.luigivalente.com
Photography: Stefano Pedretti
How should things be displayed today? This question makes or break a clothing store, a wonderfully unique space answering the needs of such a task was created by Luigi Valente for HOME / Unusual Store in Italian town Venafro.
About the Project:
"Here is a song from the wrong side of town Where I'm bound to the ground by the loneliest sound And it pounds from within and is pinning me down" (Home – Depeche Mode). A place like home and, at the same time, a fantasy place that projects the client faraway. It is conceived as a display cabinet that uses pure elements in order to emphasize each cloth by creating a contrast with the steel structure. This structure both gives light to the main room and folds against the walls becoming a clothes hanger. The black color underlines the lighting system and creates a balance with the resins that cover both floor and left wall. Each element is used in order to emphasize the objects shown in it. This makes "Home" a unique store of its kind.