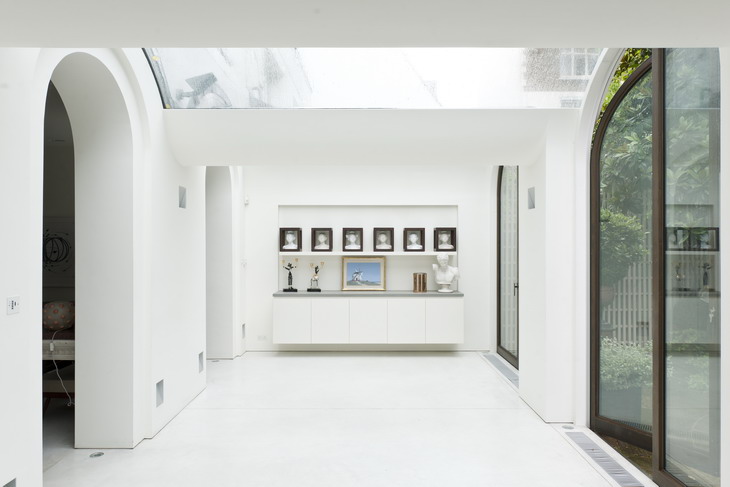 Andy Martin Architects completed another London residence, Mews 04, a large 5 bedroom double fronted mews house in London's Hyde Park. AMA has achieved the most elegant blend between the clients existing classical spaces and furniture and ama's own contemporary interventions.
From the Architects:
The initial brief was to re-design the timber framed faux Victorian Style conservatory completed in the 80's. ama's solution was to replace it with a similar form avoiding and having to submit a potentially difficult and lengthy planning application. The original design of three barrel vaults was transformed into a contemporary
The entrance lobby's floor is an elaborate mosaic of hand cut 10mm square marble pieces laid to repetitive wave form graphic. ama designed the bespoke bronze and glass inlayed entry doors which announce the public spaces; the living room and conservatory. Floor finishes on the ground level are hand rubbed concrete to create a Terrazzo type patina. Three large bronze french doors open out from the conservatory to connect with the classical garden layout.
A new floating stair divides the house in two with a new roof light bringing natural light to the centre of the house. Dyed and brushed solid oak flooring runs throughout, from the stairs, flooring and the doors. In the bathrooms, solid marble bath and basins carved to ama's synonymous organic style are laid delicately with the warmth of a timber floor and walls.
AMA took the opportunity to design all the built in joinery, bathroom units and the bespoke door handles and even specially configured door hinges.

Project: Mews 04
Designed by Andy Martin Architects
Location: London, United Kingdom
Website: andymartinarchitects.com