DRM estudio and RA-ARQ have recently completed their latest remodeling project in La Lucila, Buenos Aires. The project comprises of a little addition to an existing house and its full remodel. Take a look at the complete story after the jump.
From the architects: The land located in the neighborhood of La Lucila, Province of Buenos Aires, is defined and characterized between the Mitre train tracks, Paraná street and Av. Del Libertador. The result is a grid of low-scale residential characteristics, surrounded by the mentioned access roads whose scale exceeds the residential character, articulating different points of the city. The assignment consists of the integral reform of a pre-existing house added to a small extension of it.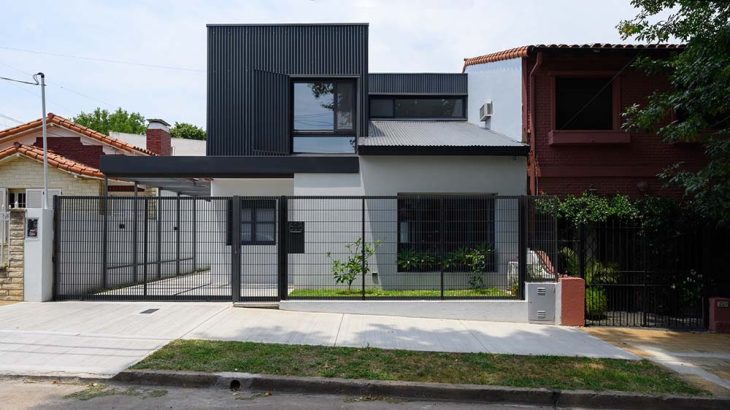 THE ROOFS
The project operates mainly on the roofs. In the original house, three strips can be read perpendicular to the street, from left to right, one for a side corridor or garage, another for the private space of the house and finally the public space of the house. The project conserves this configuration conceptually, but operates on the dismantling of its gabled roofs to carry out a replacement of material and generate the formal alterations that will allow us to respond to the premises of the new assignment.
In the private strip, the memory of the original roof is left and it is built on top to give rise to the extended suite.
In the public strip, a skylight is built between the existing roofs, it solves both the vertical circulation and the entrance of lighting and ventilation of the house.
In the last strip, the garage corridor, is operated by adding a light roof that solves the access to the house as well as the storage of vehicles.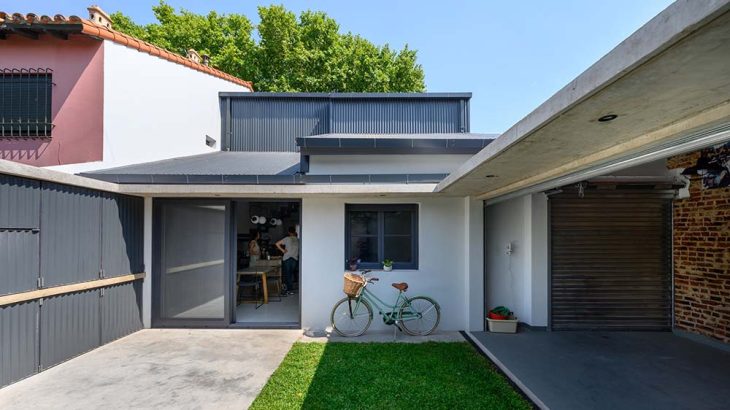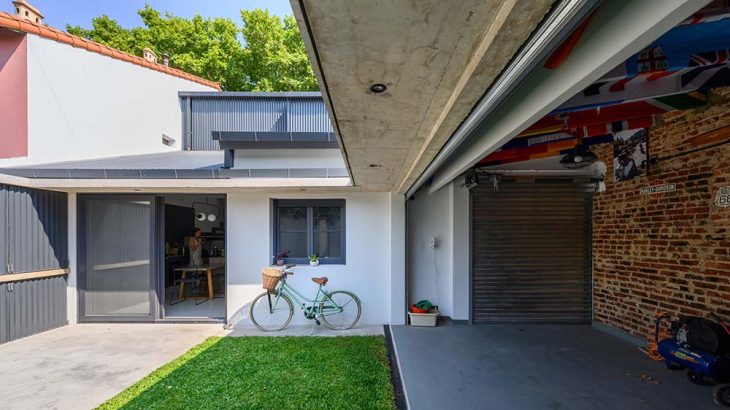 THE BACKYARD
On the bottom of the land, the existing backyard was qualified by working on the dissolution of interior/exterior limits, the specific design of the enclosures that surround it allowed us to approach this configuration.
On the one hand, through the transparency of the sliding kitchen´s window and the extension of its service bar to the outside, solving the barbecue, boiler, laundry room, etc. That bar can be fully opened or completely closed depending on the use.
On the other hand, the metallic curtain of the motorcycle workshop as well as the sliding kitchen´s window finish integrating these two spaces to the backyard, maximizing its use surface.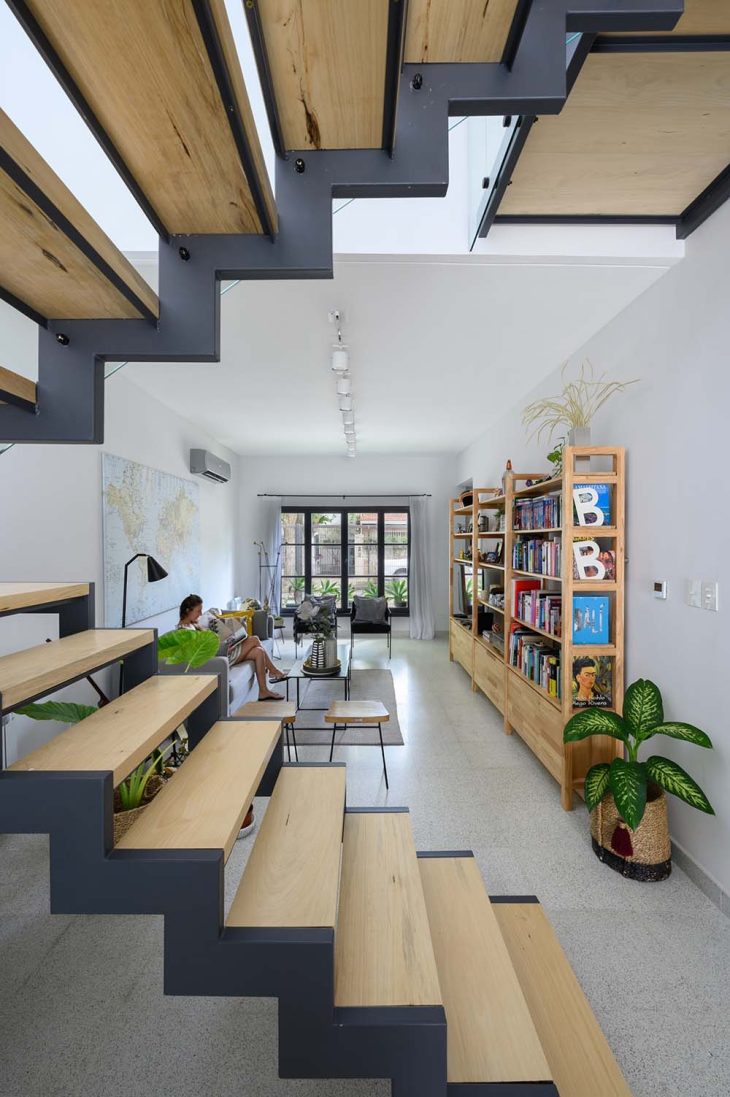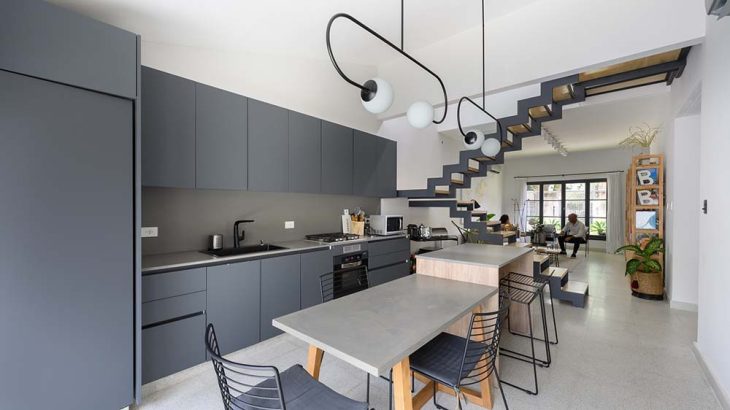 SKINS
In the search for a contrast with the pre-existence, the envelopes were materialized in gray sinusoidal sheet metal, their movable screens allow the house to be completely closed with the aim of completely regulating light and visuals, both in spaces for use and in service and storage spaces.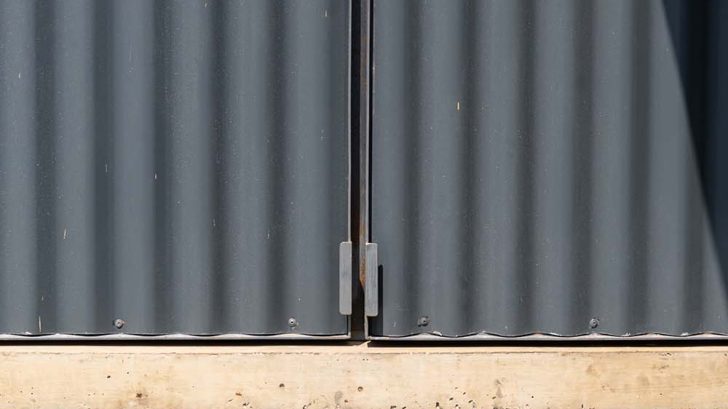 General information
Project Name: Vivienda SyS en La Lucila
Architecture office: DRM estudio + RA-ARQ @drmestudio + @raula.rq
Office location: Bs.As., Argentina
–
Year of completion of construction: 2021
Builded surface (m2): 35m2 nuevos, 110m2 reformados
Location: La Lucila, Vicente López
Program: Vivienda Unifamiliar
–
Architects in charge:
Autors: Arq. Raúl Allegrotti. Arq. Luciano Dimaio, Arq. Nicolás Rocca, Arq. Esteban Muerza,
Project team: Arq. Noelia Belén Sera, Arq. Ramiro Barraza, Arq. Augusto Latzke Blake, Arq. Ignacio Llaneza Sofia Prytoluk, Giuliana Scatuerchio, Lautaro Egui.
Architects in charge email: luciano@drmestudio.com.ar
engineering: Ing. Martin Invernizzi
Interior design: Sol Giannini
Client: Sol and Seba