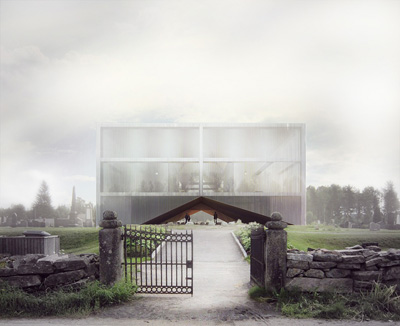 Project: New Våler Church
Designed by Martina Engblom & Ragnar Eythorsson
Location: Hedmark, Norway
Website: www.martinaengblom.se
Martina Engblom & Ragnar Eythorsson have shared with us their showstopping design for the New Våler Church, for their noted solution they have blended the traditional with contemporary in a refreshing way. With their design they manage to preserve a space that no longer exists.
Discover more of their project after the jump:
From the Architecture:
How do you preserve a space that no longer exists? The Våler Church was devoured in flames in 2009 and is to be replaced.
This project is an attempt to translate the history and dignity this space possesses. The first step is to call attention to its existance, or lack there of. A mass closes upon the space that once was and offers comfort to those who visit. The second aspect is the resonance of the old in the new. The new nave has the shape of the old and the recognition extends to the use of structural elements and material. The vertical elements have morphed but are still there. Wood has been used to span across distances and hights and in the same spirit we use it to heave the new church over the site of the old church. In this way the substructural remains of the old church becomes the presumption for the new church.
Visitors are presented with an upraised monolithic structure, calling attention to what lies underneath. A space for reflection is created. On entering the church one needs to climb a flight of stairs to reach the vestibule and main space. The denseness of the structure dissolves as you enter and light is dispersed through wooden battens that make out the facade. The vestubule can either be seperated from or be part of the ceremonial space, adjustable to the event taking place. The lower outside space is visually connected to the nave through four atriums, which also drain the roof. Hence the congregation can view the ruins of the old church and the sky at the same time, whilst seated during service.