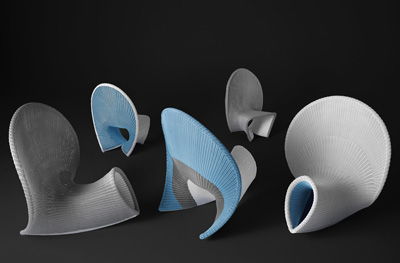 Project: 36h 56h Chair
Designed by Fabio Novembre for Driade
Website: www.novembre.it
The amazingly shaped 36h 56h Chair set apart the design by Fabio Novembre created for Driage. Discover more after the jump:
From the Designer:
One of my earliest memories dates back to when my grandmother prepared the homemade pasta. We were ecstatic by the ritual she staged: the wisdom of the dough, the homogeneous leveled mass, the domestication of the surfaces.
Gestures handed down for generations, unifying practice and imagination, codes and extemporaneousness.
The world has changed so much since then, and practice and imagination refer less and less to a single actor.
I am free to roam the endless fields of fancy, building precarious bridges between conceivable and possible, in a process that ignores the temporal variation. On the contrary, those who turn my thoughts into substance, through manual dexterity and mastery of gestures, consider time as a plus value. The names of these two objects of memory, fellow adventurers in one's raids of fantasy, refer then to the temporal element that each of them requires ,as a pledge in the hands of skilled craftsmen, in honor of their work and of the value that they'll assume for those who will own them.