Project: Washington Square Plaza
Designed by estudioOCA
Project Team: Bryan Cantwell, Ignacio Ortinez
Image Credit: Bryan Cantwell
Services Provided: Conceptual Design
Project Size: 20 700 sqf
Location: San Francisco, California, USA
Website: www.estudiooca.com
Architects at estudioOCA make the most of space provided for the design of Washington Square Plaza in San Francisco. View more of their project after the jump: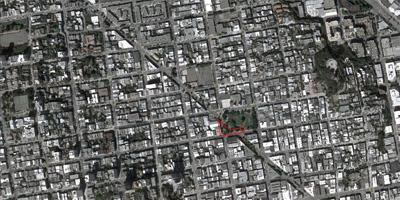 From the Architects:
This study for the treatment of the future subway extension to North Beach takes into consideration the historic value of the neighborhood and existing park, and attempts to create an improved pedestrian experience while minimizing the impact on the community. The proposed plaza replaces a small, inaccessible landscaped area and a short section of Powell Street, creating a unified pedestrian plaza containing the primary subway entrance, public seating, a public lawn, and outdoor dining areas for the existing restaurants. Views down Powell Street to the bay are maintained.
The removal of existing vegetation required for construction of the subway provides new opportunities for the creation of a vibrant pedestrian plaza at this important intersection. The design of the new plaza aims to open up views of the existing commercial buildings and act as a counterpart to the existing park, providing a more urbanized environment and focusing on the interaction of the public. Two seating areas provide spaces to relax, large enough to allow for lying down in the sun or for groups to congregate. These concrete seats loop around the site, their shapes conforming to studied circulation patterns, and form two grass islands with flowering trees. This provides seating to view the show of public life.
Closing the short section of Powell Street allows for the expansion of outdoor dining options at the existing restaurants. Between the dining and the loop seating at the subway entrance, a large flex space is formed to allow for the inevitable and the unknown. Taking advantage of this busy intersection, this space can be given over to public markets, small concerts, or protests. The plaza is built entirely of white concrete, allowing this public space and the events to be the main focus. During the day, bright magenta chairs are put out, the color contrasting with the rest of the plaza, signifying their public use.