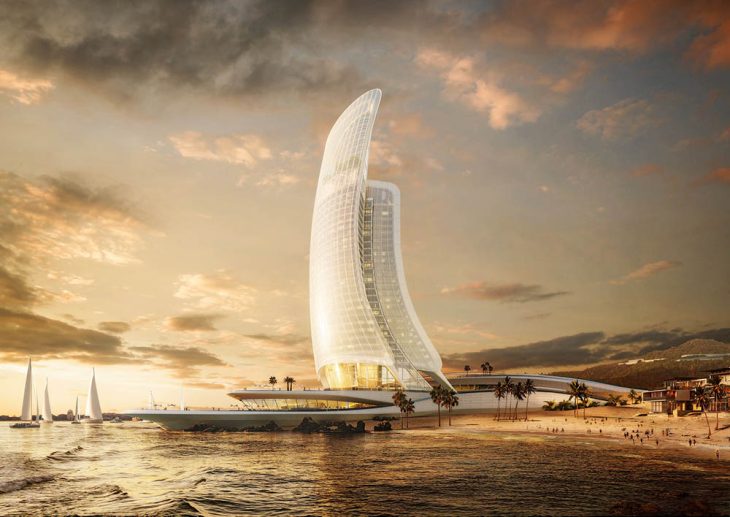 10 Design present their design concept for Sun Group's Hon Thom Island, an iconic integrated resort and hospitality destination along the vibrant Bai Trao Beach in PhuQuoc, Vietnam. Take a look at the complete story after the jump.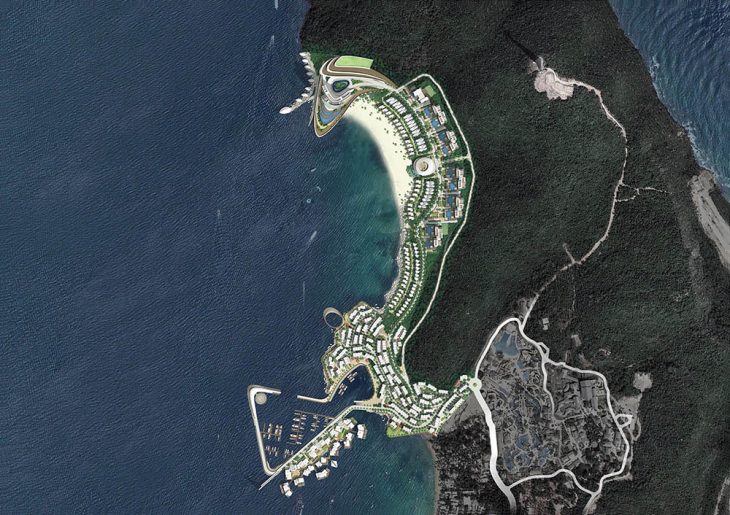 From the architects: Led by Design Partners José Cláudio Silva and Peter Barrett, the contemporary hospitality destination will boast stunning vistas of the coast and the natural mountain ridge of Hon Thom Island. The luxury resort scheme will be just five minutes within reach of a sandy beach, water sports and beach clubs.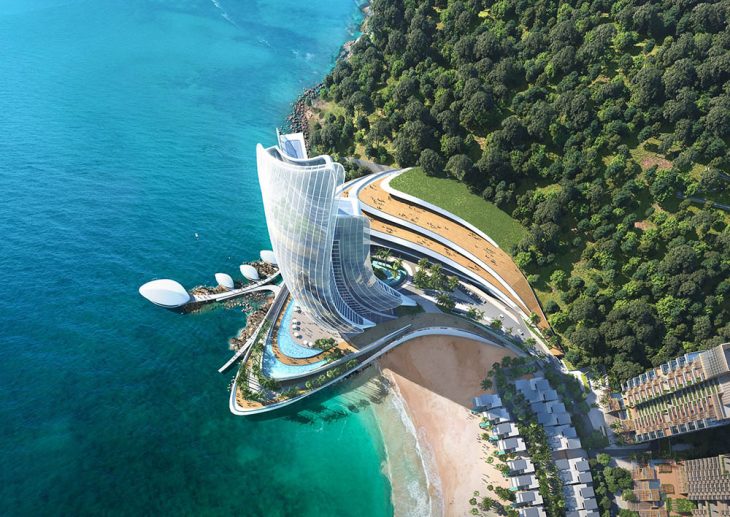 Located in the northwest of Hon Thom Island with uninterrupted ocean views, the resort masterplan unfolds through one kilometre of coastal frontage and across 20 hectares of premium beach and waterfront. The scheme will enhance its connectivity to the wider archipelago through private and VIP marinas, a public jetty and helipad, in addition to a cable car connecting the island to PhuQuoc. The development will also feature an integrated resort tower as well as luxury hotels, beachside and clifftop villas, townhouses and beach clubs boasting panoramic coastal views.
Situated in the Bai TraoDistrict of the Hon Thom Island, the landmark tower is designed to evoke a pair of billowing sails departing into the Gulf of Thailand. Luxury rooms are placed across the curvature of the sails, making the most of the generous views towards the horizon and the lush backdrop of mountain slopes. A double-skin glass facade accentuates the lightness of the sails, establishing a sense of movement and direction throughout the scheme. The public areas such as a viewing deck and gardens are placed on the lower floors, serving as a podium for the integrated resort and connecting the hotel and other hospitality components together.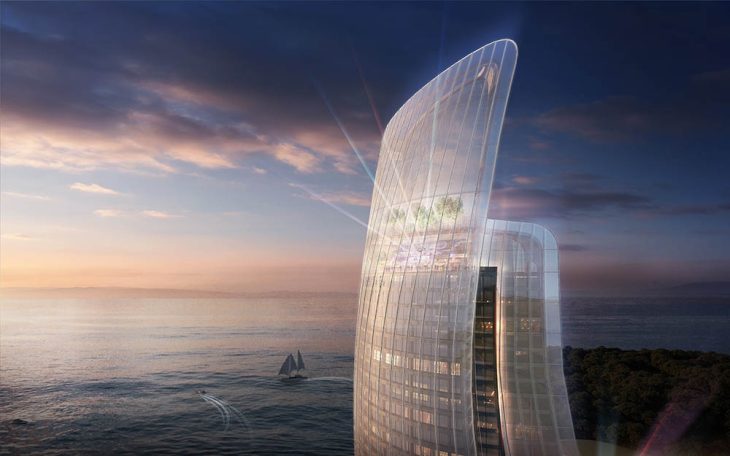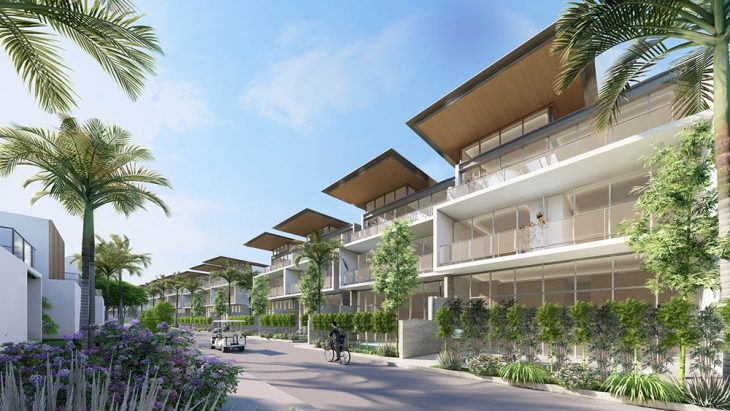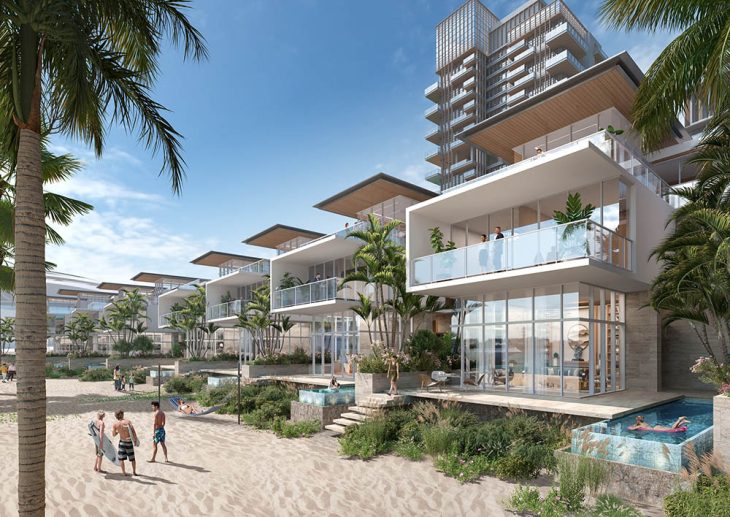 Luxury and premium residential villas are placed along at the beachfront and are designed to blur the boundaries between nature and architecture through infinity pools, gardens, outdoor decks and direct access to a private beach.
The central commercial beach club is designed in a dramatic circular form with a sky-lit interior atrium nestled into the coastal slopes, together with rustic shingled roofs, exposed woodwork and warm-coloured stones that house public spaces, retail programmes and pool decks.
Townhouse village acts as the destination anchor at the resort's southern gateway, where a range of residential townhouses and boutique hotels are cascading down the terrain towards the coast. Shaped around the low-rise European coastal town, the village consists of open public squares and grand marinas, tied together by a network of linear parks and coastal promenades that conclude at the adjacent Fisherman's wharf. The Fisherman's wharf is reimagined as an extension of the rocky coast, with its glass retail volumes attached to stone blocks seemingly rising out from the sea.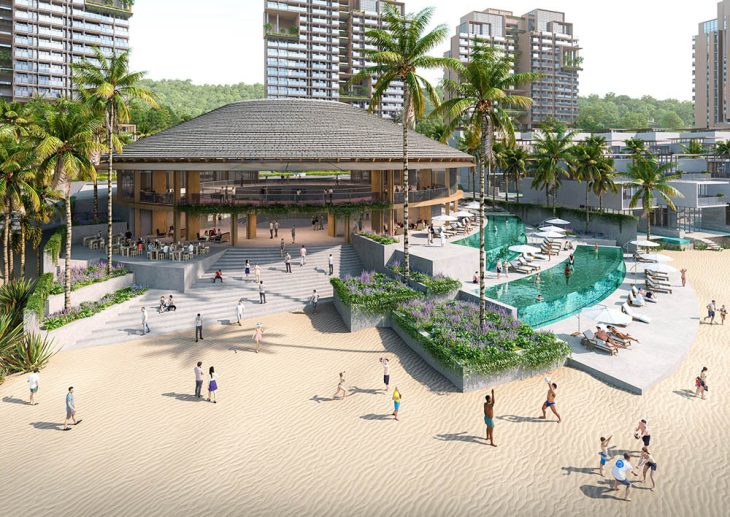 Managing Partner – Asia, Barry Shapiro, commented:
"We are excited to complete the masterplan and concept design for Hon Thom Island, which will serve as one of the beachside jewels of the local PhuQuoc region as well as the world-class waterfront hospitality and lifestyle destination. The resort is an important milestone as the first major project completed by our 10 Design Singapore studio, and we will continue to grow our presence in Southeast Asia through expert design and delivery services, to be facilitated by the upcoming expansion of our Singapore team into the new office space."
Project Data
Name Hon Thom Island
Location Phu Quoc, Vietnam
Client Sun Group
Scope by 10 Design Masterplanning and Architecture
Type Hospitality
Site Area 222,100sqm (22.2HA)
GFA 303,700sqm
Status Masterplan and Concept Design Completion 2022
Find more projects by 10 design: www.10design.co