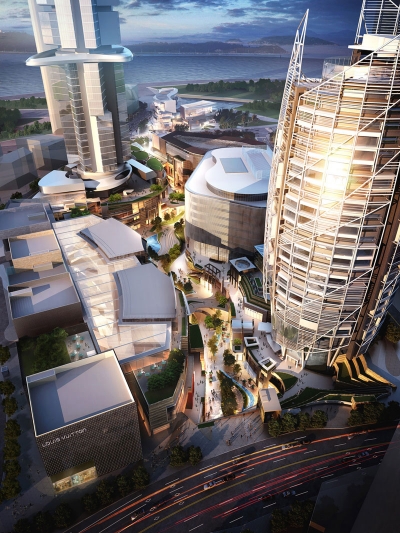 Project: Public Heart for YIBD
Designed by 5+Design
5+Design Consultants: Selbert Perkins Design/Graphic & Signage, AECOM/Landscape Design, Kaplan Gehring McCarroll/Lighting
Client: Yongsan Development Co./Dreamhub
Location: Seoul, South Korea
Website: www.5plusdesign.com
5+design is sharing with us their solution for Dragon Valley Retail shaped as a Public Heart for Yongsan International Business District.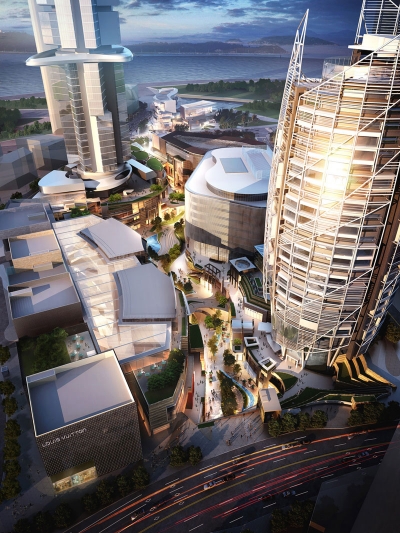 From the Architects:
Hollywood, CA, July 23, 2012 — The Dragon Valley Retail District, planned by 5+design, provides
An inviting public environment filled with outdoor gathering places, shops and entertainment at the center of the Yongsan International Business District (IBD).
The ambitious, 34 million square foot, mixed-use district in Seoul is being developed by Dreamhub. "The design carves a canyon into the district to create an uninterrupted, subterranean, pedestrian thoroughfare from the Yongsan Train Station to the Han River," said 5+design partner Michael Ellis. "With its diversity of environments and offerings, its sense of scale and connection, Dragon Valley balances the iconic singularity and verticality of the overall district."
Masterplanned by architect Daniel Libeskind, the Yongsan IBD encompasses ten city blocks and includes a collection of high-rise residences and commercial buildings designed by a host of renowned international architects. The skyscraper-filled district is organized into neighborhoods centered around and connected by an urban public space animated by retail, entertainment and leisure — Dragon Valley Retail District. The underground city of retail, restaurants and commercial spaces is presented as individual districts of distinct character linked with lushly landscaped gardens and fountains and a network pedestrian-friendly passageways.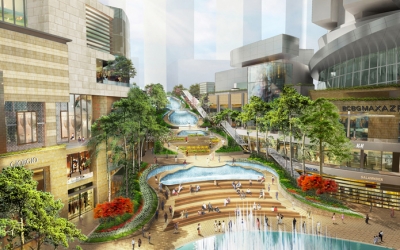 "While the most impressive image of the Yongsan IBD may be its incredible high-rise skyline, the project will be truly experienced by the public at the ground plan and within the below-grade shops and restaurants of the Dragon Valley," said Tim Magill, the 5+design partner responsible for the design of the project. "In order to navigate such a huge project, the design is divided into a series of unique districts, accessed by a hierarchy of outdoor arcades, indoor malls and courts, to create a memorable, human scale."
Dragon Valley Retail District comprises three main areas — Platinum Street Collection, University Department Store Zone and Sports Active Life District — all surrounding a dramatic 10,000 square meter sunken garden of lush landscape, water features, outdoor restaurants, amphitheaters and public gathering areas. Each district is expressed as clusters of buildings nested together with individual facades that give identity and distinction. The eclectic hill town character of the district, with both contemporary and traditional buildings integrated into a dramatic vertical landscape, invites exploration.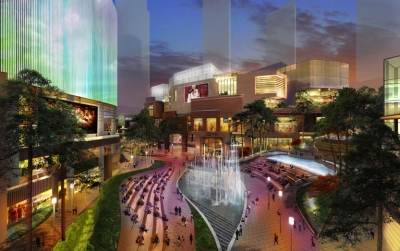 In addition, each retail zone has a unique architectural character and retail strategy: The Platinum Street Collection features luxury flagship stores at street level that open to a seven-story interior mall with luxury brands, a gourmet food court and an aspirational, new product collection. Elegant building façades are composed of limestone, quartz, carved floral screens and fritted glass.
The University Department Store Zone has a distinctive ten-story, 60,000 square meter Department Store and Campus Tower with interactive lighting designs and large- scale media screens. The Department Store will offer a vast selection of products for every budget. At the base Campus tower, will be Korea's largest bookstore.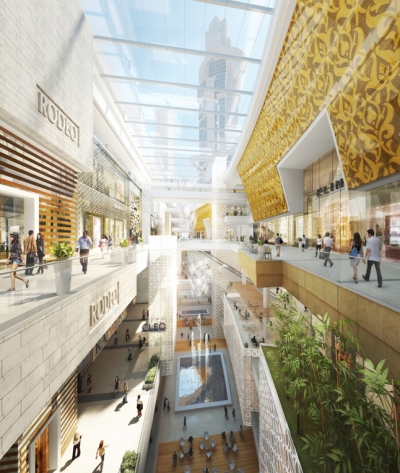 The Sports Active Life District will offer the largest selection of sporting goods and active apparel in the country. This zone is characterized by dynamic compositions that promote movement and ascent including a seven-story high climbing wall in the main atrium.
Further beneath the landscaped public courtyards and adjacent retail is another grandly scaled mall that connects the Retail Valley with adjacent city blocks. The mall will have common area restaurants and kiosks and a trolley track that will give guests a tour of Yongsan's underground city.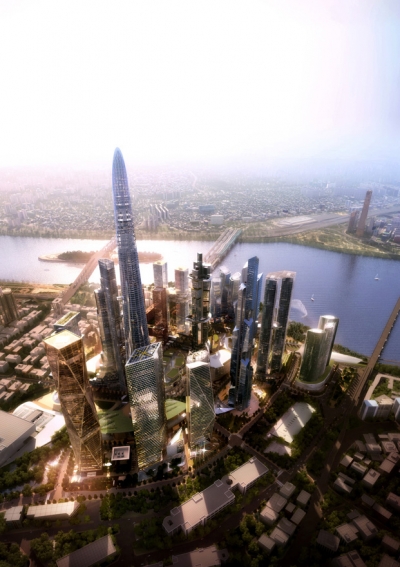 At the southwestern terminus of the Yongsan IBD is the Waterfront Food and Entertainment District — a dramatic finale at the end of the journey from Yongsan Station to the Han River. Inspired by its waterfront location, the district is presented as a collection of waveform terraces that fan out to create a series of stepped viewing platforms overlooking the Han River and the southern Seoul skyline.
"The Dragon Valley Retail District heals a decades-old tear in the urban fabric of the city that was created by the railroad and the industrial development of Yongsan," comments Magill. "At the same time it creates a public heart for the bold contemporary city and its residents."