Museum
MVRDV Wins Competition Public Art Depot Museum Boijmans Van Beuningen
By |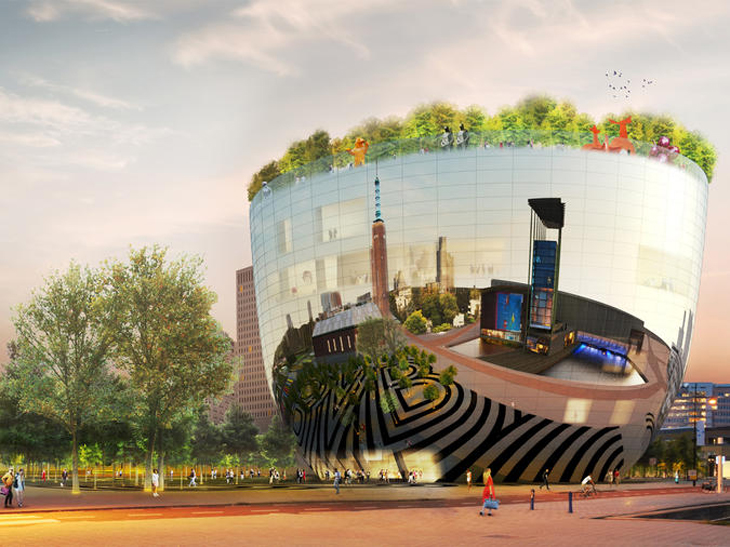 MVRDV was chosen winner of the competition for a 14.000m2 public-private art depot of Museum Boijmans van Beuningen in Rotterdam. For more information and architects' description continue after the jump:
From the Architects:
The new typology of a public art depot with room for private collections, a sculpture park on the roof and the offices of philanthropic foundation De Verre Bergen has a budget of 50 million Euro. Rotterdam city council will decide at the end of 2014 whether to realise the building. After winning MVRDV was disqualified from the competition for a breach of the tender regulation but won a preliminary injunction at the court of justice of Rotterdam.

Museum Boijmans van Beuningen provides a comprehensive survey of European art from the Middle Ages to the 21st century. The museum is located in a monumental building whose current art depot is below sea level and is thus at risk of flooding. The new art depot is an ambitious plan to not only provide a safe storage but also to open the art depot and its collection to the public, to let the depot participate in the cultural life of the city.

The design of a cylindrical volume optimises the façade surface. This volume is crossed by a descending public route zigzag through the various depot floors. The zigzag ends on the roof, location of the restaurant and the sculpture park. The trees which currently occupy the location are moved onto the roof which acts as a raised park. By cladding the façade with reflective glass the surrounding area is mirrored and the building seems to fade in its environment.

The competition was organised by the city of Rotterdam for Museum Boijmans van Beuningen and De Verre Bergen Foundation. The other final competitors are MAD/Nio, Neutelings Riedijk, Koen van Velzen and Harry Gugger with Barcode Architects. MVRDV teamed up with engineering firm Pieters Bouwtechniek, Building Consultants IGG and installation and sustainability advisor DGMR.

MVRDV was earlier disqualified from the competition due to a considered breach of the tender procedure but won a preliminary injunction at the court of justice of Rotterdam.
Project: Museum Boijmans Van Beuningen
Designed by MVRDV
Location: Rotterdam, Netherlands
Website: www.mvrdv.nl