Ruben Muedra Estudio de Arquitectura designed this inspiring 450 m2 private residence located in Valencia, Spain, in 2018. Take a look at the complete story after the jump.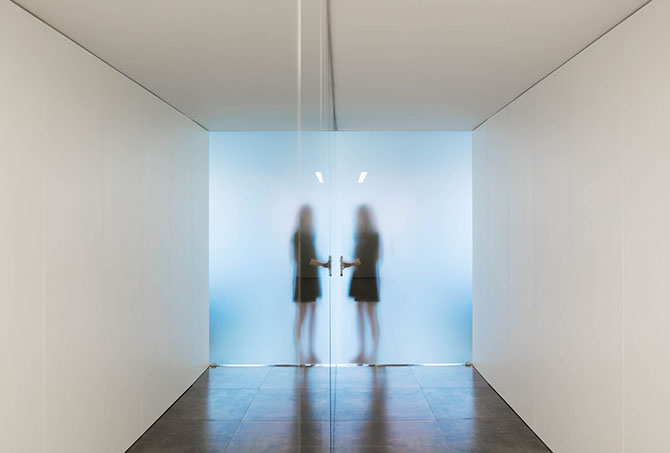 From the architects: Located in the upper area of a small municipality in the interior of Valencia, with an irregular network of streets of Arab origin, and especially, with excellent views of the hills and the Valley that forms the Turia River as it passes through the town.
We find an old one-storey house and a beautiful garden of bougainvillea on a plot with a large gap, and nearby homes of a certain age and little interest. An introvert project is proposed, with a prismatic piece closed on three sides, and fully open to the best views. In this way, housing preserves maximum privacy from the street and from neighboring homes, while from the two floors it is fully open.
In addition, the volume comprising the home is raised with the intention of resolving in itself the unevenness of the plot, generating access to housing from the two levels and leading to a rational division of the program, with parking and leisure area in ground floor, and night and day area on the top floor, which has access from the street level. Both floors are joined by a staircase, whose development is proposed in an inclined lateral annex volume.
The upper floor is constituted as a pure white volume, with a large cantilever on the front side, and open on the terraces that link to the living room and kitchen. This white prism 'flies' over an anthracite gray slate plinth on which the side ramps rest, and which vanishes on the front side, leaving it completely open on the cantilevered porch and in the multi-purpose glazed room.
The introverted character of the house, which although insinuated through the front wall slats and through the bougainvillea garden, does not allow to recognize it further, it also extends to the interior of the house. In this way, a surprise effect occurs when advancing through the great hallway – traversing the night area that remains hidden – you reach the day area, as a single large open space with excellent views of the hills and the Valley.
The day area of the upper floor and the ground floor are connected by the lateral staircase, with access through a multipurpose space, attached to the porch-cantilever and facing the outdoor pool.
In the interior, very pure and sober environments are generated, with large-format porcelain pavements, white vertical coverings, white roofs with integration of hidden installations, and with indirect linear lighting. They also have great natural lighting from the south, protected by the large cantilever and the front terraces.
Outside, garden boxes, green areas and landscaped terraces of the plot background are kept, and even the vehicle ramp is materialized with a mix of concrete and natural grass giving rise to a natural environment, which fuses with the long views, and which contrasts with the sophistication of the block built. And of course, the bougainvilleas that separate and unite the house with its street are preserved…
Photography by Adrian Mora Maroto
Find more projects by Ruben Muedra Estudio de Arquitectura: www.rubenmuedra.com