Architecture Studio Moon Hoon has recently completed their latest residential project in Seogwipo, South Korea – Pacific Residence. The new project features eight rooms (4 bedrooms, 1 kitchen/dining room, 1 living room, and 1 library/party room) designed to meet the needs of the clients, a neurosurgeon and his family.
Seoguipo is the second largest and more laid-back city of Jeju Island. There are numerous places where the beauty of nature is enhanced by warm weather. The location is perched atop a small hill with views of Halla Mountain and the Pacific Ocean in the distance. It is a piece of a brand-new grid system for house plots.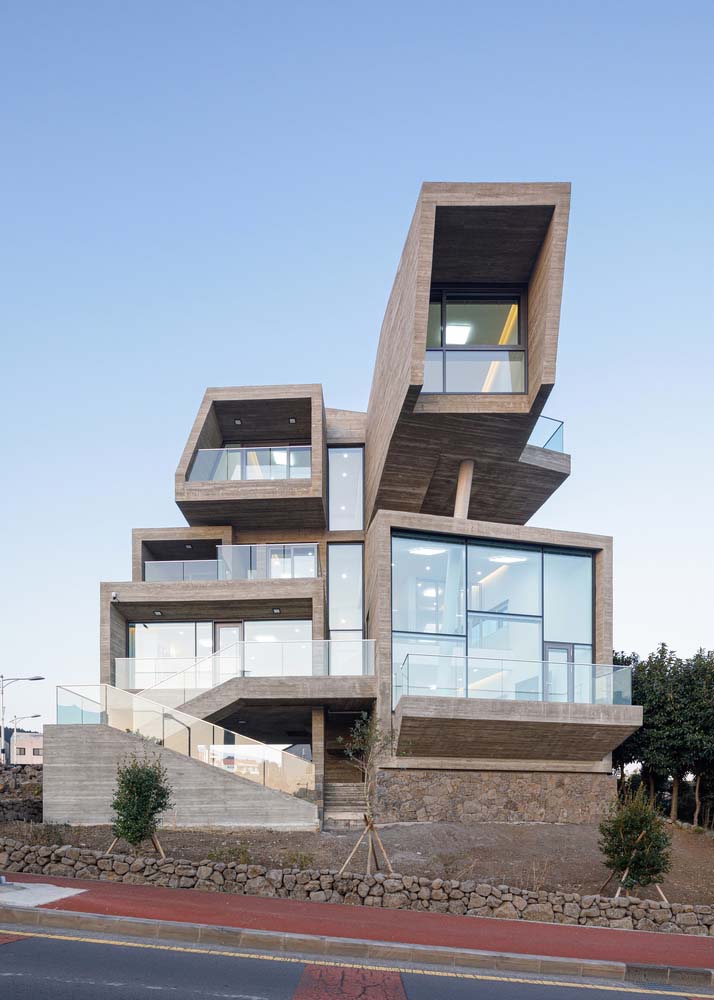 Often, when I design a project, I do ponder about the project after visiting the site. I do let my mind work spontaneously or at times I doodle freely without too many intentions. When the right moment is met with the creative mind, some kind of idea, a word, or an image comes to mind. The house looking at the Pacific Ocean suddenly rose as a large counter wave looking at the ocean. The juggling and stacking of 8 different sized rooms within the phantom wave initiated.
The front-facing south had a very clear view because to the inclined position. The eight bedrooms might all have views and lots of light. The entrance to the house is on the northern side, and a short fence wall made of basalt rocks has been created to provide some privacy and protection from the infamous Jeju wind. Except for a turn and a few stairs up, there is no visible key from the foyer to the main area. A double-height column supporting the fourth-floor library can be seen in the living area. You can access the kitchen/dining area by ascending a few more stairs, and a few more steps will lead you to one of the future children's bedrooms.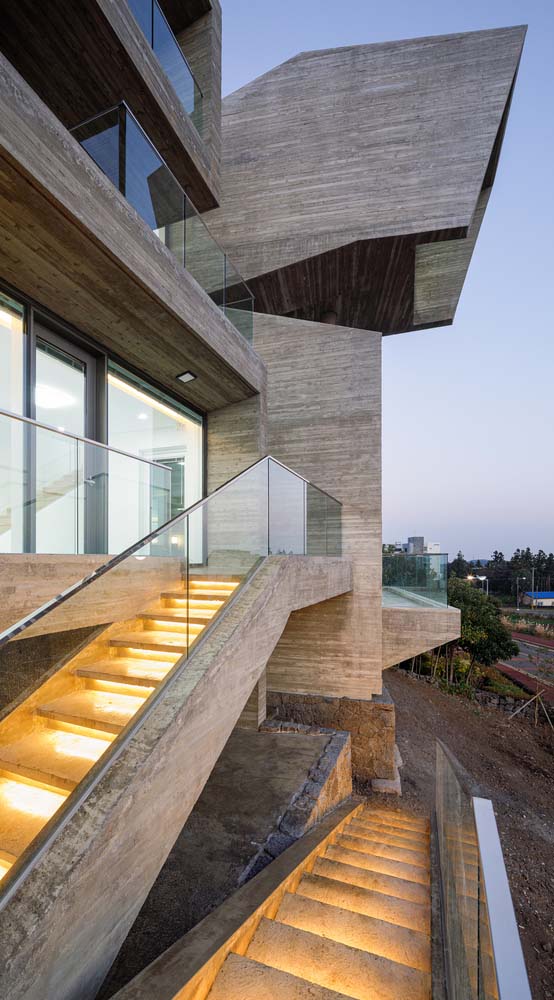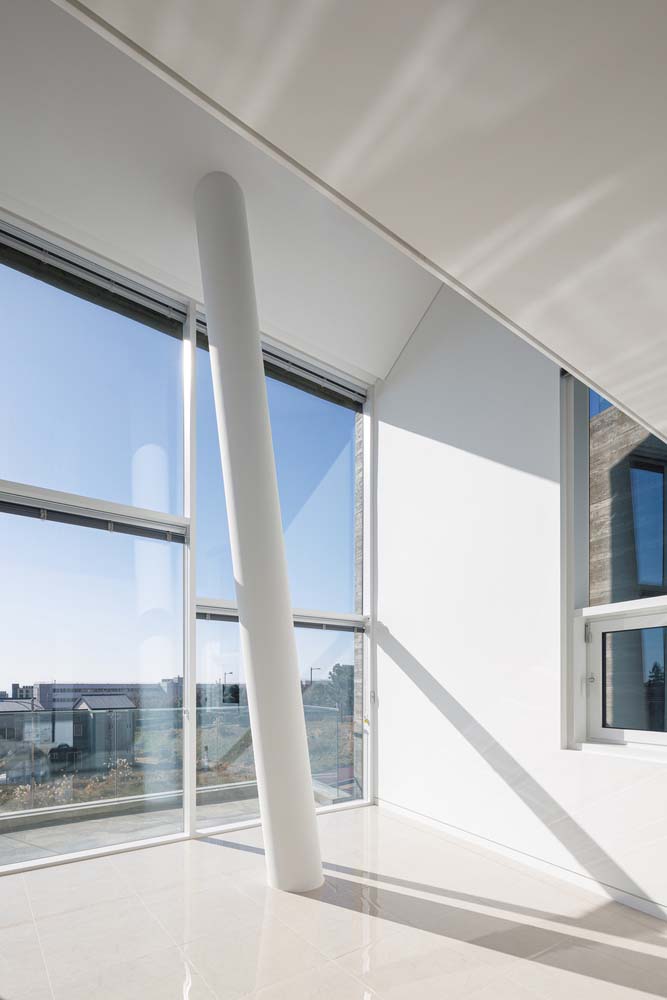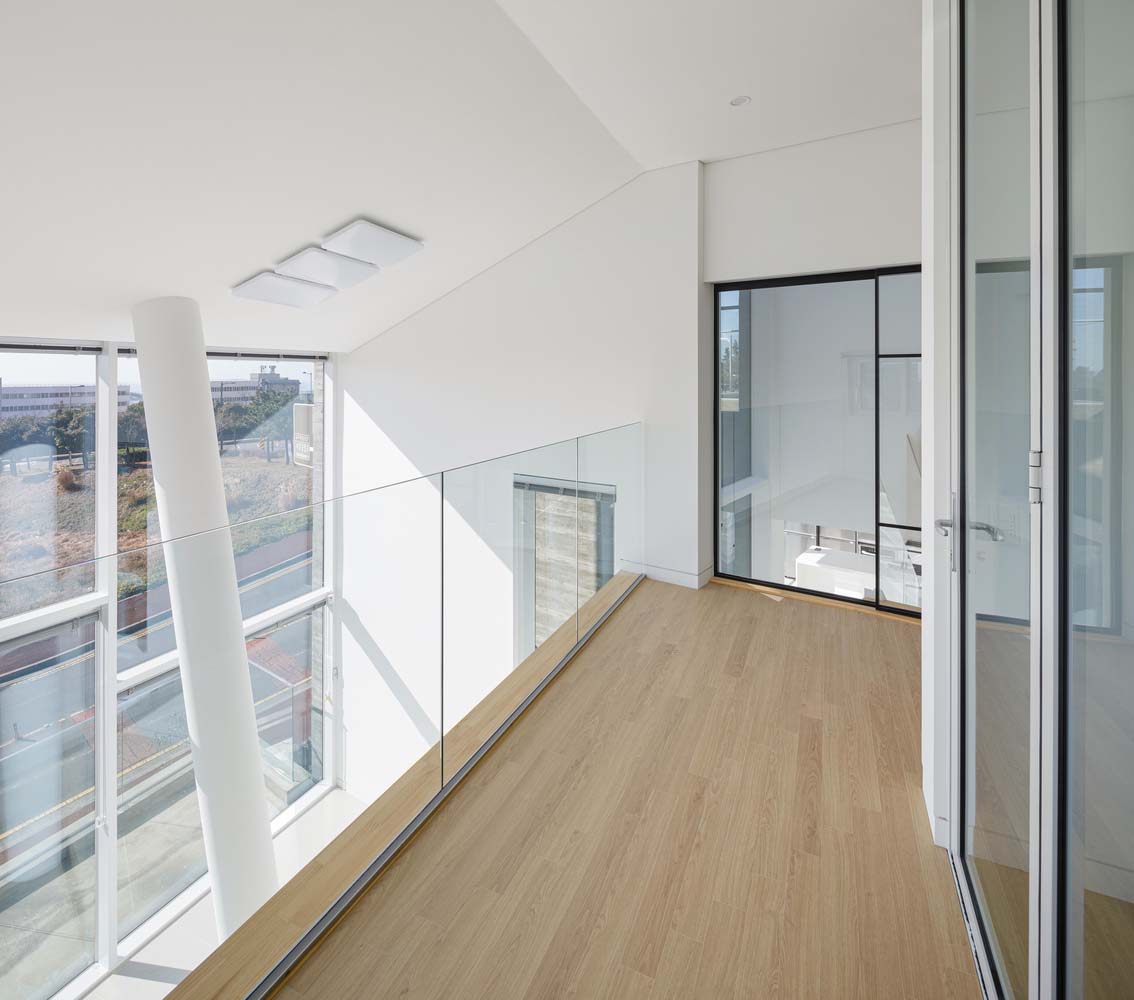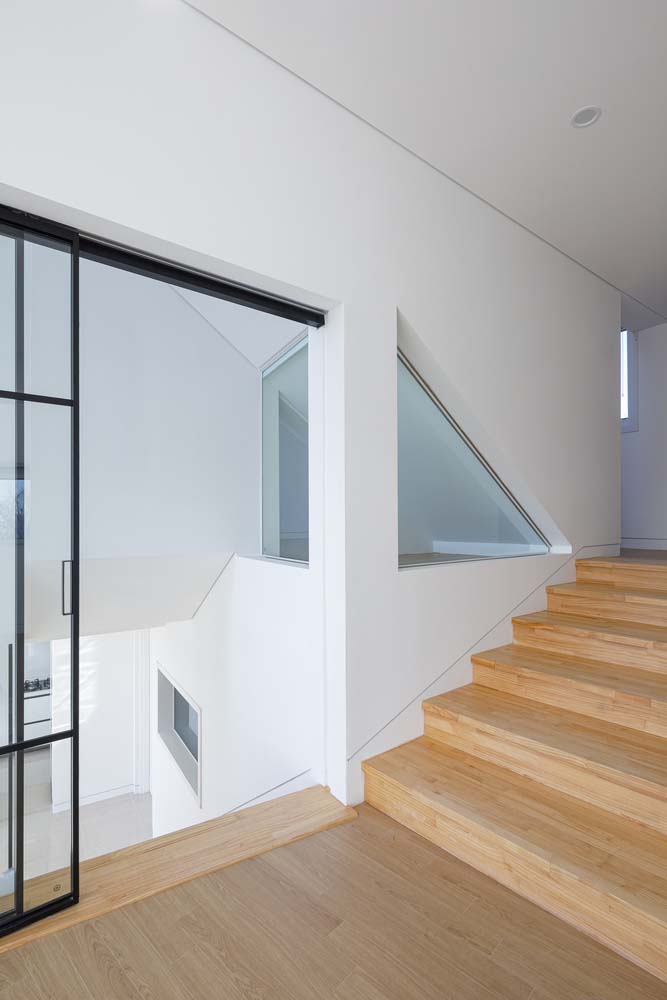 This upward movement via steps and ramps continues all the way to the top, where there is a library with a spectacular view of the Pacific Ocean. The south-north axis library has step seats on the northern side, which leads to a door to the balcony with a view of the Halla Mountains. The solidly stacked wave gesture has been completed.
The wood plank imprinted exposed concrete has been a staple material for many of my projects in Jeju Island because it seems to go well with harsh windy weather and abundant basalt rocks. It is as though the new building has been standing there for a long time.
Project information
Architects: Moon Hoon – www.moonhoon.com
Area: 155 m²
Year: 2022
Photographs: Kim Chang Mook
Structure Consultants: SDM
Creative Consultant: Moonbalsso
Design Team: Ki Jang Do, Yoon Jeong, Chang Hae Gyoon, Cho Hyun Wook,
Mep Consultant: Chung Hyo
Architects Of Record: KJY Architects
City: Seogwipo
Country: South Korea