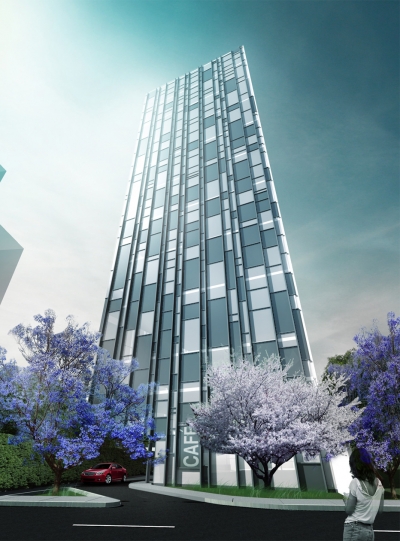 Project: Sky Condos – Housing Block
Designed by TABB Architecture
Project Team: Bernardo Bieri + Gilberto Maldonado + Fernando Lopez + Raul Jacobo + Ariel Ballesteros
Total Area: 10 320.60 m2
Height: 63 m
Location: Lima, Peru
TABB Architecture is sharing with us their Sky Condos design created for a location in Lima, the 63 meter high housing block takes on a modern sentiment with a refreshing use of concrete, class and metal. Discover more of the project after the jump:
From the Architects:
The projects design approach is panoramic visibility. Our main intuition is that the building should interact with the astonishing views of the Pacific Ocean and the promising Pezet Avenue. The result is an irregular extruded polygon to frame the main views.
Natural light is also a crucial aspect of the design. Terraces, light well, internal gardens and transparent facades provide maximum efficiency for the buildings energy consumption. At night, the building becomes a urban lit lamp that pierce the landscape as a reference in the city skyline.
The ground level is as intimate and welcoming to the resident as for the coffee shop consumer, interaction among dwellers and consumers light up the main area.
The DYW (Design it your way) building plan works as a free floor space area, which allows an array of interior possibilities for diverse lifestyle preferences. By placing installation sub cores, the building works as a plug – in space for amenities such as a kitchen, bathroom, and bedrooms.
The buildings structure is composed of two elements, the skin frames and the interior core, both extruded throughout the whole building to provide stability and the possibility to configure the floor area to your lifestyle.
Raw materials give this residential building its minimal character. Concrete, Metal and glass will bring a modern appearance that will be rendered by your own desires.
Live the way you love, love the way you live! Meet friends, get in shape, dive in! Just relax and enjoy!