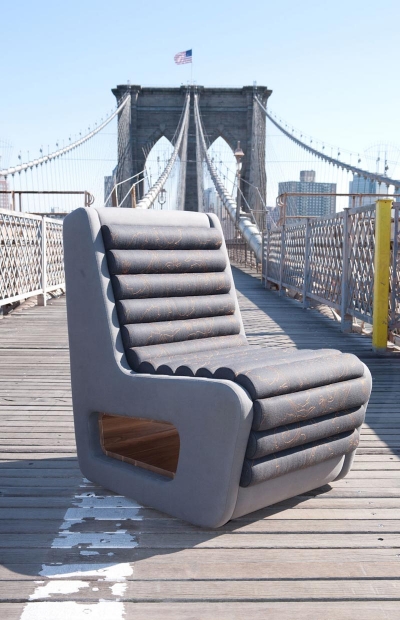 Project: Stepping Up Chair
Designed by Think Fabricate
Website: www.dobanarchitecture.com
The comfortable Stepping Up Chair is work of Think Fabricate a Brooklyn-based multidisciplinary design team, see more of their design after the jump:
From the Designers:
The First Soft Seating Solution. (Brooklyn, NY – May 2012) Think Fabricate, a Brooklyn-based multidisciplinary design team, is pleased to present the Stepping Up Chair for spring 2012. After making its public debut at the AD Show and ICFF, Stepping Up is a welcome addition to Think Fabricate's growing Stepping Stones collection, bringing innovative soft seating into the mix. Tactile appeal, strong form, and visual contrast blend with comfort in this versatile seating solution. A clever cutout below the seat provides a handy spot for storage and a matching Footsie Ottoman is available for extra lounging appeal.
According to Susan Doban, co-founder of Think Fabricate, "As designers and architects, with both residential and commercial projects, we are always looking for solutions for our clients. The Stepping Stones collection started as benches for a school cafeteria and grew into a popular range of organically shaped indoor and outdoor lounge chairs, ottomans and a credenza."
Jason Gorsline, co-founder adds, "Soft seating was the next natural step. The unusual shape of the individually upholstered cushions gives our clients real creative input on the textiles and patterns featured."
Like other pieces in the Stepping Stones collection, Stepping Up is a playful exploration of volume and surface, shape and form. Functional cutouts emulating the form of stepping stones give the chair a commanding sculptural presence and leads the user to better organization. Walnut wood complements the chair's unique seating surface made of individually upholstered mini-bolsters that vary in foam density for comfort. The chair is available in various grades of fabric and leather and can be mixed and matched to create individualized patterns and rhythms. Options for pattern are multiplied when this chair is used in groups. Standard dimensions are 36"H x 24"W x 32"D (chair) and 18"H x 24"W x 30"D (ottoman) as well as 36" wide.