Venturing towards the charming streets of Paris we'll find one of Pierre-Louis Gerlier's most recent works. The revamping of the 19th century house started with its structure. Changing some joints, reinforcing key structural beams and refitting the roof were all necessary before starting works on the interiors.
Stepping inside we'll notice a functional simplicity covered in a strong, yet pleasant color palette. Though the previous aesthetic was alluring, the interior has been completely reshuffled to satisfy more contemporary needs.
The house is comprised of four floors. The redistribution of space consisted in making a wider living area and additional bedrooms, by tearing down some of the walls. Doubled by the addition of new windows in some parts, for more natural light and ventilation.
Lower ground makes base for two bedrooms, a bathroom, a toilet and a laundry room. The oak flooring blends in well with the custom made furniture, and the arched walnut door frames. A constant feature around throughout the home, and one that will most probably age well in time. Still at this level of the house, the luminosity of the bathroom is enhanced by white tiles and exposed (white) brick walls. Joined by bright yellow etno motif tiles on the floor and cement covered bathtub and sink.
Journeying on the swirling stairs to the ground level we are welcomed by the light-flooded living space. Two saturated green bookcases separated by a fireplace on one side, and a small table for serving food and working on the other. The witty made carpentry along the stairs functions as a storage, and limits the use of excess furniture.
The second floor hosts a vestibule and a welcoming room for guests that oversees the garden. Finally in the attic, we will find a bedroom and bathroom. Exposed upper beams keep part of the house's previous allure, while the book shelving is the same bold olive green hue as in the living room. The bathroom this time, has a well coordinated combination of white floors and walls, pop green motif tiles, brass lighting fixtures and wooden window frames.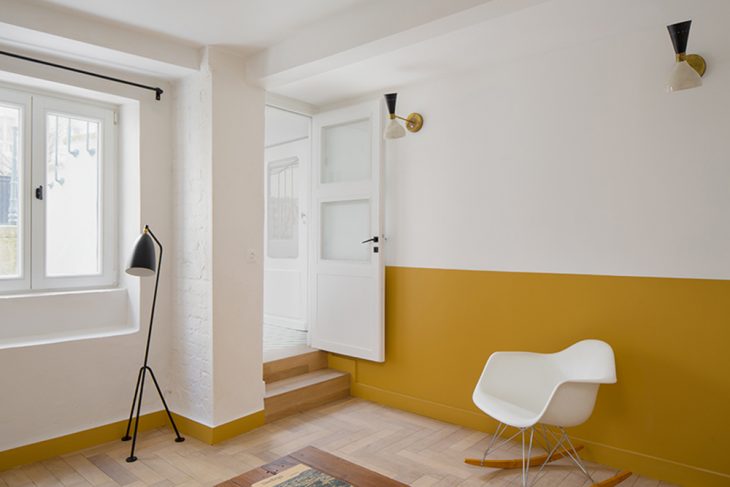 Rethought in a completely new way, yet with respect for the building's previous identity, Gerlier's project is a both functional and an aesthetically pleasing space to dwell. It combines modern features and long lasting materials, giving life to a welcoming and relaxing home.
Location: Paris
Photos: Ercole Salinaro