Maintaining domestic appliances is something many people overlook, until something goes wrong. The list of appliances we use on a daily basis includes cookers, washers and dryers, fridges and freezers, not forgetting microwave ovens. Devices with a heavy, daily workload are prone to malfunction at some time or other, so it pays to consult a reputable service company that can fix the problem quickly and keep the household running smoothly. (Image above – The Urban Cultivator)
Continue after the jump for some of our best do it yourself tips.

DIY repairs
Washing machines, dryers, cookers and refrigerators are all necessary appliances in this modern age, so it pays to maintain them correctly from the outset. A small repair job can often be carried out by the homeowner, with the relevant part dispatched by a reputable online supplier, thus saving you money. For this reason, one should always have access to the service manual for each appliance. A reputable online service centre will have all manuals for download, should you require them. It is never a good idea to undertake major repairs yourself. This can lead to even more problems, so call in the experts, who will have your appliance up and running in no time.
Above – the designer espresso maker, created by Architects Wiel Arets for Alessi.
Good service equals peace of mind
The average household has many large domestic appliances that work continuously to keep the home running smoothly, so it makes perfect sense to use one reputable service company such as www.serviceforce.co.uk,who will maintain all appliances, giving you reassurance that should something go wrong, it will be dealt with professionally, with the minimum of fuss.
Locality
When selecting a service company it pays to use someone who has a branch nearby. This keeps costs down as well as allowing for a speedy repair job. Most reputable, online service centres will have many branches nationwide, and they will have experience with all the major brands.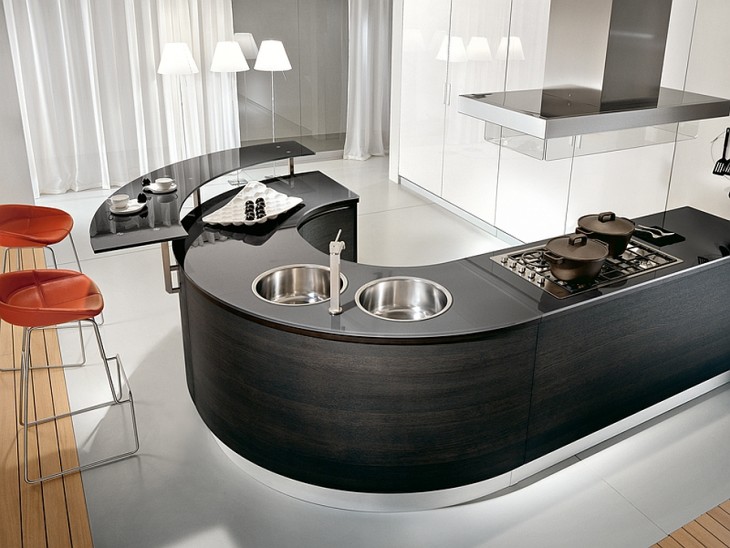 Things to consider when buying home appliances
Space should always be at the forefront of your mind when thinking of household appliances, so measure the area to ensure a god fit. Most devices today are energy efficient, which not only saves you money, it is also good for the environment. Consider the features you will need and make sure the appliance you choose has these options. The location of the appliance is also worth considering. Avoid damp or hot areas, and check the manufacturer's recommendations for safe working temperatures.
Above – Images of the Integra Range design kitchen from Pedini
Regular cleaning
If an appliance is kept clean, it will decrease the chances of a malfunction. Most problems occur because the appliance was not cleaned regularly, so here is a very useful link on how to keep household appliances clean, with many innovative ideas that make appliance cleaning easy.
RELATED: Find Inspiring Interior Design on ArchiSCENE
The professional approach
When dealing with complex electrical appliances, we should delegate the maintenance and repairs to a qualified technician. All manufacturers state in their warranty that service operations should only be carried out by qualified personnel. One reputable company can maintain all your domestic appliances in line with the manufacturer's recommendations, leaving you free to go about your daily routine while your devices work silently in the background maintaining the equilibrium of a well run household.