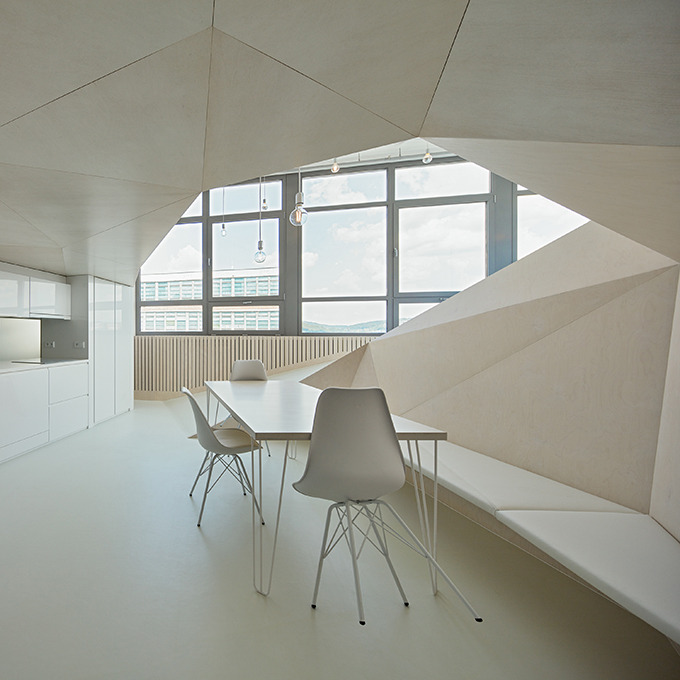 Czech studio petrjanda/brainwok designed this stunning loft apartment by transforming the space into an abstract composition. The townscape of Zlín is integrated into the space of the apartment presenting the industrial aspect of the design. The apartment is a true celebration of minimalism respecting the aspects of minimal living space.
Take a look at the complete story after the jump.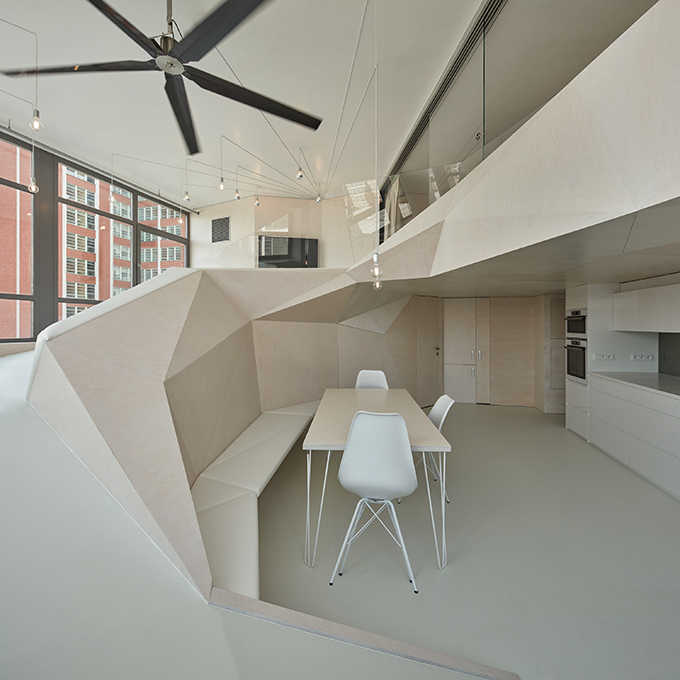 From the architects: The loft is situated on the 8th floor of a former Baťa shoe factory building in Zlín, overlooking the green heart of the town. Its design aims to integrate the town's image into the space of the apartment. The design approach contradicts the usual loft-making procedure, which emphasizes industrial materials in the interior, by transforming the space into an abstract composition with the industrial aspect presented through the view of the surrounding area, framed by the Zlín skyscraper and the valley. The inner space features the gradual opening of the individual epicentres of the apartment. Its open space allows the separation of the social and private parts by using multi-level differentiation, rather than sharp divides.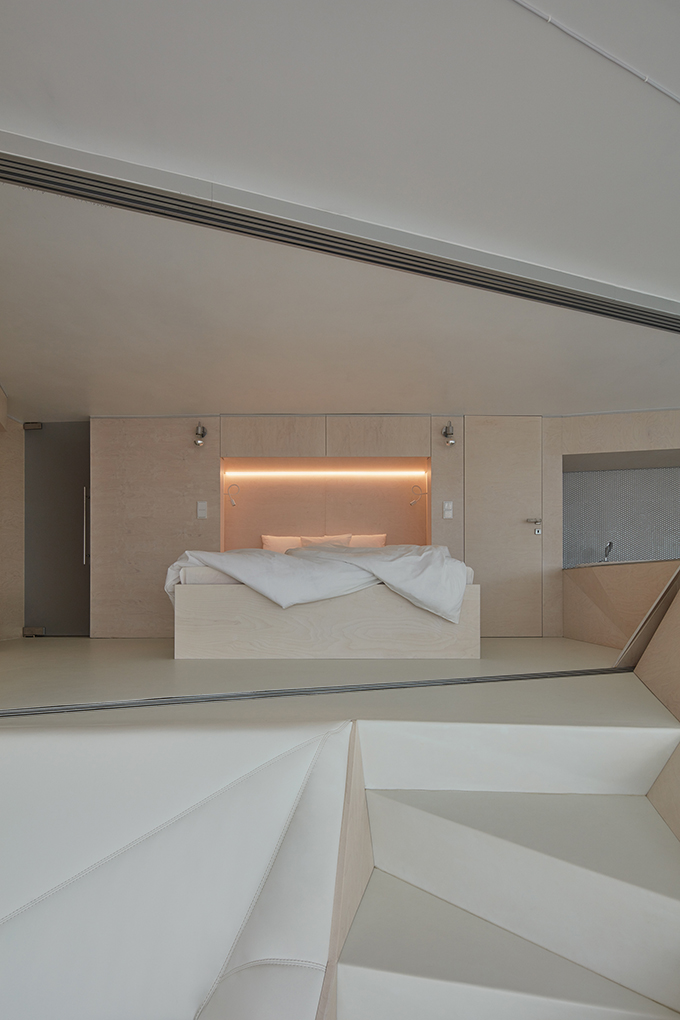 The interior is defined by the main social space, framed by the curved furniture partition wall and the built-in kitchen, which hides two rooms, a bathroom, an entrance hall and a "secret" staircase. The main elevated space can be accessed through this partition, defined by the ramp gently ascending from the kitchen and dining area, past the play area in front of the window and through the space between the two atypical sofas to the bedroom, with its built-in round bathtub. The space is formed by the symbiotic structure composed of triangles that spirals around the centre of the layout and creates a stage that also functions as an auditorium, offering a view of the town. The materials are in fine shades of white – whitened birch plywood, white leatherette upholstery and white PVC flooring – accentuated with glass railing dividers and sliding bedroom partitions, with the kitchen in high gloss and mosaic tiles.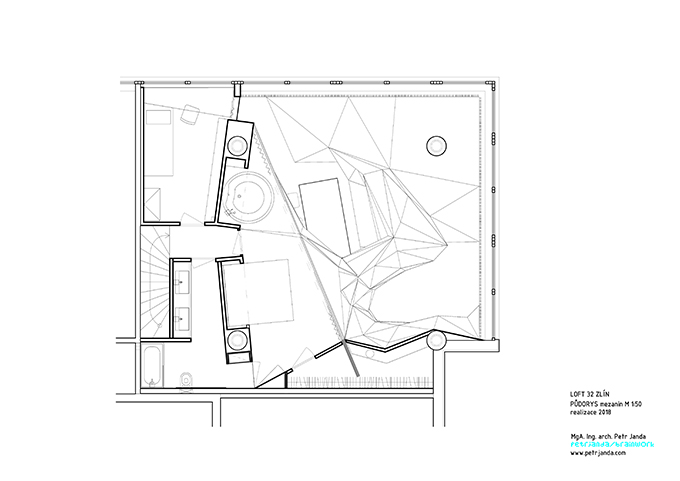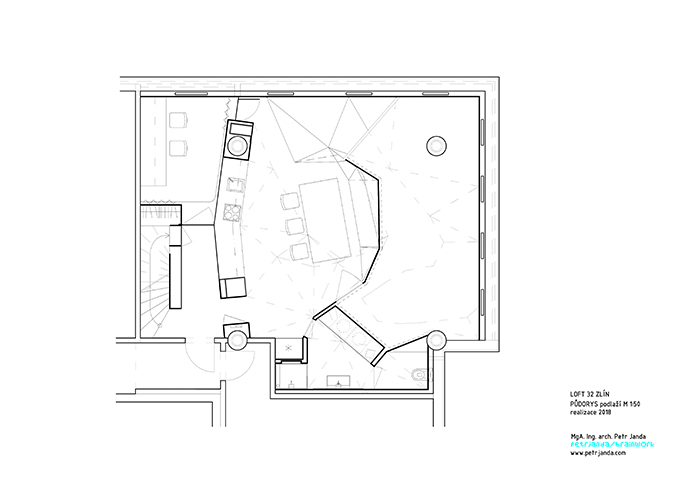 Studio: petrjanda/brainwork – www.petrjanda.com
Author: Petr Janda, Anna Podroužková, Maty Donátová, Bára Simajchlová
Co-author: Viktor Johanis, Martin Chlanda
Project location: Jana Antonína Bati 5648, Zlín, Czech Republic
Project year: 2014
Completion year: 2018
Project size: 156 m2
Collaborators Truhlářství Obdržálek – joiner's work, Martin Škvařil – building structure, AZ Glass – glass elements, Miroslav Malaník – electrics, Evžen Slezák – upholstery
See more in our gallery.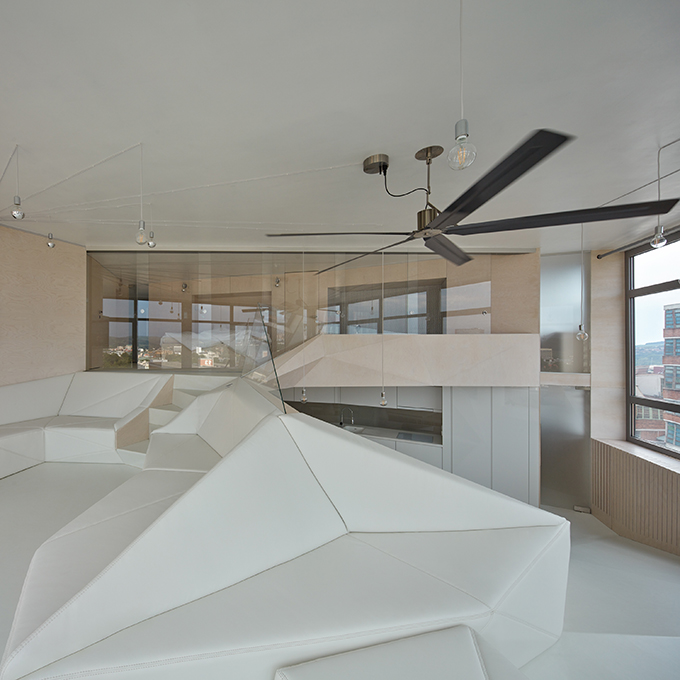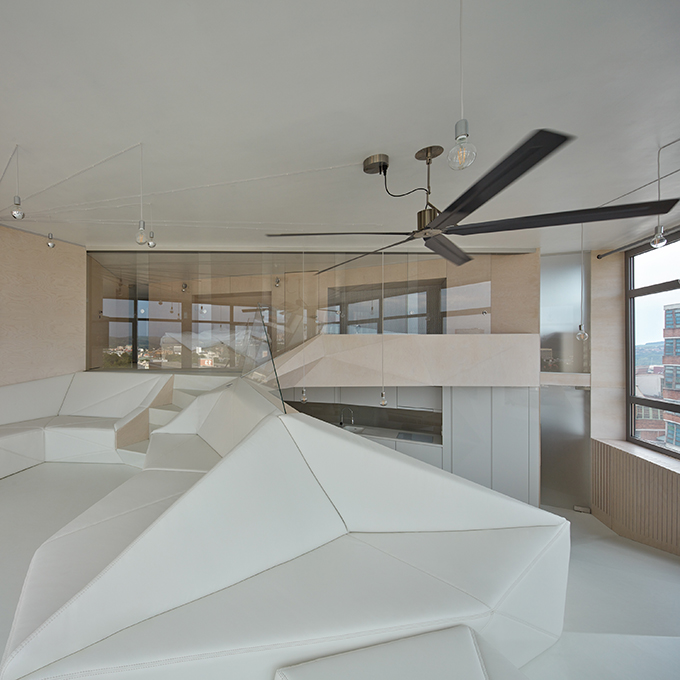 Photography by Jakub Skokan and Martin Tůma at BoysPlayNice